Salar de Uyuni is the biggest salt desert in the world and one of the most popular destinations in South America. It is truly an unforgettable Bolivian landscape. I am sure that you have seen photos of a mirror-like endless land where the sky meet the ground. When it rains the huge salt desert converts into such place. If you haven't seen those photos, maybe you are familiar with the funny ones where the authors play with a perspective.
I have been dreaming of going to Uyuni for a long time and despite of living in the north of Chile (so close!) it took me a year and half to finally organize the trip. We considered many options, from an organized tour from San Pedro de Atacama to driving ourselves. We were not in a mood of taking an organized tour through an Altiplano and sleep in basic cold places. We wanted to drive, but this ideas also quickly escaped from our heads. The last option left was taking a bus. You would think it is easy…we thought so too, but living in Chile makes things a bit complicated.
It was a real challenge to find a bus going to Uyuni from the north of Chile. We found some information online saying that Atacama 2000 line goes there from Antofagasta and another service that I don't remember very well. At the bus station there was only a sign indicating that maybe sometime in the past it existed instructing to look at the website or phone. None of it existed. Going from window to window of companies we finally got informed that the best way would be to go to Calama (200 km away) and ask there at the bus station. Desperate and quite angry, I must admit, with the system and the horrible quality of services, we drove to Calama to get all the information needed to get to Uyuni.

How to get to Uyuni (Bolivia) from Calama (Chile) by bus:
There is only one company that links those two cities, Cruz del Norte.
It leaves every morning at 5:30 am.
You should book the seat at least a night before as the bus quickly gets full.
You can only book in person, but we phoned a night before and kindly asked to hold two places for us.
We got this numbers: Elisabeth +56 (9) 79640819 and the office number +56 82248119.
The journey lasts around 8-9 hours depending on the border service and other aspects.
The bus was freezing cold and rather uncomfortable. The whole trip I was covered with a blanket that every passenger got on the bus. My nose was like an ice-cube, but likely I managed to sleep a little on the way to the border. The passport control went smoothly, it usually does when leaving Chile, it is when you cross it the other way round it gets complicated. Chileans like their papers.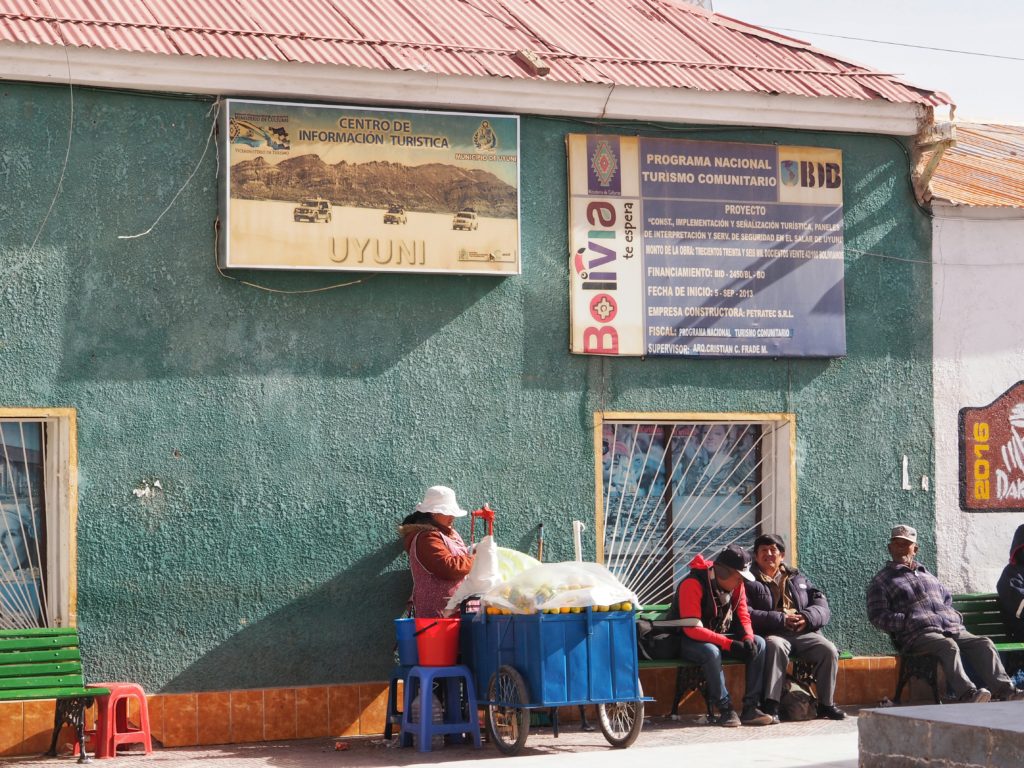 We arrived to the town of Uyuni around 2pm. The high altitude was making our walking slower and breathing heavier. I think it was one of the most difficult high altitude trips I have ever done. If you read the blog regularly, you probably read my altitude sickness in Cuzco. This time it was ever worse. But enough about that…
Uyuni is not very pretty and not worth your attention for more than a few hours. The streets are not very lively and if it wasn't for the tour-sellers it would be ever more deserted. Tired after many hours traveling in a cold, smelly bus we searched for a place to seat and eat something hot. After a quick walk around the town and finding out what trips to the salar we can take we sat in a restaurant to eat. I lost my appetite (blame altitude) at this point so I satisfied myself with a giant mug of hot coca mate.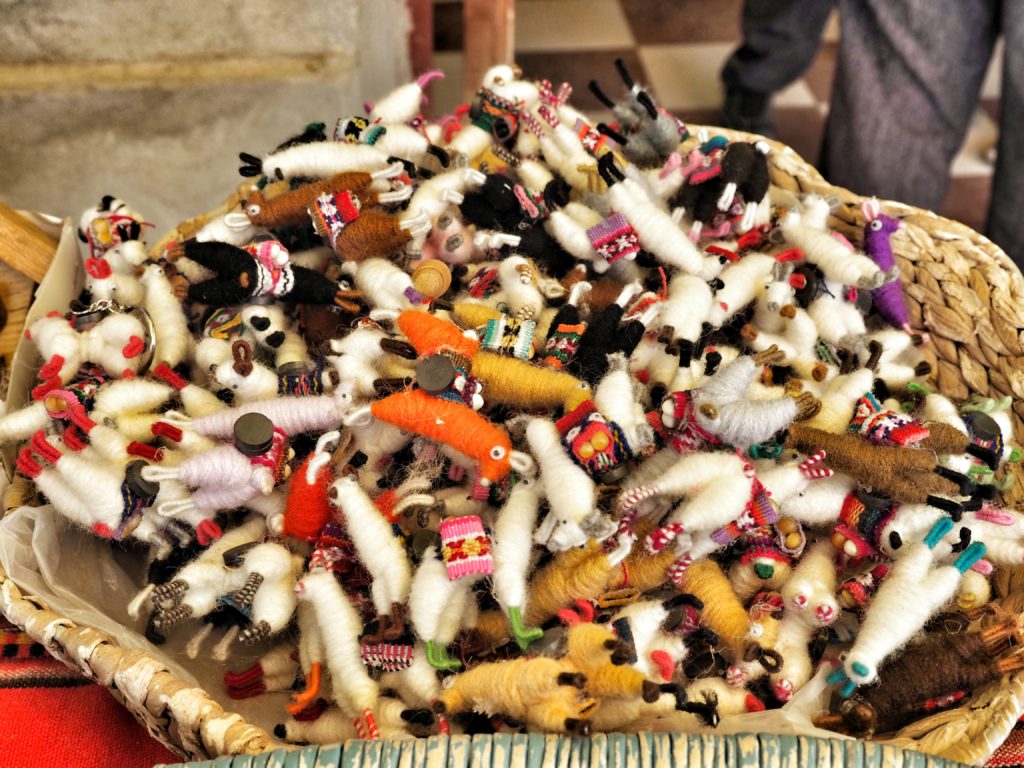 We booked a trip to the salar for the next day. Every attempt to get some information about available trips looked so easy and beautiful. We were offered every details of any whim we had. Once the deal was done, there is no much you can discuss, but in turn we were given many different excuses. Since we stayed outside the town of Uyuni, our tour was planned a bit differently. The small van would pick us up at 11am after visiting the train cemetery and we would travel in a small group of 7, the maximum capacity of the car. We were not very interested to see the train cemetery anyway, so we agreed. I, already kind of recovered from the altitude sickness, now full of excitement to see the biggest salt flats in the world, with plenty clothes on and snacks ready together with my boyfriend waited in the hotel lobby for two hours. Finally around lunch time the driver arrived behaving as if it was the plan from the beginning.
We packed ourselves in a smelly van and headed to join the rest of the tour in a place where they were already getting some souvenir shopping done. Straight from there we went for lunch that was included in the tour. Our Peruvian companions commented that the quinoa dish served to us is given to farm animals in Peru. What do we know, Peruvian food is quite sophisticated. We ate the food that seemed to be prepared in not very clean conditions and continued our trip. It was a bit tight and crowded in the van with 9 people instead of 7 as planned. Again, amoxil to buy there was a 'reasonable' excuse given to us by the driver.
Finally we were ready to see the never-ending slaty dessert. It was beautiful as imagined. Dry with a regular pattern… We took out our gadgets we purchased before the trip to take some cool perspective photos most travelers show off. From balloons to an umbrella to plastic animals. It is not as easy as it looks. It was cold, the wind rather annoying and the camera did not want to focus on both a person far away and a toy tiger that should appear gigantic. After maaaany attempts we decided (or maybe I had no other choice but to decide) just watch the desert and forget the funny photos.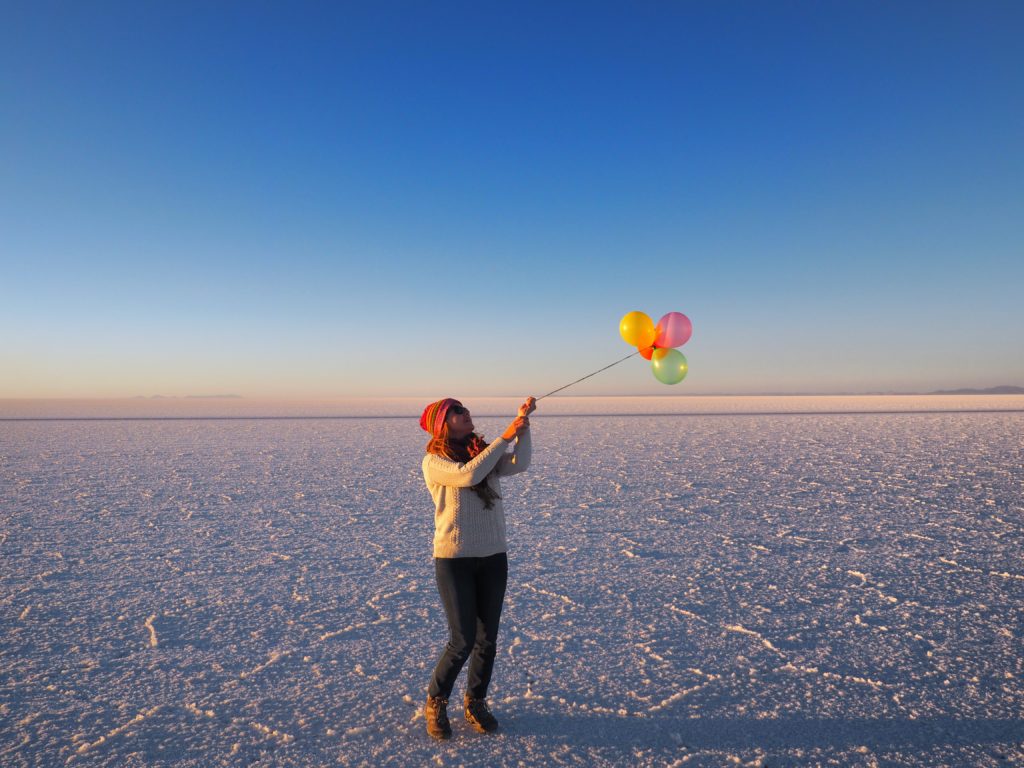 We stopped in an old salt hotel, now a little shop mostly known for the flags from all over the world. It actually looks pretty amazing in the middle of the white land with two salt llamas in front.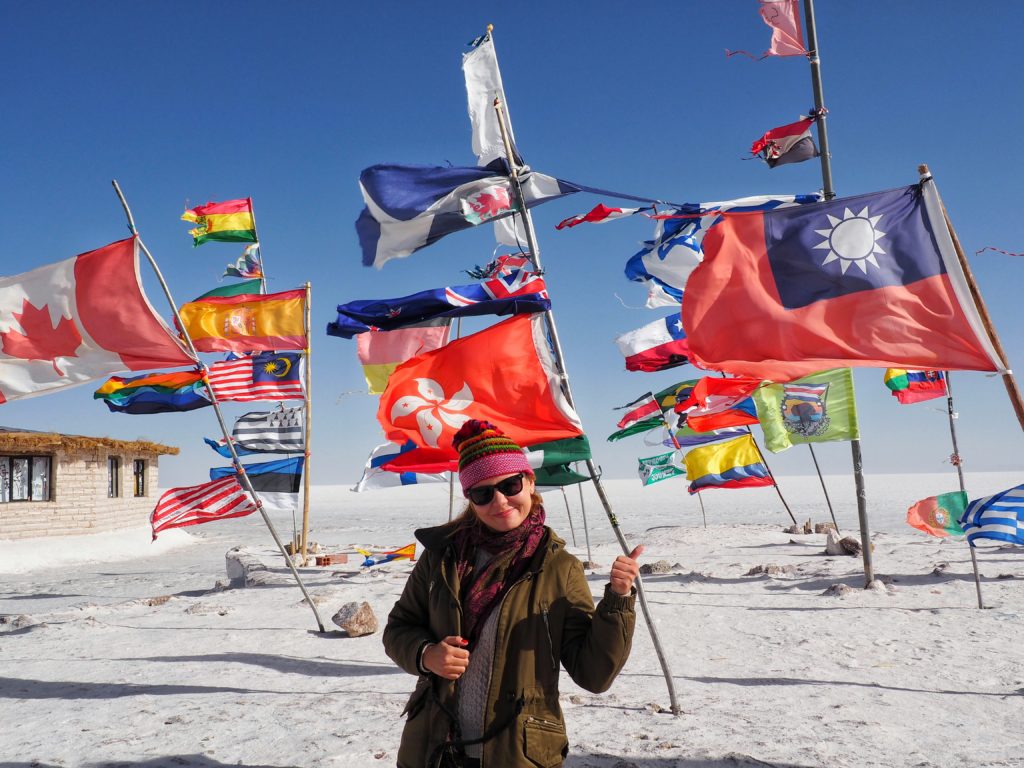 And I found a Polish flag there, too. Could not resist taking a photo with it.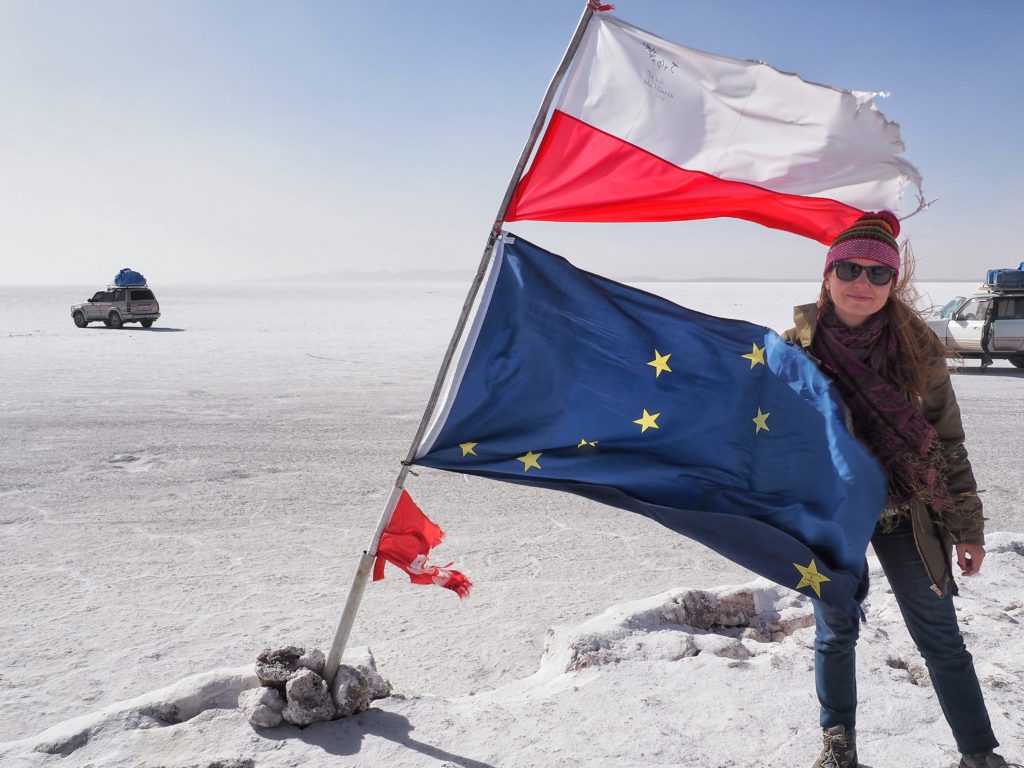 As the trip continued and the memory card quickly was getting full (you cannot imagine how many photos an excited traveler can take of a salty desert) we headed to the lagoon at the feet of volcano Tunupa (where we were lucky to see a few flamingoes) and Isla Incahuasi, my personal favourite. It is a small island in the middle of the salar full of giant cactuses. It is incredible and makes such a picturesque element to the dessert.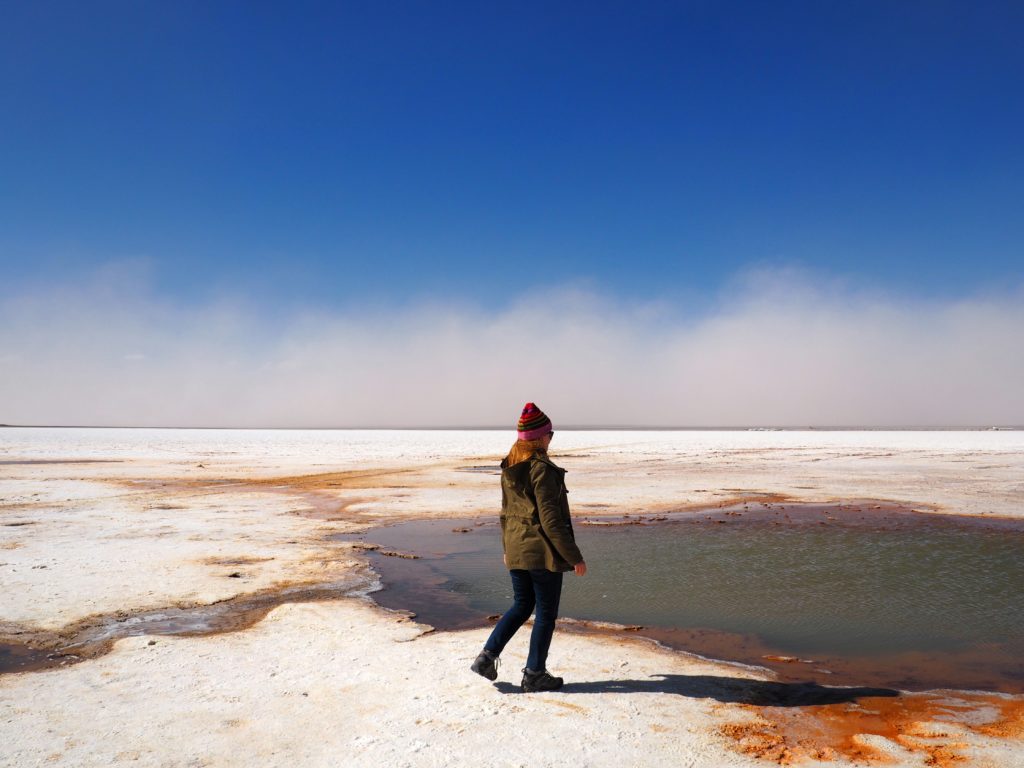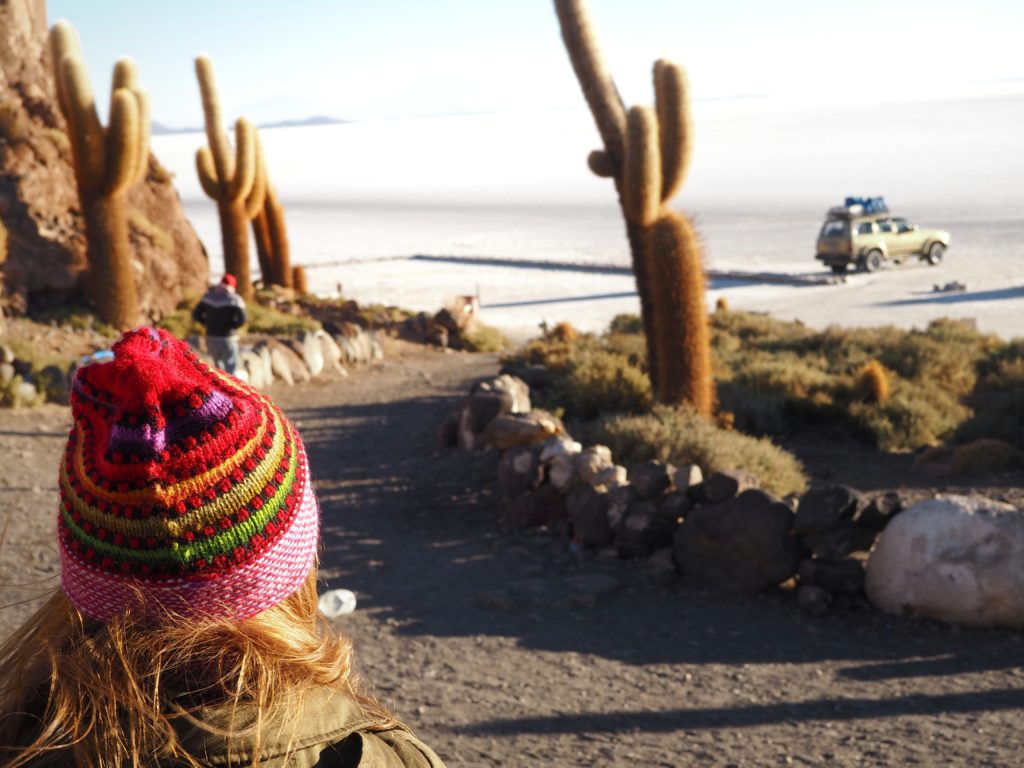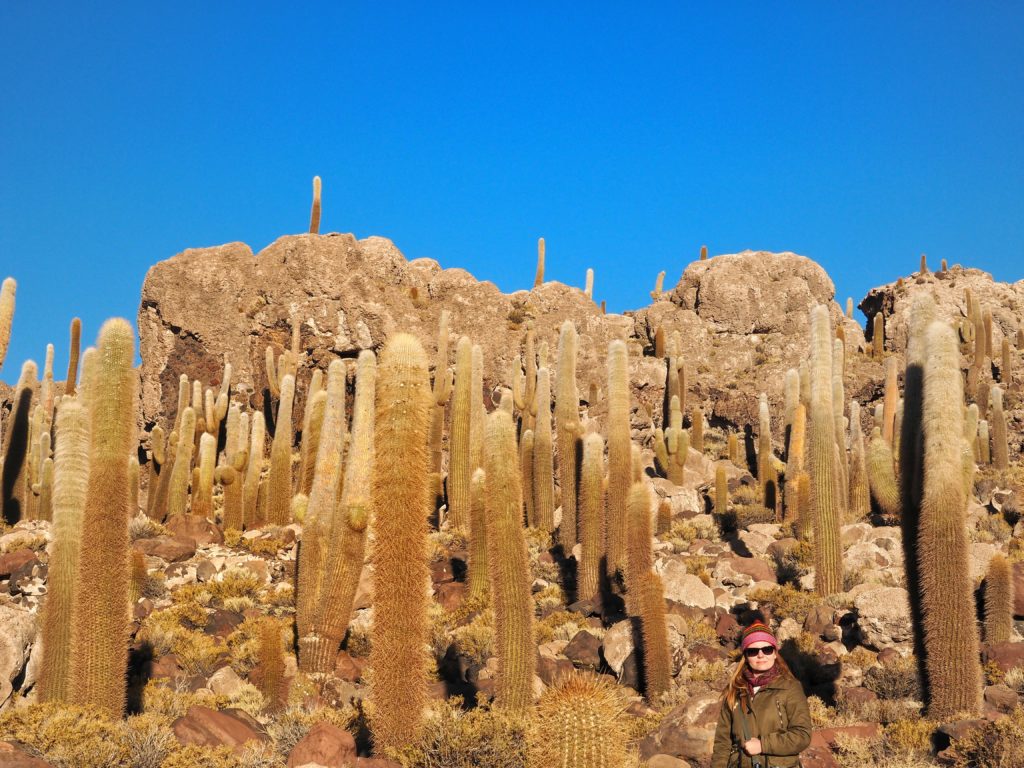 As we continued the sun started setting and the air was getting cooler. Very quickly the temperature drastically dropped and the last photos taken were of the salar turning slightly orange, before we could not see much more.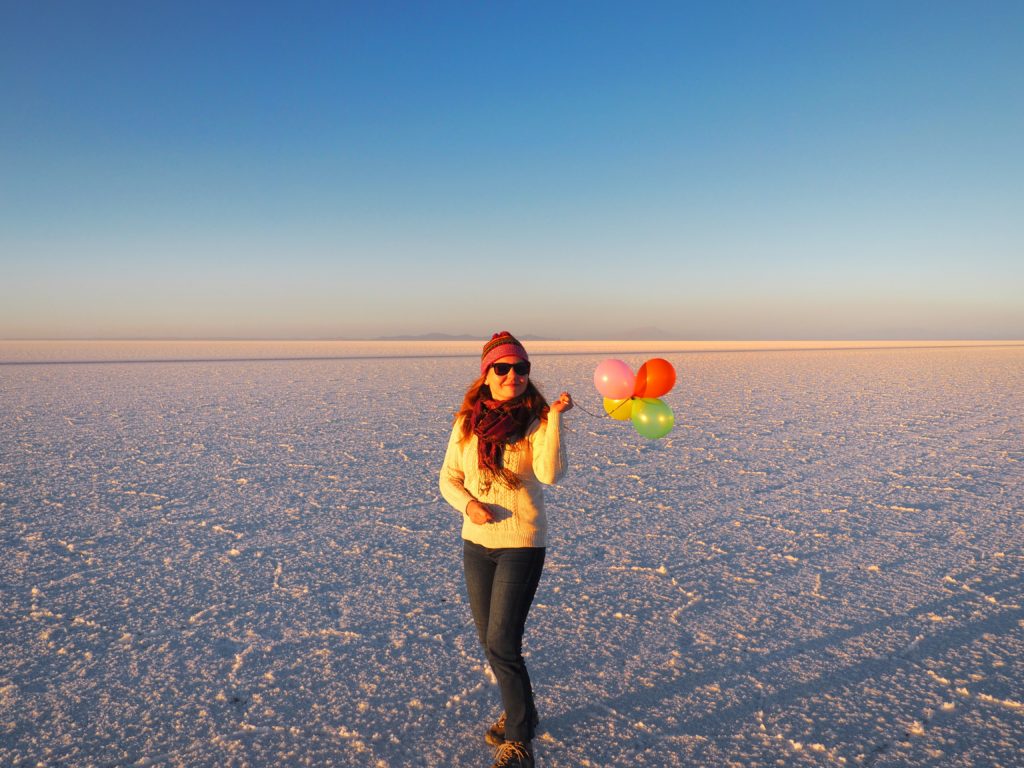 I know that many people said that the highlights of the Uyuni trip is not the salar but the beautiful lagoons and the landscape that can be seen during the 3-day tour. The reason while we did not want this option is that after traveling so much around the north of Chile and the Andean regions we have seen so many similar landscapes and we prefered to see a bit more and different Bolivia.
Sleeping in a salt hotel
I enjoyed seeing the salar a lot. It is really one of those incredible places that are hard to imagine. It is tiring though. After the day of visiting the salt desert and the altitude still playing tricks with me we headed back to the hotel. A hotel that was a dream of mine as well, entirely made of salt. I am not even exaggerating here, even our bed was made of salt. All walls, floors, tables, sofas, bedside pieces of furniture…al made of salt. Only some chairs in the dining room were not. Passing through the hotel from the room area to the dining room there is an extensive day area with hammocks, sofas and fire places, where you can rest after the adventurous trips and watch the salar in a distance through the window. It is quite a story to tell about sleeping in a hotel Luna Salada, that seemed to be kind of cosy piece of art.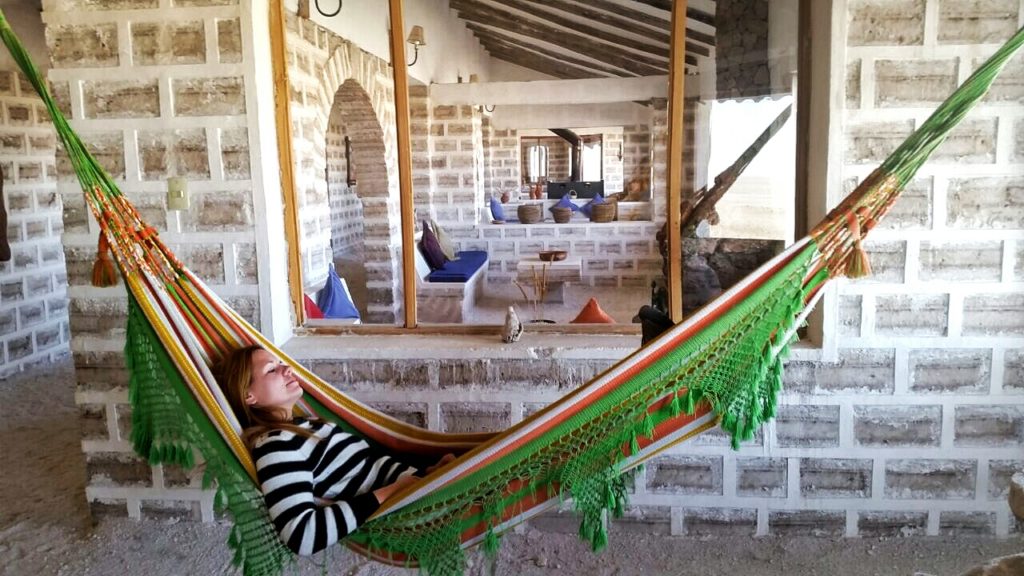 Two days were enough for us to see the salar, but enough to fall in love with Bolivia and want to come back. We did not go back yet, we headed to Potosí, which I would like to tell you about another time.
Traveling back to Chile
So, how did we get back to Chile? The same way from Uyuni to Calama. The journey this time seemed to be much longer, probably because our excitement of going to new amazing places was not there with us and the exhaustion of high altitude for a few days and the freezing cold bus made me wish to be able to travel in time.
We took the same company bus at 4am. I am not sure why so early as we arrived to the border around 7am and had to wait for nearly an hour for the border control office to be open. There we stayed for a while as Chileans are known for detailed bag checking in case someone wants to smuggle some food…or other things I imagine. Tired and cold already we continued the trip. I fell asleep quickly to be woken up after a couple of hours by a noise. We stopped, all of us had to get out. I did not, there was no way someone would drag me out to even colder outside. I prefered to seat in a cold bus covered with as many blankets as I could find. We got a flat tire. It took the two drivers a couple of hours to get it fixed and we were good to go.

See also: You know you are in Chile when…

Despite the cold and long bus travels in Bolivia, it was one of those trips that I will remember for a long time. Bolivia is colourful with lovely people. I am already planning another trip to see other parts of the country, admire more colourful outfits and get speechless by the picturesque landscapes.

Thank you for visiting. If you have any questions and comments, please leave us a message below. What do you think about Uyuni, would you like to go there?

Did you like the post? Pin it for later: