Some of you, who visit the blog from time to time might already know that I lived in the desert of Atacama for 2 years. I have written a number of posts on where to go and what to do in this part of Chile. I don't know about you, my lovely readers, but when I first thought of living in a desert I imagined endless lands of sand or dirt, maybe some cactus plants but not much apart from that. I realized that actually Atacama might be quite surprising. You could read about it a little here or here, for example. I have explored many corners of the desert and discovered many beautiful places that I never expected to find. I would like to share (in no particular order) a few ideas with you in case you are looking for some inspiration on what to do in the desert of Atacama apart from so popular and over-touristy San Pedro de Atacama (which by the way you should visit anyway! It is beautiful!).

Get creative with taking photos with a giant hand
Here you have a real place to show off your imagination. The sculpture of a rising hand by Irrarazabal, a Chilean sculptor, in the middle of nowehere (literally!) is quite impressive. Be prepared for strong wind and burning sun, but this is one of the most interesting sculptures I have had a chance to see.
How to get there:
It is located 75 km south of Antofagasta near the ruta 5 north.

See also: Practical and pretty. 5 favourite accessories to take on a trip to a desert.
Try sandboarding
The first time ever I tried sandboarding was a few years back in Morocco. It was a really great and clumsy experience. I had fallen so many times that I could not even count. Having a snowboarding experience I thought it would be easy…luckily sand was like a cushion for my bum. I really liked sandboarding, so when I started living in Atacama, it was something I had to try again. The desert of Atacama is special, mostly because it goes straight into the Pacific Ocean. While the days are really hot with the burning sun, sunsets made it a perfect time to enjoy sandboarding with a group of friends.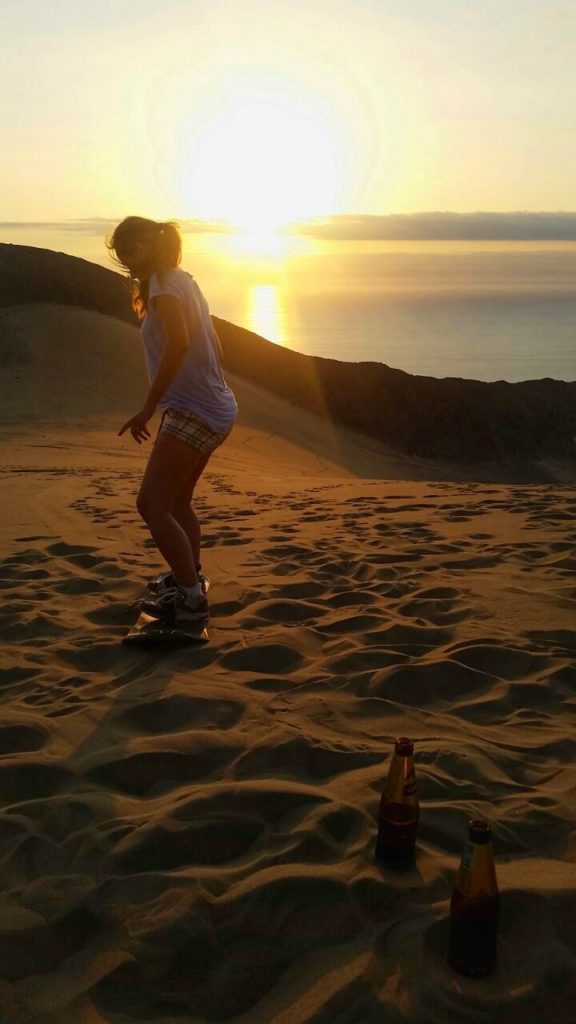 Visit the biggest observatories
Atacama is a perfect place study the sky. Majority of the year the sky is cloudless and there is no many cities to produce light pollution, therefore there have been built some of the most advanced visible-light astronomical observatory in the world.
You can visit Paranal on weekends and the entrance is free, just make sure to book your visit in advance here. During the guided visit you can watch the scientists work and see the huge telescope up close that will make you feel like a teeny tiny person. The visits happen only during the day as at night there is nobody there. The technology records everything that can be spotted on the sky at night and the information is analyzed during the day. I loved the experience very much!
There are also observatories that allow night visits. You can get more information here.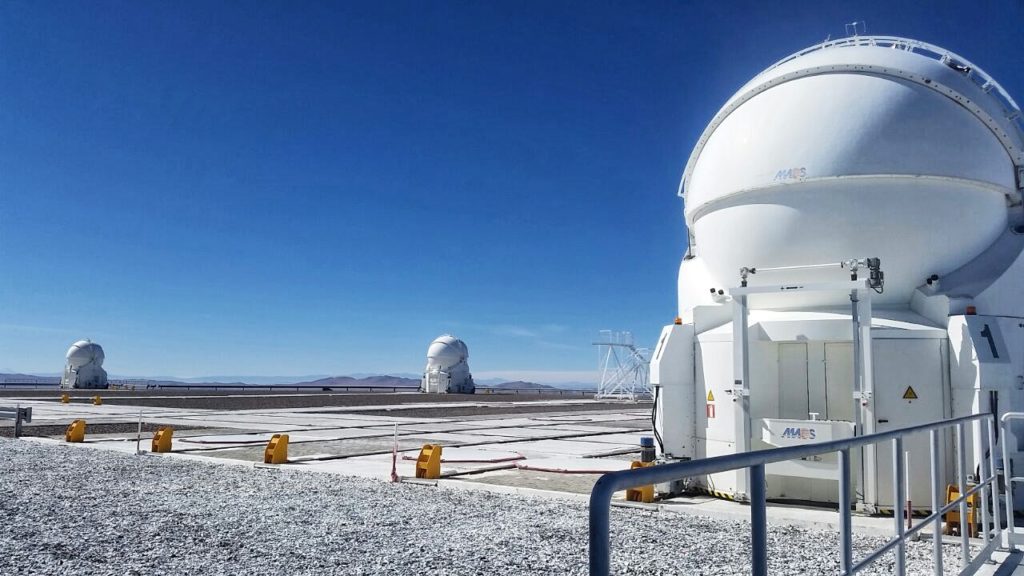 Hike in Pan de Azucar National Park
Apart from a big white-sand beach, many little charming beaches hidden in-between the rocks or amazing fish, in this park you can also get some nice hiking. If you like cactus plants, this is a place for you. Moreover the park is home for many animals. I am sure you would have a nice day there.
Visit a flowering desert
It is one of the most amazing phenomena I had a chance to see in the desert of Atacama. Normally brownish gray, it turned into pink fields in spring after a few hours of rain in autumn. Desierto florido occurs mainly in October in the region near Copiapo and it does not happen every year. The fragrant air and flowers all around you would make you feel like taken to a totally different place.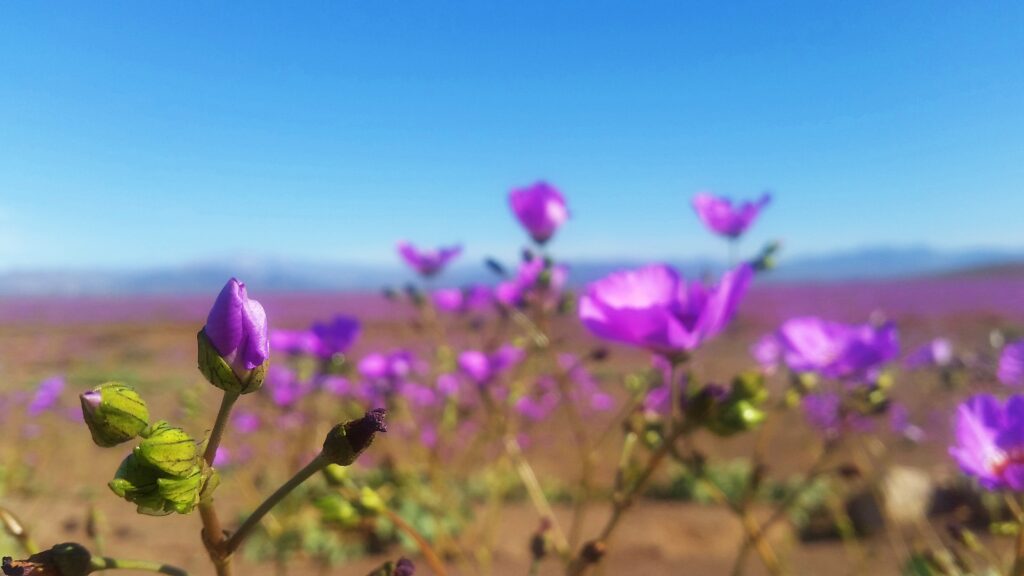 Relax at the white-sand heaven in the middle of Atacama
It was something unexpected. After exploring hundreds of kilometers of the Chilean coast and countless disappointments of finding rather poor beaches, I was so happy and surprised to find this white-sand heaven. The beach is located in the Pan de Azucar National Park and seems to be rarely visited by anyone. I went there a few times during different seasons and each time I met only a couple of people. And the beach is huge! When the tide is low, it takes good 15 minutes to get to the water.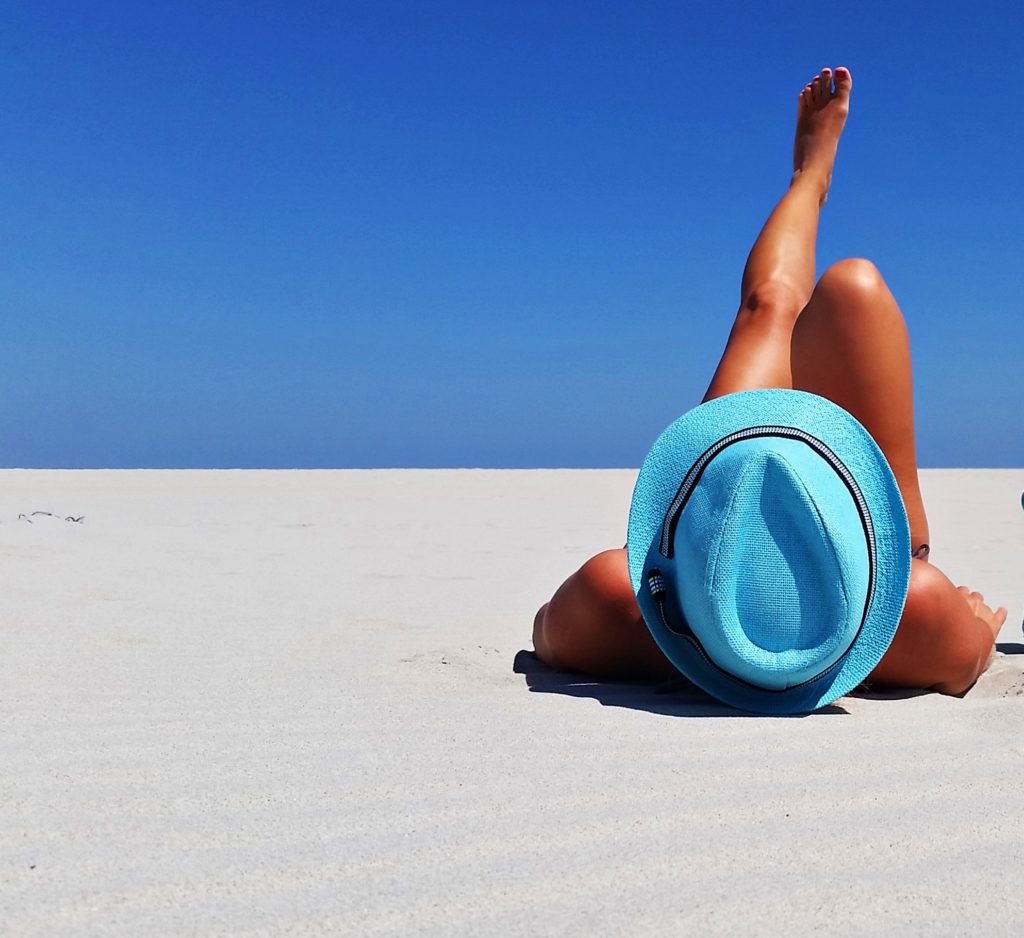 Hike the Moon-like land
You wouldn't believe how many different coulours a desert can produce. Valle de la Luna just outside San Pedro de Atacama is a perfect place to see the transformation, especially at the sunset. Go there to do some hiking before the sunset to see the land like no other. According to scientists this particular place is very similar to the surface of the Moon. To get to the park, you need to pay a little fee.
See also: A quick guide to San Pedro de Atacama
Visit the salt flats
Salt flats in Chile are not as popular as the famous Uyuni in Bolivia, but also quite impressive. The big extensions land covered with salt are beautiful. They are also home for flamingoes, which makes them extra interesting.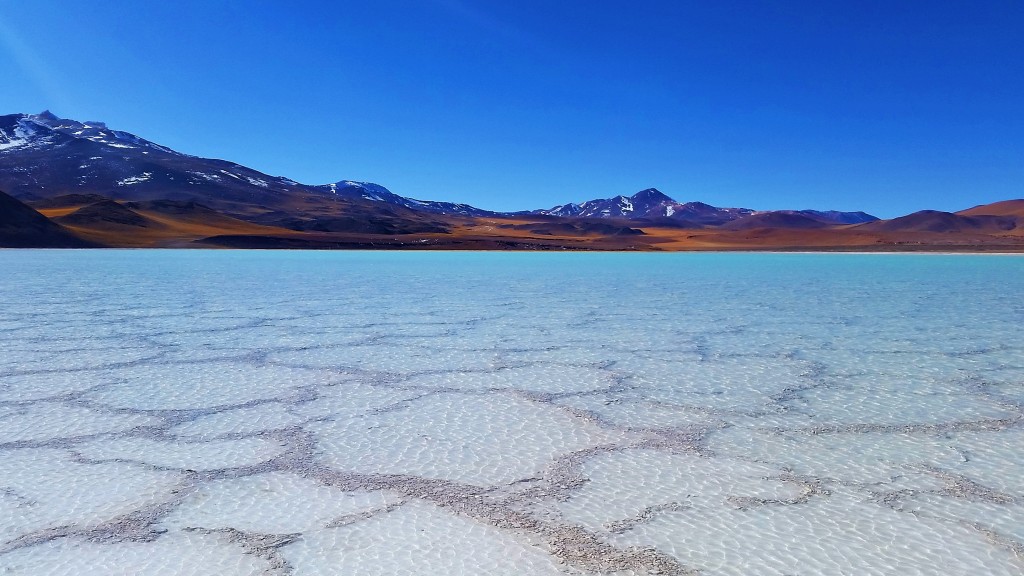 Observe flamingoes in altiplanic lagoons
The flamingoes in Atacama are shy. They let you observe them from a distance, but the second you move too fast and get too close, they fly away. I guess that they are not really used to seeing humans around. There are many little and big altiplanic lagoons in the desert, a paradise for those pink birds. One of the most popular places to spot them (and that your can go on an organized excursion) is Chaxa lagoon.
See also: Turquoise Lagoons in a desert? Atacama-where cool things happen.
Watch the sunrise with hot geysers
Located 90 km north of San Pedro de Atacama, geyseres del Tatio are massively visited by tourists. What makes them so special? Their altitude, as they are located at 4200 meters above the sea level. To be able to see the geysers when they are most active around 6 am, it is necessary to get up in the middle of the night as the trip takes around 90 minutes. It is very cold there, normally -10 C or even colder in winter, but once the sun starts waking up the temperature raises and you forget the pain of getting up so early, cold and difficulties caused by high altitude…it is a truly beautiful place. There are also hot spring there if you fancy a little bath. I was not that brave.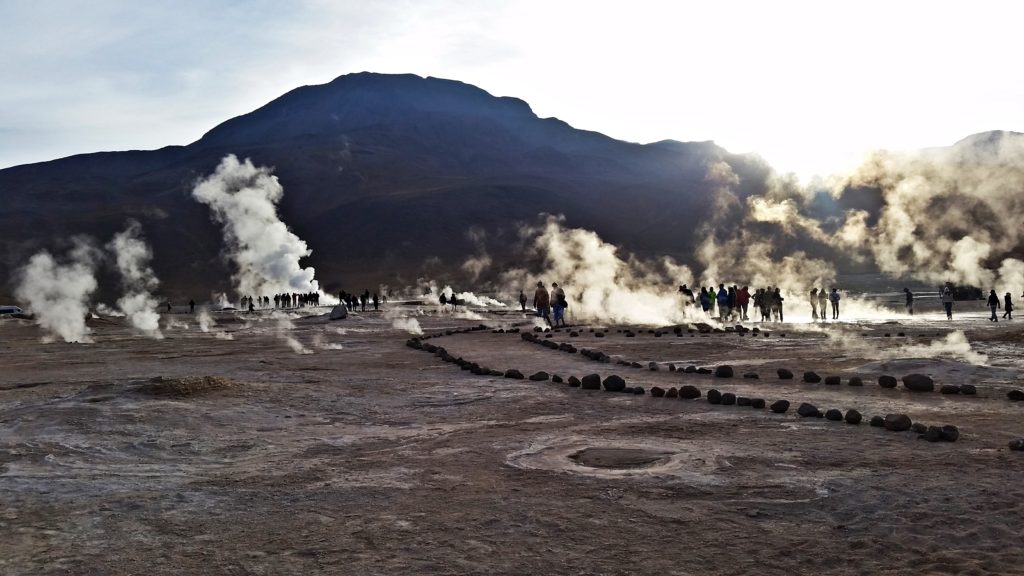 See also: GEYSERS DEL TATIO- a wonder at high altitude.
Play golf on a desert golf course
What first comes to your mind when you think about playing golf? Green grass? I will risk and guess that it would be an answer of many people. In the northern part of of Atacama, near the town of Tocopilla you can play golf in a desert with mountains on one side and the ocean on the other. I bet the sunsets are amazing!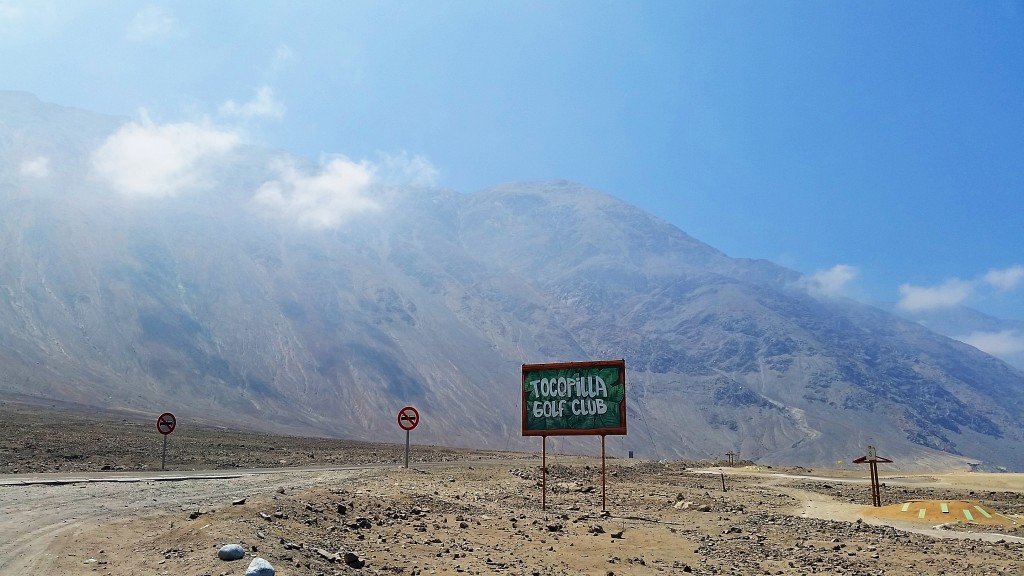 Search for penguins
Thanks to the cold stream coming from Antarctica all along the coast, there are a few places in the region of Atacama desert to spot those funny birds. It might be not easy though as most of the time they are on a small island, which can be reached by a boat only.
Where to to search for penguins:
Caleta Buena. It is a village near Tocopilla, around 2-hour drive north from Antofagasta. According to the locals penguins frequently visist the shore or can be spotten on the rocks accessible by boat.
National Humboldt Penguin Reserve. The reserve consists of three islands: Choros, Damas and Chañaral (don't confuse it with Chañaral town). It is located 100 km north of La Serena. The best way to get there is by car. The road is bumpy, so I would recommend a 4×4. There is also a bus service twice a day between La Serena and Punto de Choros.
Pan de Azucar. In the national park of Pan de Azucar (the park in located near Chañaral, around 5-hour drive south from Antofagasta), there is a little island where the penguins live. Whether it is possible to go and visit them depends on the weather conditions and sometimes on the willingness of the fishermen organizing the tours.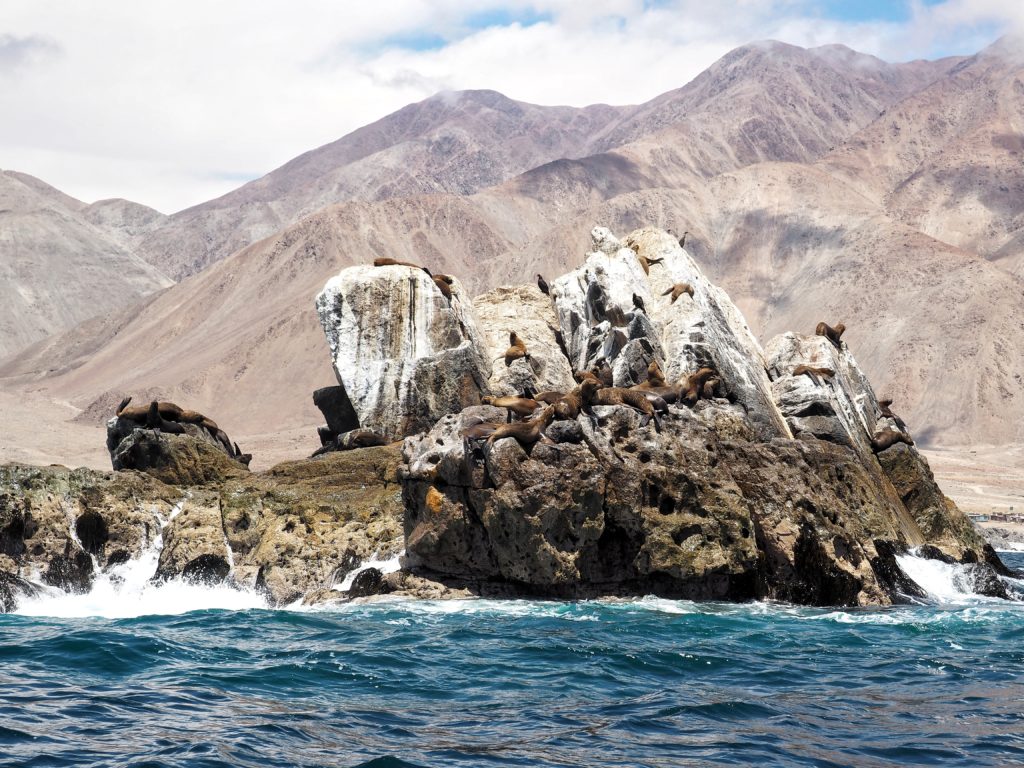 See also: Caleta Buena. In search for penguins and discovering hidden gems of Chile.
Atacama has many surprises for the visitors. From the sunsets that change the colours of the mountains to hot springs to the most beautiful sky possible. It is a land of adventures and unforgettable memories. I hope you enjoyed this post and wish you many wonderful moments whenever you visit Atacama desert.

You can book your stay in Atacama region here and in San Pedro de Atacama here.
Did you like the post? Pin it for later:

See also: Pan de Azúcar. White- sand heaven in the middle of Atacama.
See also: Copacabana, Lake Titicaca and mixed feelings.