A former centre of Peru and the most important city, Cuzco nowedays is mostly visited by tourists whose final destination is Machu Picchu. And it is ok. I think however, the rush and emotions caused by the urge to see the famous lost city stop some of us from discovering the history, wealth and beauty of Cuzco. Or in some cases the high altitude sickness does…like it was in my case. Believe me, guys, I used all the strenght and, energy and willpower to soak the spirit of Cuzco as much as possible despite the overwhelming yearning for a warm bed.
We were already traveling for a few days from Chile by several buses, some of the with a questionable smell. Not because we had to, but mostly because we wanted to see the landscapes though the bus window during the day. As it happened, all the good-standard buses for tourists are scheduled to travel at night, which is great as you can sleep quite comfortably and arrive to Cuzco in the morning and not waste your precious travel time. We however, so keen on getting the 'local' experience chose to travel by a normal, falling apart bus with the locals.
The journey was everything but boring. At every stop a number of local vendors entered the bus offering local produce. Mostly food: fresh goat cheese, roast pig, emanadas…anything you want. All skillfully portioned, sauces and dips served in plastic bags as well as lemonades and juices. Some of the vendors stayed with us till the next stop…no rush to get your food, they are there whenever you get hungry. Then, rather shockingly to our eyes, a tiny woman takes out a machete to cut some pieces of freshly baked animal. I am not quite sure what it was: a llama, a pig maybe? She opens up the package covered with a blanket and cuts out a portion of meat, puts in a plastic bag together with some boiled potatoes and hands it over to a passenger. I did not try it. This bus- dining seemed to be rather popular in Peru. Most of the passengers traveling with us purchased something to eat.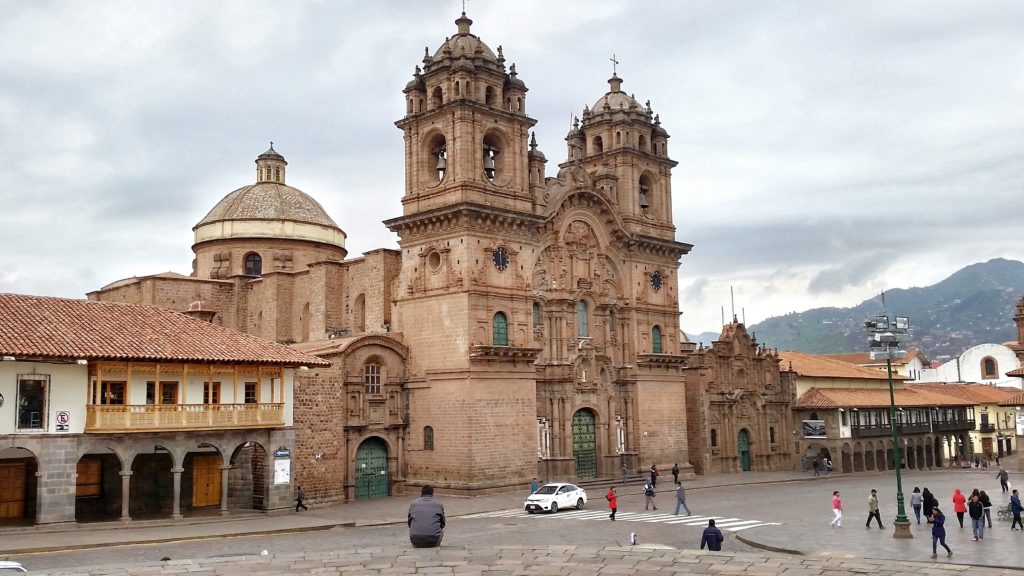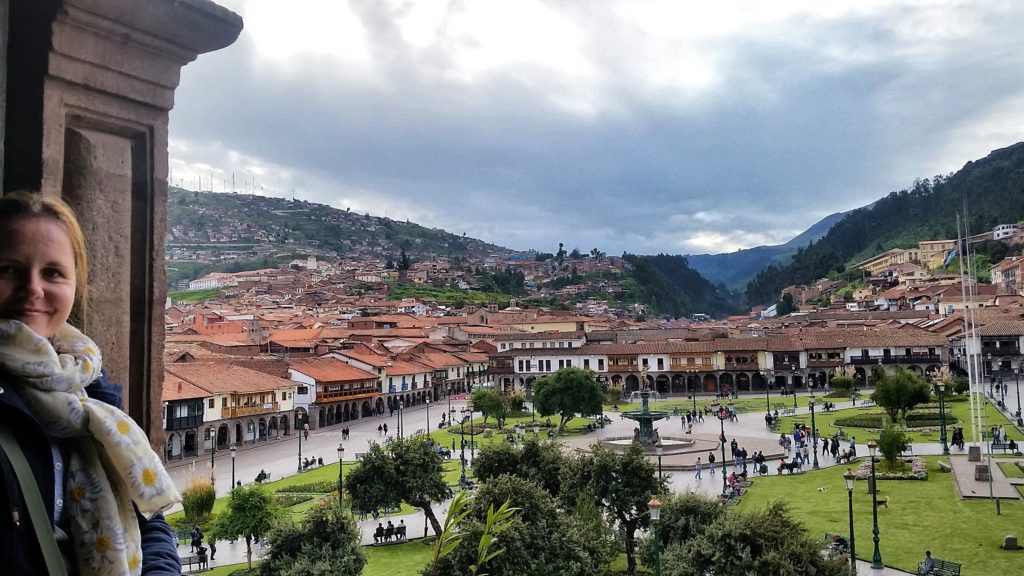 So, the travel was fun and long. Did you know that Peruvians seem to have a big love for budget film productions featuring inspiring sportsmen? We watched three films of this kind accompanied by a very bad quality dubbing during the 7-hour trip from Arequipa to Cuzco. If they played another one, I would have probably considered getting off.
We finally arrived to Cuzco, once a capital of the Inca empire, now one of the main tourist destinations in Peru. This colonial city is well-known for its architecture left by the Spaniards. I was really looking forward to see it, walk around and learn the history. This was one of the travel moments that I wished to just have a nap and come back another time. As I already mentioned, I used all the energy I had left from the long travel (not only from Arequipa, but after a few days of traveling by buses) to manage to make a few steps and breath. The hight altitude was making me suffer.
After traveling extensively to regions of Peru, Chile and Bolivia that are located at high altitude, I have learned a lot how to manage altitude sickness. I did not know that much yet on my first days in Cuzco. Cuzco was one of my first buy roche accutane online experiences of the kind and we stayed there for a few days. There was no escape while feeling rough. For almost the whole duration of our stay I was accompanied by a feeling that could be closely compared to a massive hangover. We considered the difficulties of cold and altitude when booking our hotel in Cuzco, it had to be warm and comfortable.
The most common cure for high altitude sickness are coca leaves or coca tea. The taste is bitter and chewing coca leaves apparently helps to lesser the symptoms. I personally prefer the tea version. You can also buy their sweets prepared with coca. Quite tasty I must say, but it almost got me into trouble while road-tripping in Costa Rica, where one of those coca bars got forgotten somewhere deep in my backpack. We got stopped by police for a random drug search and I had to explain the coca bar.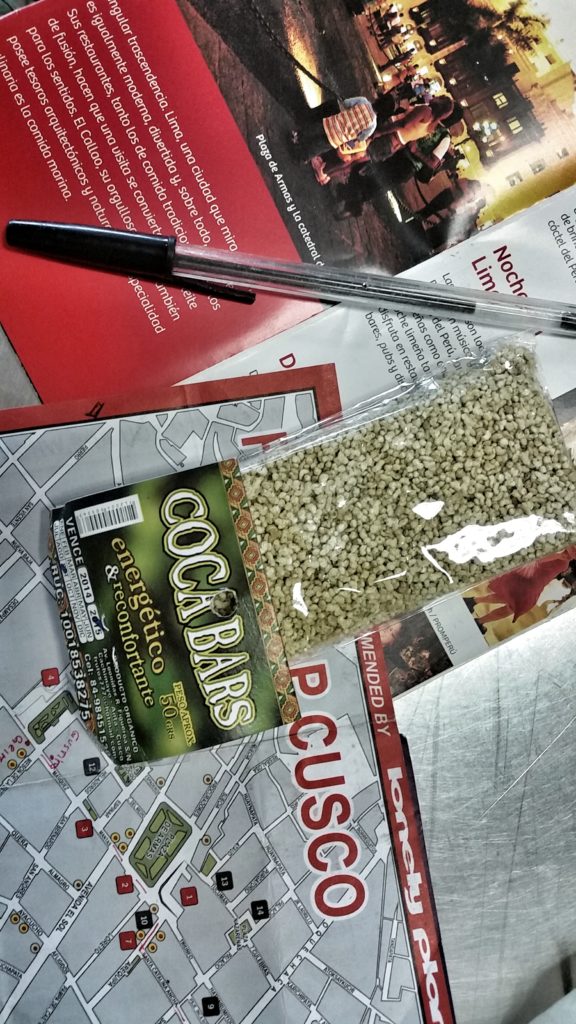 Feeling good or bad was not an excuse. Whenever I travel I want to see as much as possible, feel the atmosphere of the place and blend with the locals to get 'an insider' experience, at least a little bit. Wanting all that I needed to use the last sources of energy I had left. After the trip I quickly forgot how difficult and painful it was for me to take the most out of my time in Cuzco. Now I am glad that I wasn't too much of a lazy bum as I am left with the images of this beautiful city.
[embedyt] http://www.youtube.com/watch?v=LSm1Pa2ZcwY[/embedyt]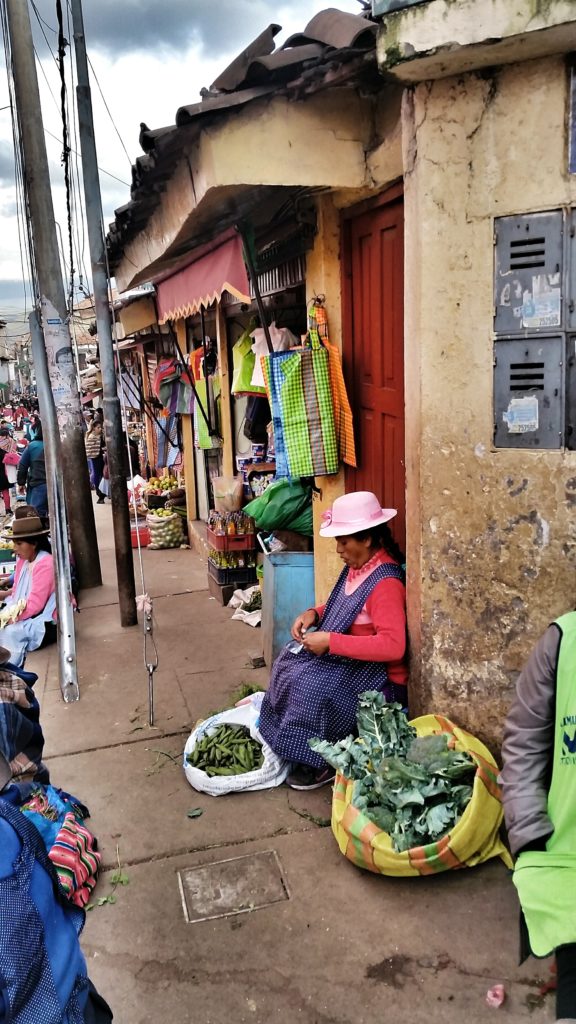 Upon our arrival we noticed that Cuzco is lively and colourful. The trade seemed to be the spirit of the place. Everywhere we looked there was something to buy on the streets: fresh fruits and vegetables, sweets and handcrafts. My admiration for markets took us to visit a couple of them. Peru is known for its food. A walk around the markets is truly a feast for the eyes. The number of types of potatoes and corn as well as other vegetables is overwhelming. It is something incredible. I have never seen before purple, red or yellow potatoes. There you can find them in all shapes, sizes and colours. Same applies to corn. With so many varieties no wonder that Peruvian cuisine is so delicious.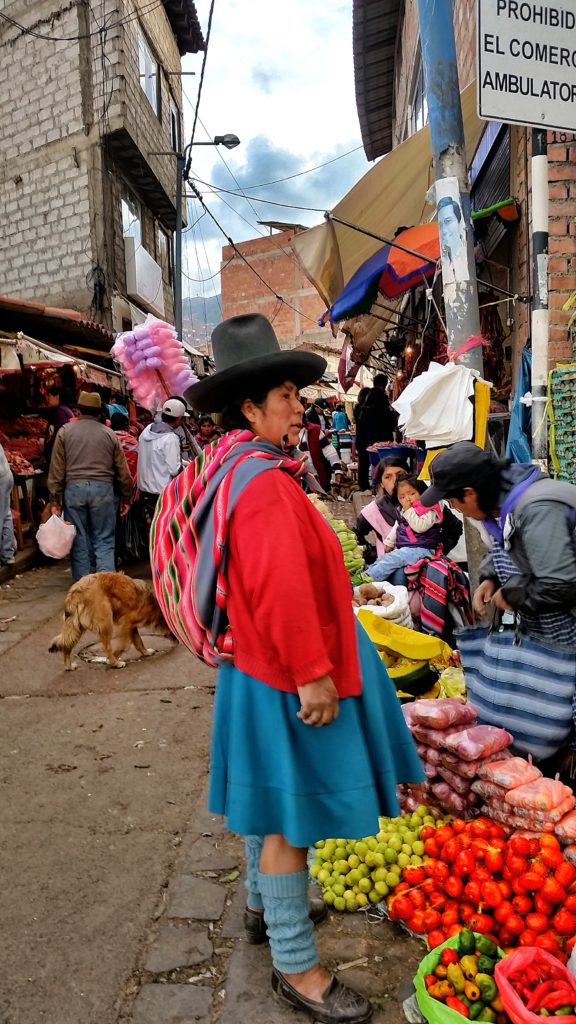 Apart from the colourful…and surprising markets, the main square, Plaza de Armas, is a highlight of the city. It is a beautiful, spacious square with colonial architecture and probably most beautiful cathedral in the whole South America. Spending time on the square was really pleasant. It was cold though, which always makes me a tiny bit unhappy, but apart from that I could have just stayed there for hours watching the life of the people of Cuzco.
I know there is plenty to do in Cuzco and around. I cannot however to give you many tips and ideas what to see and do there as I limited myself to seeing the city slowly with the the small energy I had. Soaking the atmosphere, blending with locals at the markets, rasting their delicious food was enough for me. This is what I love most while traveling…observing, breathing and living for a moment the atmosphere of a place.
What about you? Have you been to Cuzco? What did you like most about it? Or maybe you can tell us your way of traveling? Thank you for visiting. It is always lovely to have you here.

Did you like the post? Pin it for later: