Iguazu Falls lie on the river Iguazu that borders Argentina and Brazil. They are really big, I am telling you. There is a total of 275 drops with the tallest being 82 meters and they straddle over 2.7 km. There is no need for me to convince you to go there, this place can do it for itself. The troubles of making a decision whether you should go there are rather non-existent. The only big decision you will need to make is what side you would like to visit…first.
How much time do you need for the falls?
If you want to see the both sides (and you should) you will need 3 to 4 days, I would say. Nearly four days for me seemed too short actually. I could keep enjoying the place for another month!
The park in Argentina is really big and it is open from 8am to 6pm. You will be asked to leave unless you stay at Sheraton, but even though you won't be able to walk around much. The guards are very vigilant. Moreover, wandering surrounded by wild animals at dark might not be the best idea.
The part in Brazil you are able to see in half a day, in Argentina you definitely need more.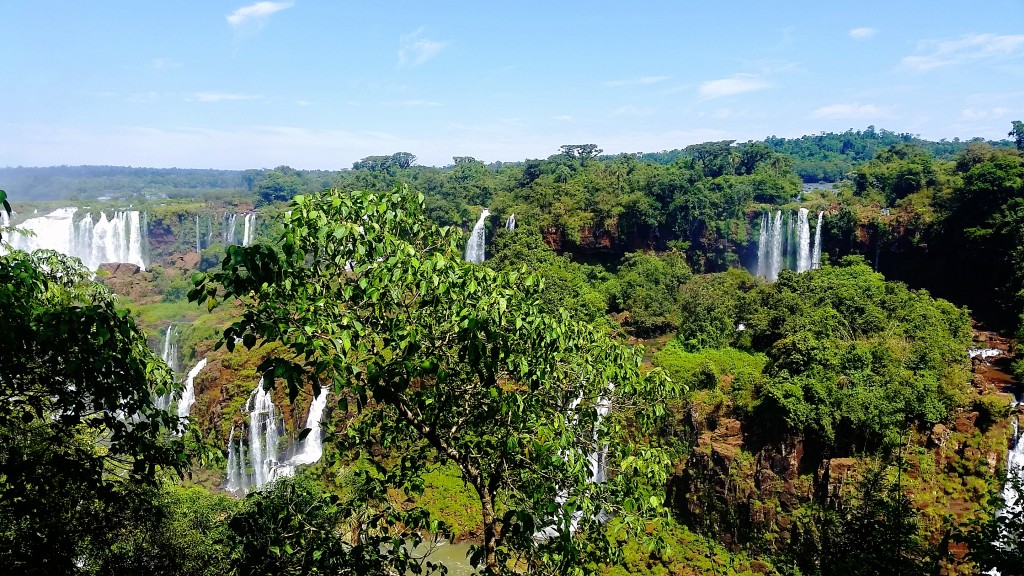 Argentinean versus Brazilian side
Argentina
I personally liked more the Argentinian side, mainly because you can feel the majesty of the waterfalls and enjoy amazing walks around the park. Being surrounded by the beautiful nature of the rainforest, observing toucans, butterflies, colourful birds, jumping monkeys and other animals endow you with unforgettable experiences. And if you are lucky, close reunion with a puma or a crocodile can happen. This national park is so well-organized, spacious and mainly untouched that you can feel the closeness of the nature. Although many visitors go there, it is not too crowded and it doesn't really feel like a touristic place.
Brazil
When you go the Brazilian side, you can appreciate the panoramic view of the falls from a distance. You can also organize a helicopter ride there (in Argentina it is forbidden as it scares birds and animals).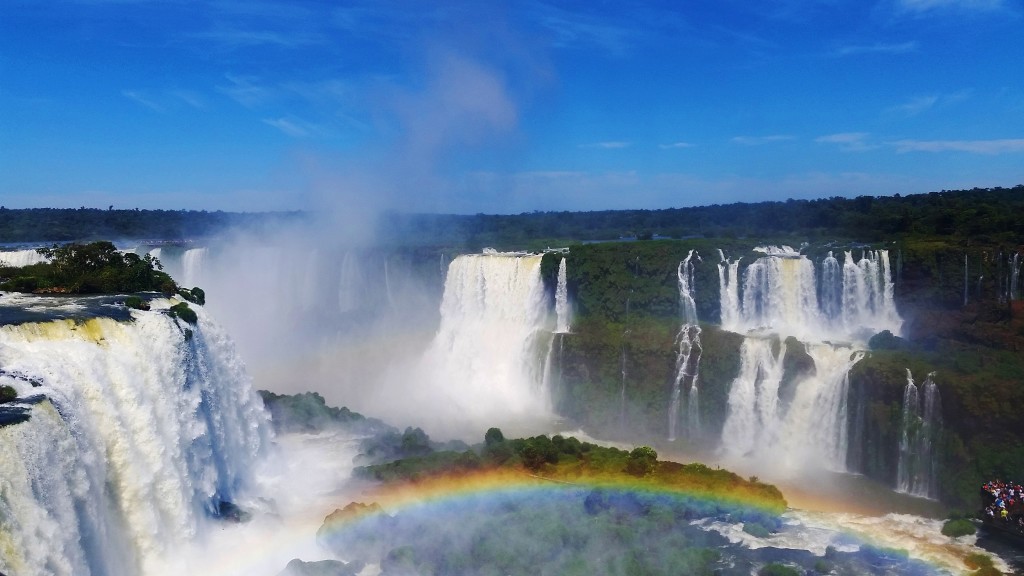 To get the real experience of the trip and enjoy the falls to its fullness, you should definitely plan to visit both sides. Please check the visa requirements though, as some nationalities require previous arrangement. For citizens of EU, a temporary visa will be stamped at the border. The walks on the Brazilian side are not as extensive as in Argentina, therefore it feels very crowded there and somehow touristic and commercial.
 Prices
If you decide to visit the falls on two sides, you will have to pay the entrances to both parks. You will be asked to show ID upon buying the tickets as they prices vary according to nationality.
In Argentina:
If one day is not enough for you (and I bet it wouldn't), the second day you will pay half price of the entrance. Just remember to keep your previous ticket. If you decide to stay at Sheraton (which is inside the park), you will pay the entrance only once.
Opening times : 8am-6pm. Last entry 4.30pm.
An adult entry costs 250 pesos.
More info here.
In Brazil:
Opening times: Brazil: 9am-5pm
An adult entry costs R$ 52.30 (have the local currency exchanged earlier as the exchange rate is bad there).
There are discounts for citizens of Argentina, Venezuela, Paraguay and Uruguay. Brazilians pay much lower rate.
More information you can find here.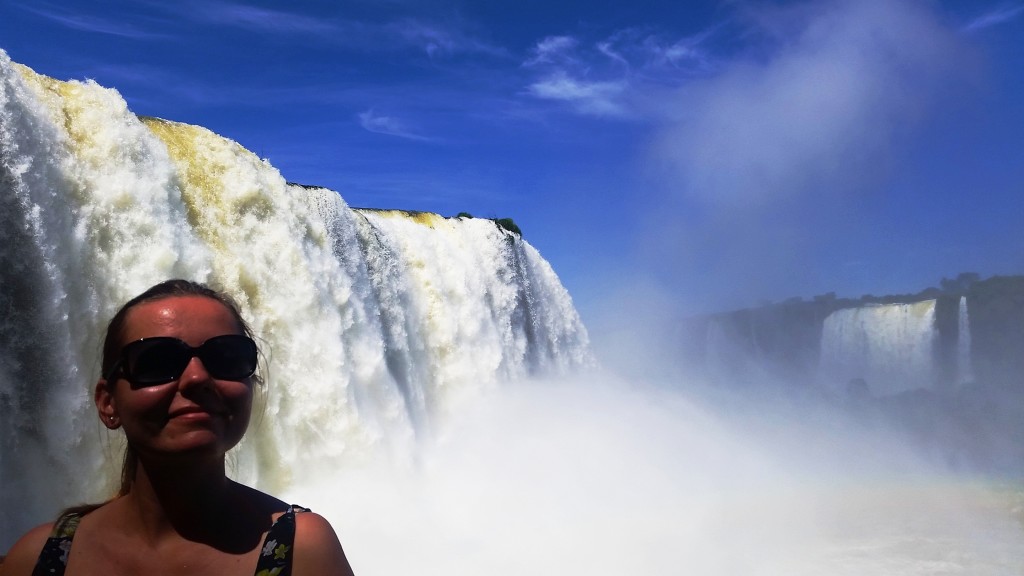 How to get there  
By bus:
Bus from Buenos Aires to Puerto Iguazu: 15-20 hours
Bus from Sao Paolo to Foz De Iguassu: 15-18 hours
Bus from Rio De Janeiro to Foz Do Iguassu: 21 – 23 hours
By plane:
 There are two airlines I found accutane no prescription good: LAN and Aerolineas Argentinas. The latter one offered much cheaper fares the dates suitable for us from Buenos Aires.
To fly there from Brazil, you will need a connecting flight. You will need to find flights with a destination of Foz do Iguassu.
Get there from Puerto Iguazu
There are taxis operating between the park and the nearest town Puerto Iguazu, but they are quite expensive, especially if you plan to make a few trips.
After doing some research after getting there, we found out that there is a cheaper option, which is not very widely advertised. There is a bus operating for 100 pesos (10 euros) both ways. You get it at the bus station in Puerto Iguazu and it takes you to the entrance of the park or a bit further just outside of Sheraton Hotel. If you get off at the entrance (of course you need to buy a ticket), there's a small train (free of charge) that can take you further in the park and to Garganta del Diablo.

How to go to Brazil from Argentina
To go to the side of the falls in Brazil, you will need to take a bus from Puerto de Iguazu to Parque Nacional do Iguassu.  It runs every hour and costs P$65.
What is the best time to go to Iguazu?
In summer it gets really hot there taking into account the tropical climate in the rainforest. The water spraying close to the waterfalls will cool you down a bit, but you will get totally wet.
The hot months are between November and March. The most pleasant temperature and the prettiest vegetation is in spring (October), but I went there in March and it seemed all the plants were quite green and alive.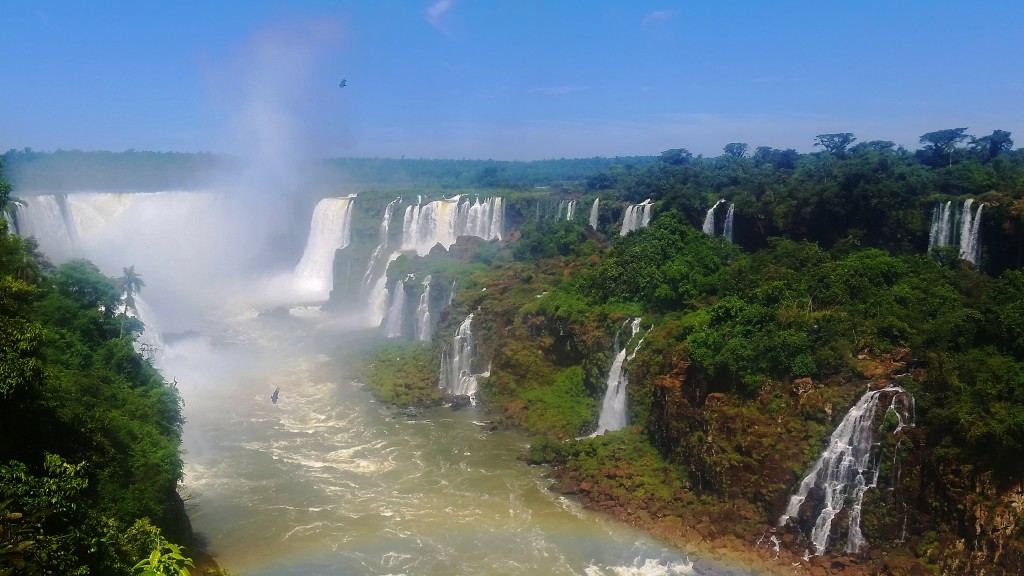 Where to stay
I have stayed in Argentina, so I am not really able to provide much information about accommodation on the brazilian side.
In Puerto de Iguazu there is many places to stay with varying prices. Accommondation for a good price you can find here. If you decide to stay inside the rainforest in Sheraton (it is quite pricey though), you will be able to enjoy it longer, eat breakfast accompanied by toucans and fragrant vegetation and have a view like this: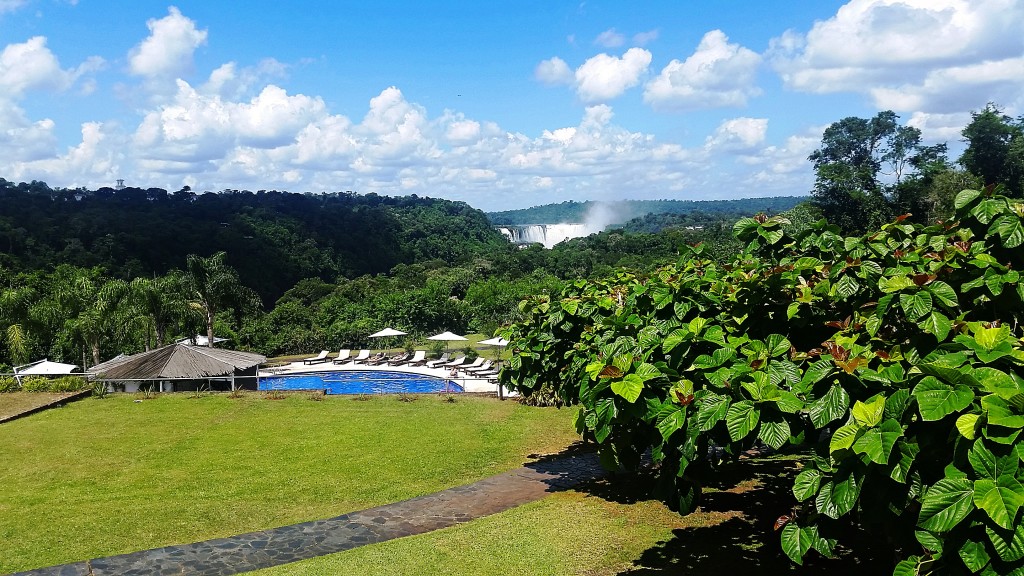 And you will be warned like this: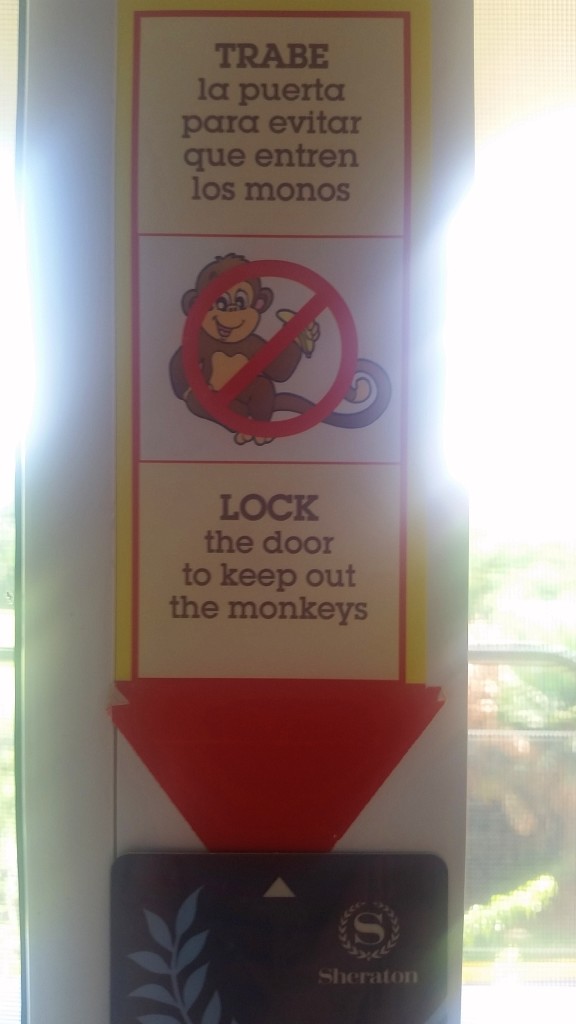 What else can you do there
80% of the falls are in Argentina and you can enjoy them and the extensive park by following assigned walking routes.
1. Upper Circuit
2. Lower Circuit
3. Garganta del Diablo Circuit
4. Sendero Verde
5. Sendero Macuco (open till 3.30pm; 7 km return trail)
6. Sendero Yakaratia
7. Sendero de Isla San Martin
8. Paseo Ecologico (Ecological Trail)
9. Grand Adventure (Gran Aventura)
You can also explore the parts of the park away from the falls. The nature is amazing there and when you get tired you can have a swim in a pool hidden in the jungle.
Full moon walk to the Devil's Throat (Garganta del Diablo). The walk is organized on the full moon night, plus two days before and two days after. The spaces for the trip are limited, therefore it is advisable to book it before.
You can take a waterfall boat trip. You will have plenty information about it once you get there, or

here

.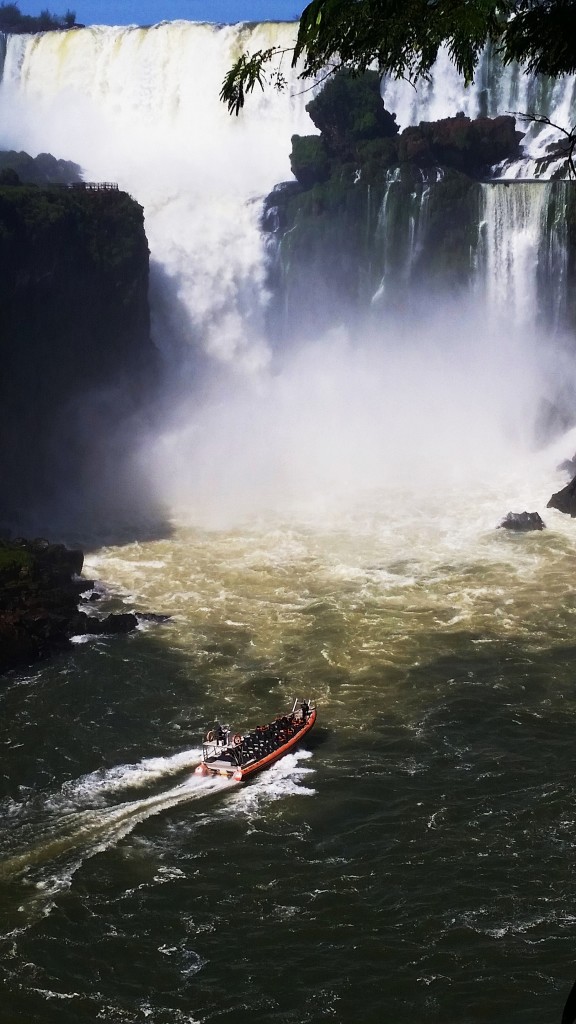 Other useful information
always carry a bottle of water
bring with you a mosquito repellent
bring a hat and a sunblock
I hope you find those tips helpful to you. If you would like more information, you can visit the websites mentioned above or click here to see if a travel guide might interest you.

Did you like the post? Pin it for later: