So through me, freedom and the sea
will make their answer to the shuttered heart.

"Poet's Obligation"
Houses of Pablo Neruda are anything but boring. They are full of history and unusual items from all over the world. The unique personality of Pablo Neruda can bee seen throughout every house he bought. The houses were always full of laughter, romance, love and dinner parties.
Now, over 40 years after death of the poet, every day, hundreds of visitors roll to see the houses of this Nobel Prize winner and a pride of Chile. Visiting each of them is an exceptional journey through time and emotions. The poet had three houses in Chile, all of them full of character and personality impossible to recreate.
You enter any of the houses and you are hit by feelings. They might your own, but they also might be the feelings left in the houses, so carefully arranged, decorated and cared for. They were always filled with guests, fragrant meals served at frequent dinner parties, laughter of friends Neruda loved to be surrounded with, creativity, art and…love.
La Chascona
In a cool neighbourhood of Santiago, Bellavista, Pablo Neruda had a store-house, in which he spend a lot of time with his secret lover, Matilde. It was the time when Neruda was sharing his life with two woman: a singer Matilde Urrutia and his wife Delia del Carril. Until Neruda finally left his wife in 1955, Matilde lived in La Chascona alone for two years.
(Fernando Márquez de la Plata 0192, Barrio Bellavista, Providencia, Santiago)
La Sebastiana
I built the house. First, I made it of air. Then, I raised the flag in the air and left it hanging buy amoxil 500 from the sky, from the light and the darkness. Pablo Neruda – excerpt from "To La Sebastiana"
Valparaíso was much admired by Neruda. He said once: "If we walk up and down Valparaíso's stairs we will have made a trip around the world." Actually, walking up the steep hills of this,undoubtly, most colourful city in Chile will help you understand what Pablo Neruda wanted to say.

La Sebastiana was an escape home from the business of Santiago. It is a tall-skinny five story house, but Neruda originally only owned a part of it. His search for a house in Valparaíso was based on many demands. The house was supposed to be original, comfortable, with the neighbours that couldn't be seen or heard, with the bay view and easy to access local tyransportation…and above all dirt-cheap.
(Ferrari 692, Valparaíso)
Isla Negra
"Bury me at Isla Negra/in front of the sea I know, in front of every wrinkled place/of rocks and waves that my lost eyes/will never see again."
Some say that Isla Negra is the most extravagant house of Neruda. It is not an island, like the name might indicate, but it is located at the seaside south of Valparaíso. The personality of Neruda can be noticed in every detail of Isla Negra. In this house, Pablo Neruda wrote most of his best pieces of poetry. The charm of this place must have given him a real creativity boost. Pablo Neruda and his lover Matilde Urrutia have been buried behind Isla Negra overlooking the ocean.
(Poeta Neruda s/n, Isla Negra, El Quisco)
Keep smiling, follow your heart
Anna
Did you like the post? Pin it for later: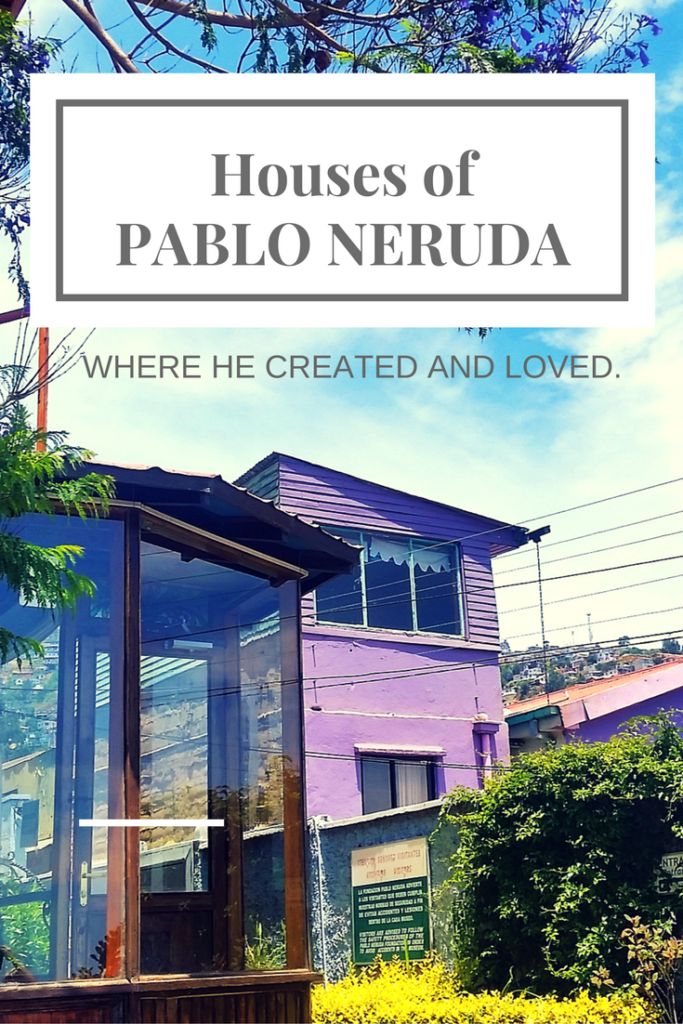 [wysija_form id="1″]