If you have been following my blog for a while you might have noticed my relationship with coffee. I just cannot imagine my life without it. Well, maybe I am getting a little bit too dramatic, but seriously…life is better with coffee, right? And even better if the coffee is good. The last few months I spent searching for the perfect coffee, which was a bit of a challenge in my new place of residence. Following my love for this mighty liquid, I pay a significant attention to coffee shops while traveling. This time I walked Buenos Aires wide and long (twice), and tested coffees in different places. I have prepared for you, fellow coffee lovers, a list of best traditional coffee places in Buenos Aires.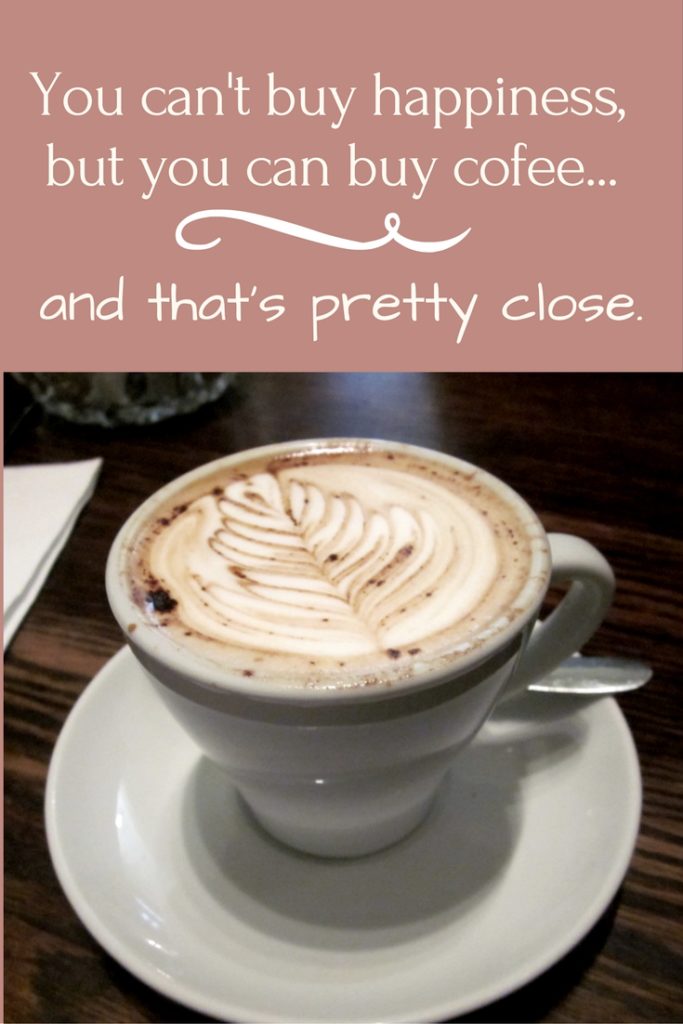 This is not an ordinary list. What makes it special is the fact that the coffee places were carefully selected by the real Argentinians, who were born there and know all the treasures of the city, double-proved by me. Thanks to Cristina, Cuca and Alicia, I am now able and happy to share with you a list of the coffee places in Buenos Aires that will complete your experience of your stay.
Take the beans
toasted and new,
Add the water, grind and brew.
Bitter as chocolate, rich and sweet,
Mix with friendship
Oh, what a treat.
10 best traditional coffee shops in Buenos Aires
La Biela
Av. Pres. Manuel Quintana 596

This coffee house is located in the heart of Recoleta neighbourhood with a traditional interior and a big terrace. This a place were two friends and Nobel Prize winners, Adolfo Bioy Casares and Jorge Luis Borjes used to have their afternoon coffee. Try there tostados, ham and cheese toasted sandwiches and enjoy the atmosphere.
Café Dorrego
1098 Buenos Aires, San Telmo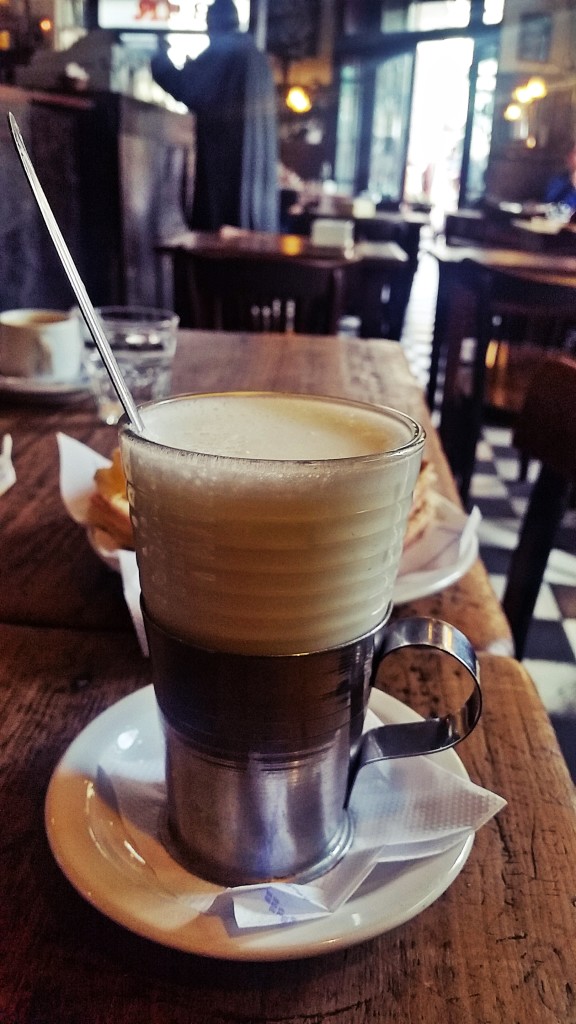 In the heart of San Telmo market Café Dorrego is a must. Sitting there at a window, watching the world go by in this vibrant  and colourful market. Try there submarino– a glass of hot milk and a chocolate bar you melt in it.
You will notice there that the tables and wooden elements on the walls are rather old and scratched. It is not a lack of care, but giving old school furniture a second life.
Clásica y Moderna
Av. Callao 892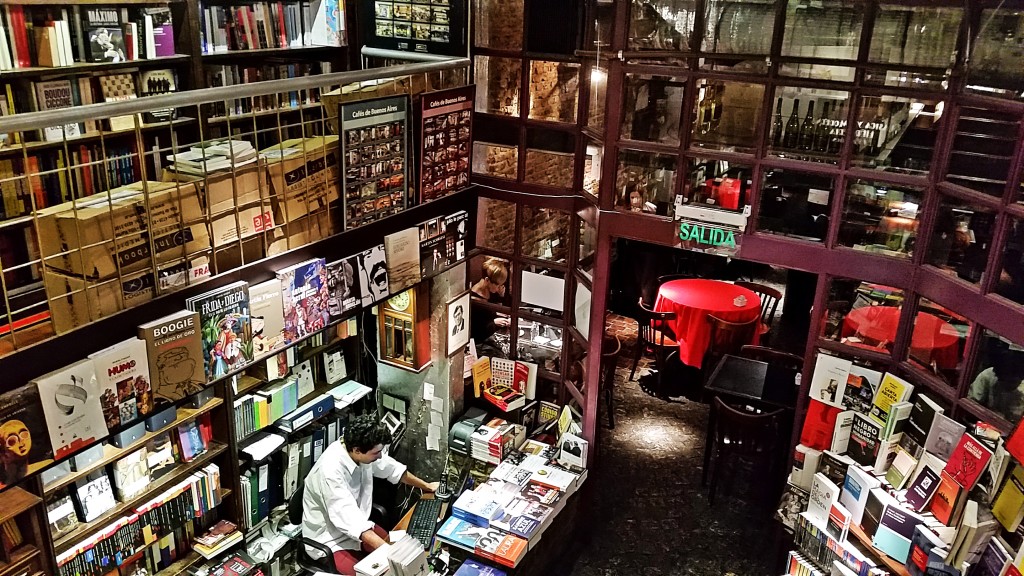 This is the first one out of two on this list of coffee houses that are placed in a book shop. I found the atmosphere there really welcoming and friendly. This would be a place to relax and watch a show offered every night. From jazz through bossa nova ending with tango can entertain the most fussy ones. Stars such aS Mercedes Sosa, Liza Minnelli and Susana Rinaldi added an extra spice to the place in the past. Also a  great selection of books in this little backroom bookshop tempted us enough not to leave empty-handed.
Four words for Clásica y Moderna: coffee, books, dinner and show.
Café Tortoni
Av. de Mayo 825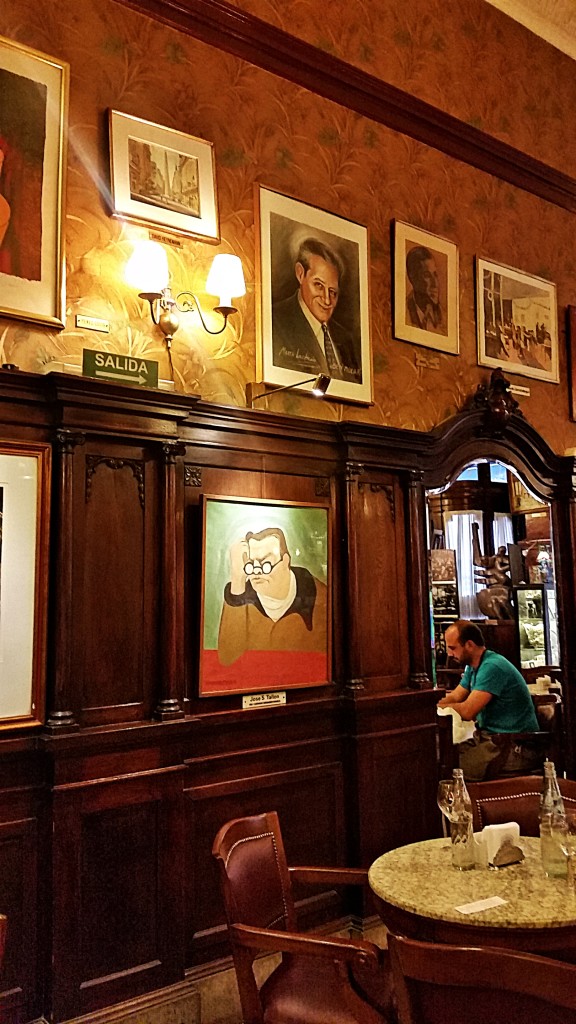 In Café Tortoni you don't only get a great coffee experience, but being there is like a tour through history of artistic and literary side of Buenos Aires. This is Argentina's oldest coffee-house and an inseparable element of porteño lifestyle and landscape since 1858.
This place was famous for its tango shows and poetry recitals. Hector Negro has written a tango especially for Tortoni, which was sung by Eladia Blázquez – 'Viejo Tortoni'. Today, Café Tortoni is probably the most popular coffee place amongst tourists in whole Buenos Aires.
La Puerto Rico Café
Adolfo Alsina 418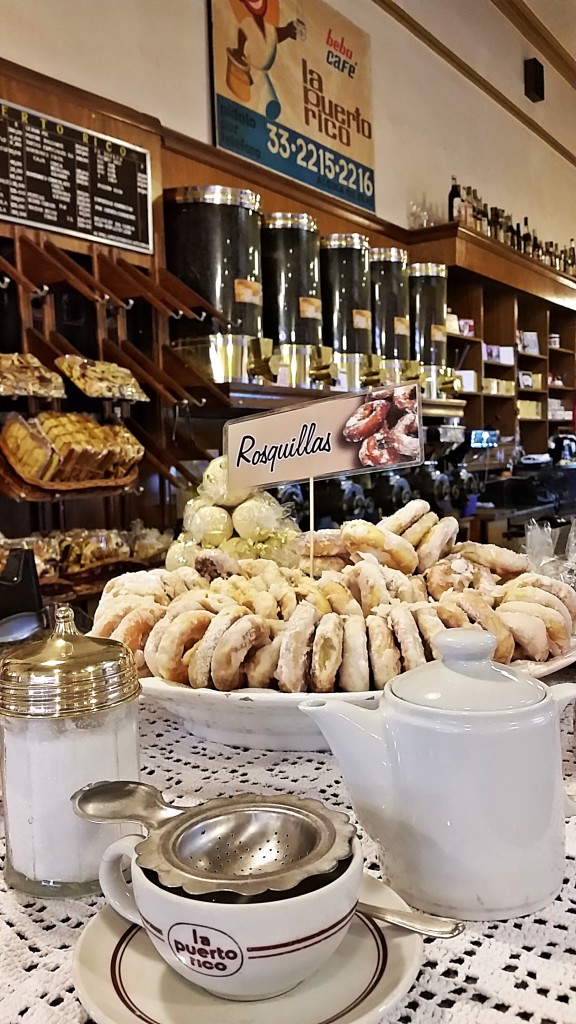 Being so close to many sites for tourists and San Telmo buy accutane with no prescription market, La Puerto Rico Café can be an excellent place for a little rest for your legs and satisfy your sweet tooth and caffeine need.
Café de los Angelitos
Av Rivadavia 2100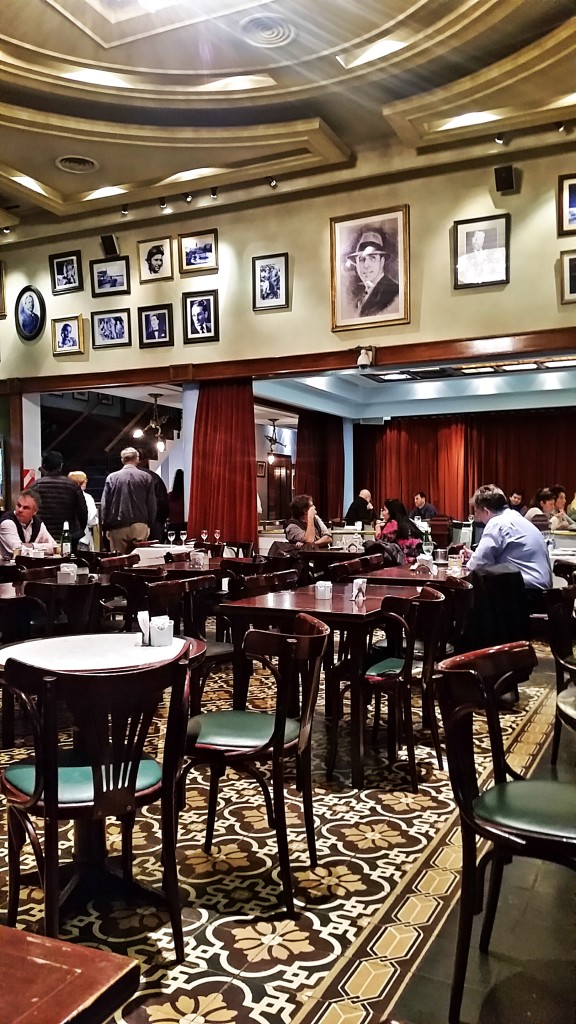 If you are a big fan of coffee houses, this is the one! This place is special. The traditional decor with stain glass windows, little hanging angels and photos of tango stars is far from being boring. The look of the place and elegantly dressed waiters  take you back in time to the grand splendor of the city.
Make sure you try amazing cake covered with pieces of merengue balcarce and torta de ricota.  On Sundays you can be a part of a special treat. At 17:00 every Sunday you can be a part of a cycle 'El té de los Angelitos' organized there, so you could enjoy half-an-hour-long free tango show while enjoying your tea and cakes.
Apart from that event on Sundays, every evening there's organized a special dinner with a show, where the best tango performers entertain guests. The dinner and shows have place in a separate room with a theatre stage. It costs $140 and needs to be booked in advance, but it is a treat that will leave you with wonderful memories from Buenos Aires.
Café de los Angelitos is a piece of Buenos Aires tradition.
Las Violetas Confitería
 Av Rivadavia 3899
This is another coffee place with a traditional decor you can find in Spain and France. If you fancy to spoil yourself a little, go there for High Tea. I did not eat there, but heard opinions from other travelers that this is a place for coffee, not lunch as the food at times is disappointing.
El Ateneo Grand Splendid
Av. Sta Fe 1860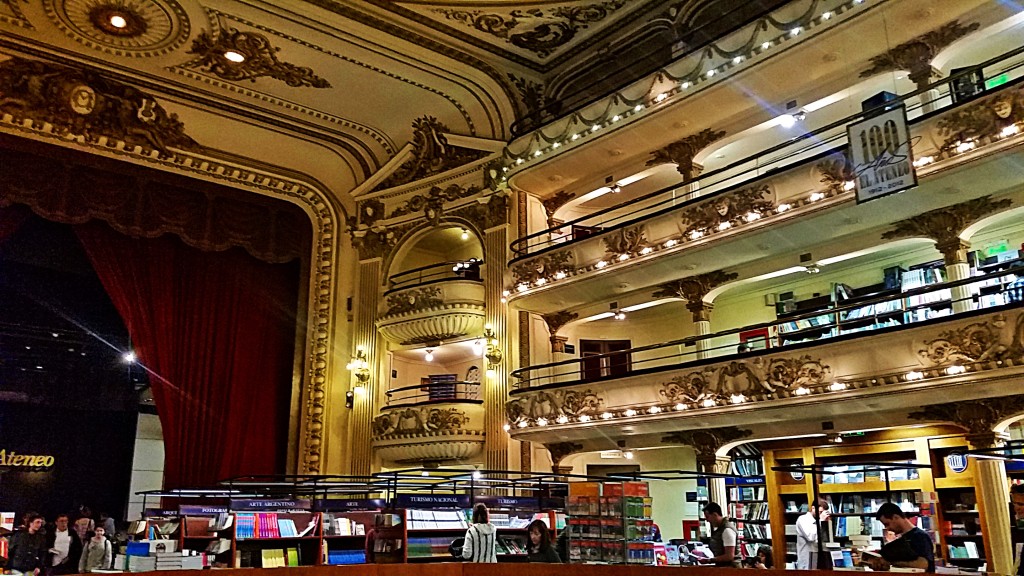 This is probably one of the most amazing places I have seen. You go to a theatre to browse shelves full of books. You can even have a coffee there, right at the stage. This place is wort visiting even if you don't fancy coffee. Just go there and walk around. I have heard opinions that the book selection is not great, but come on…the place is beautiful and unusual, which is enough to pop in.
El Gato Negro
Av. Corrientes 1669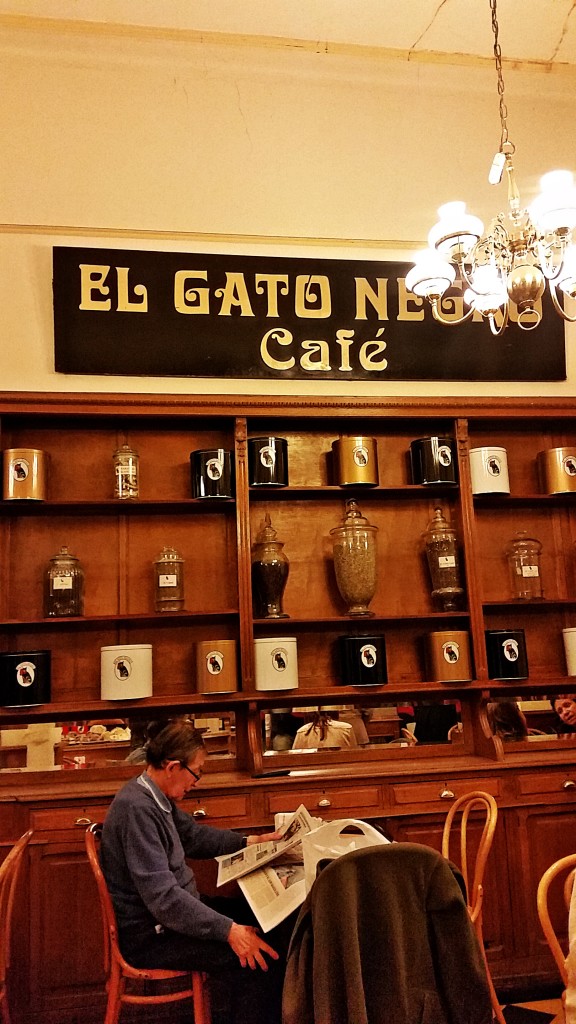 The Gato Negro has been a surprise. You will find it while walking along the busy show street of Corrientes that never sleeps, full of many exciting places. The café is a place with lots of character and great coffee. What is so amazing about this place though, is that sells many different spices and teas displayed in old fashion jars and boxes. The second you open the door to enter, you'll be welcomed by many amazing fragrant products.
El Olmo
Av. Sta Fe 2502, corner Pueyrredon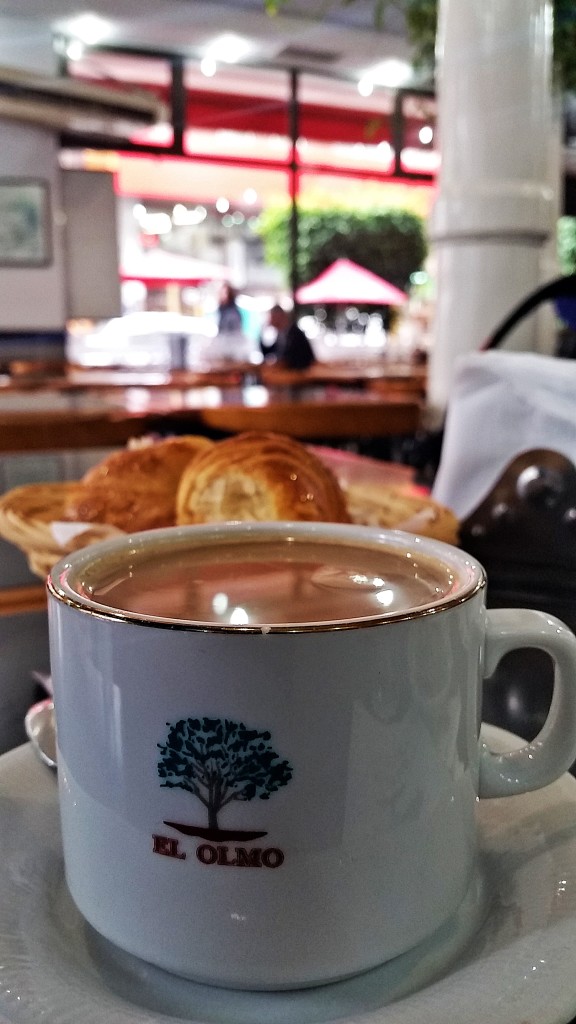 It is another traditional coffee shop and quite popular. Although it is quite a nice and located in the Broadway of Buenos Aires with many theaters around and they have excellent medialunas, the staff there is not very pleasant.
˜˜˜
Thanks or reading. I hope you will find it useful. Which one of those coffee places appeals to you most?

I would love to read your suggestions and ideas in the comments. And if you know some awesome coffee places, please don't keep it to yourself. Spread the word and end the misery of drinking rubbish coffee, because for some of 'us', the hopeless coffee addicts, that information would be golden. Click the social media below to share it with other coffee lovers.

Did you like the post? Pin it for later: