It was a sunny autumn day. My first time having a walk in Retiro Park in Madrid. I was not rushing anywhere, nothing was waiting for me. I remember enjoying the warmth of the golden this time of the year sun rays on my face. I was walking as if nothing else mattered. This place allowed me to do so. Even though there were many people around, I did not feel to be part of crowd. I walked for long admiring the light coming through the rest of the colorful leaves on the trees. It was so pretty, I thought.
I had a book with me, it was called "Passion India", a story about a Spanish dancer, Anita Delgado, who become an Indian princess. There were beautiful landscapes of India portrayed by the author. I sat on a bench thinking that there is no a better place and time to continue the reading the book that sitting in the park of Retiro with warm sun on my face and golden leaves falling down. I could easily imagine the dancer walking the paths of the park many years ago before she married the prince. A story I sill remember vividly as I remember my first time in Parque del Retiro.
As I continued the idle afternoon with my book, I was joined on the bench by an older man. He wore a hat. It was the kind of hat I remember from movies set in the 50s. I liked that hat. A few wisps of white hair were falling out that the hat did not cover. The man just sat there with his notebook and a pencil. Not a pen…a pencil. I don't like pencils, they can be easily erased and not live the track of our thoughts behind. Without asking he told me he writes poetry, he always has. Not for living, but for pleasure. He said that it is important to keep the mind occupied…or you'll lose it. That's what I understood with my broken Spanish back then. I don't want to know if I misunderstood, it was a very clever thought. He was right, we need to keep our brains creative and we need passions in life.
Since that warm October I returned to Madrid many times. Every visit, short or long, has to include a walk in Retiro. "Isn't that boring?", you may ask, and I will tell that it is not boring at all. It is a place full of beauty, locals and tourists strolling the paths, children learning to ride their bikes and couples in love hugging in front of the pond buying amoxil where ducks happily splash the water. It cannot be boring when so many things happen there. It is a place when many laughs of friends are heard or young couples fall in love. It is a place for people with a life experience that after a few decades of marriage still walk holding hands. That's what happens there and you can see it all if you just forget for a moment that you are a tourist treating it as another city attraction. You can see so much more if you aim for something further that what's in front of the camera lens.
See also: Pedraza, a trip to a fairy-tale town.
Retiro is not only a pretty park, but also an open air museum. you might have heard of the famous statue of the Fallen Angel (El Ángel caído) …it can be found in the park. It is the only sculpture in the world representing a devil, which for those interested in arts, is something special to see. There is also a Velázquez Palace constructed at the end of 19th century and the mos beautful and romantic atraction – Palacio de Cristal (Glass Palace). Those are only few examples of beatiul art in Retiro.
The first time I saw the glass palace for after a few visits to the park. Why so late? I don't know. The first impression however was priceless. The palace is surrounded by a charming garden with a pond and fountains. I could just stay there and watch. The construction is beautiful and I especially like the way it reflects the light.
See also: Spain for foodies. Dishes you must try while in Spain.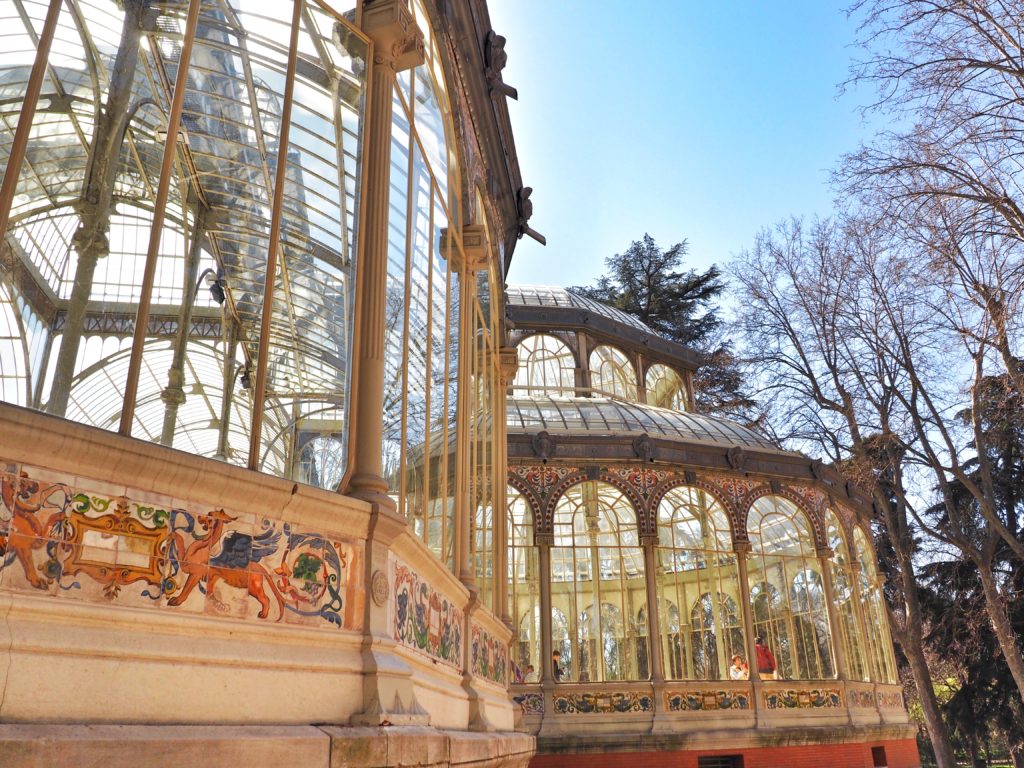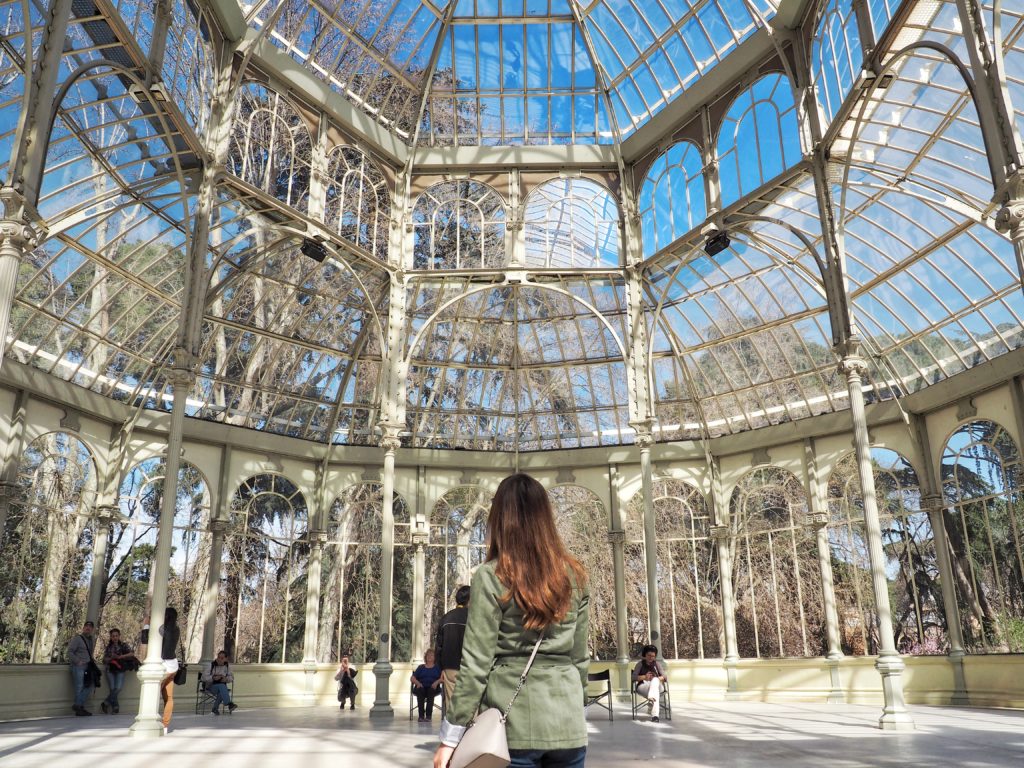 Mindful moment.

Observe the light. Take a little moment (a few seconds or much longer, all depends on you) to observe the light. Is it natural coming from the outside or maybe an artificial lamp? You can observe anything, but this time let's focus just on light. This is a simple but powerful exercise. Find a source of light and don't do anything apart from observing it (but don't look directly, it can harm your eyes). Instead notice how the light falls on objects or the reflections it makes. Is it a warm light? Does it form a straight line? Explore it. Relax and observe without judgment.
See also: How mindful traveling makes my experiences richer.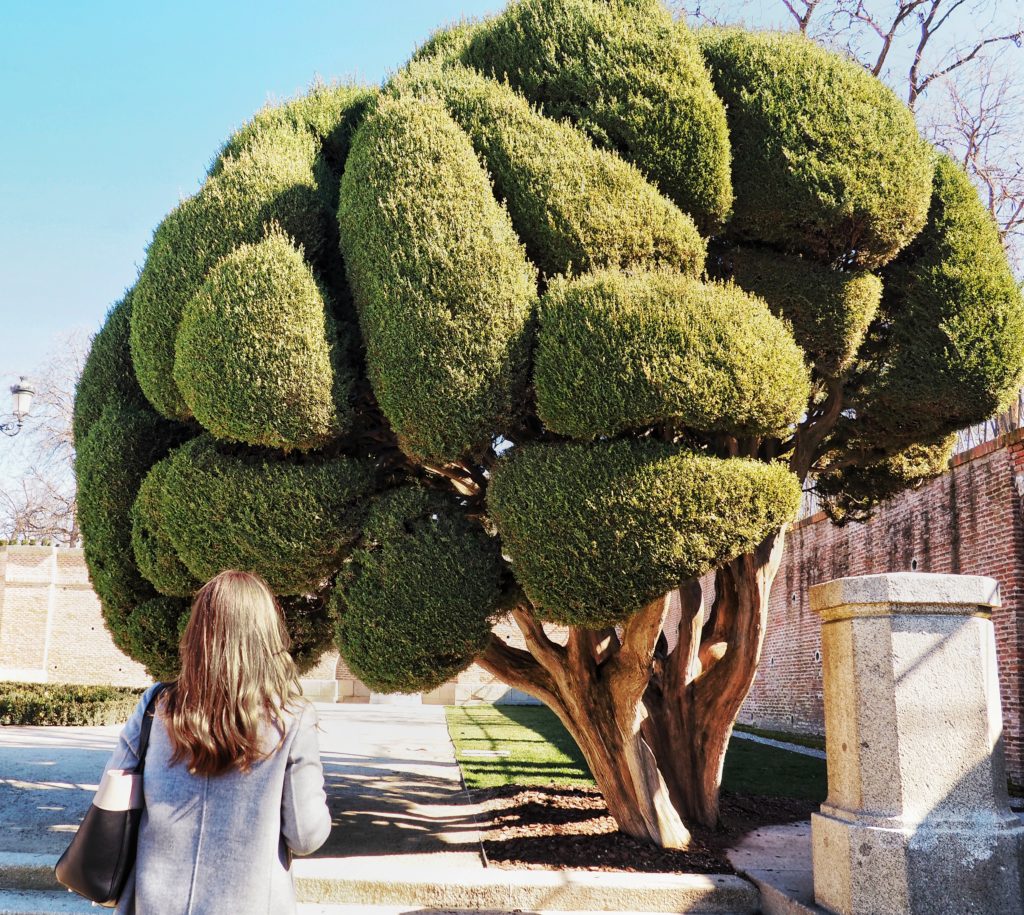 Thank you for visiting. During your travels or even in your home place, did you get impressed by something that stayed in your memory for long? It would be lovely to hear your stories.


Did you like the post? Pin it for later: