Let's start the new year with a sweet twist, shall we? I meant to write this post a while ago, but in the middle of so many adventures I got carried away. The time arrived and I am presenting to you a list of excellent places to try chocolate and churros in Madrid, which is undoubtedly a must while visiting this city.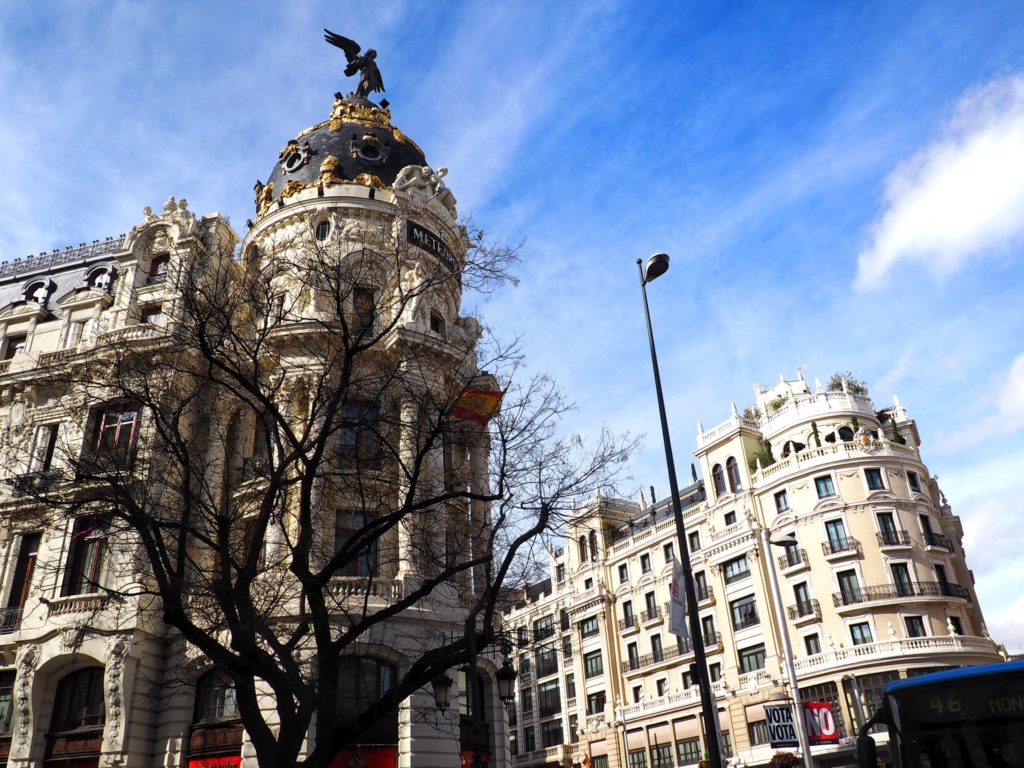 Chocolate con churros is best known amongst Spaniards as an 'end of the party night' snack. I am sure you would love it any time of the day if you are into sweet treats. I like it best for breakfast or during a day as a break with a sweet treat. Churros are fried pastry usually served with hot chocolate or coffee with milk. Many places offer apart from churros, porras, which are much thicker than churros.
Together with the real madrileños we tried chocolate con churros in various places in Madrid and selected the best ones. As a result of that (apart from the problems to button up our trousers) I came up with a list of 5 places you should go to if you want to try best chocolate con churros in Madrid.
Cafetería San Ginés
(Pasadizo de San Ginés, 5. Metro: Sol)
This is probably the most popular and traditional churro place in Madrid. I guess that every guide would tell you that there is no visiting Madrid without chocolate con churros in Cafetería San Ginés. As much as I don't trust all the 'must see and do' aspects of traveling, I went to see what the fuss is about. And I must admit, guys, that they make pretty good stuff!
In the heart of Madrid it is easy to reach and once you do so, you will need to be prepared to wait in a long line to get a table. Early in the morning it is already full of the party people who pop in for a sweet early breakfast before heading home after the whole night of partying.
A quick tip: you need to order and pay before you sit down and they do not take cards for orders below 10 EUR. There are two floors of tables (my favourite and with the most original decor is the one downstairs) and a patio on the street.
Chocolatería Valor
(Calle de Póstigo de San Martin, 7. Metro: Callao)
Chocolatería Valor started making chocolate in 1881. During cold cheap accutane online months it becomes a very popular place for locals to enter and warm up with a cup of hot chocolate. The menu is rather extensive and you might have problems with making decision what to order, but I guess there are bigger problems to worry about than whether to order a traditional dark chocolate dip or their Cuatro sentidos (a set of 4 cups of hot chocolate of different kind) that will introduce you to the sweet blanc de Nepal to more intense chocolate with each cup.
Chocolatería Muñiz
(Calle de Calatrava, 3. Metro: Puerta Toledo)
This place is most popular as a rest stop for people shopping on Sunday mornings in El Rastro. They have been making churros and porras followed by tasty thick hot chocolate since 1942. There is another reason why it could be a good place for the snack: it is located near a street market where you can find anything from vintage clothes to unique door handles. Not a bad thing to finish a morning of shopping by eating churros, right?
La Madrileña
( Calle Costa Rica, 15. Metro: Colombia)
This is my favourite place for chocolate con churros. They serve their freshly prepared crispy-yet-delicate churros or, if you prefer, porras (a little bit softer and meatier version of churros). Together with a traditional décor it can give you a lovely experience during your stay in Madrid.
La Antigua Churrería
(Calle de Bravo Murillo, 190. Metro: Estrecho)
This churrería with over 100 years of tradition is still serving churros based on an original recipe, probably the same one that the grandparents used to follow when they first started the business. The chocolate they serv is not too sweet and not too bitter: it just a perfect chocolate to accompany fresh churros.
See also: 5 perfect places to go jogging in Madrid
Have you ever tried churros? What do you think? What are your favourite sweet treats from around the world? Your comments and ideas are always worth gold.
I am glad to tell you that you can now download this post on GPSmycity and access it whenever you need it during your visit in Madrid without the Internet connection. We know it might be hard sometimes to access an information we need during our travels just because there is no Internet access. This app can be a lifesaver. Enjoy.

Did you like the post? Pin it for later: