It was Friday, a day of a surprise birthday dinner for María, a friend I made in Chile. As the evening was unfolding, I mentioned how much I like penguins and my search for those elegantly funny birds was not very successful during the two years of my living in Chile. I traveled and waited and went back to the same places multiple times…No luck.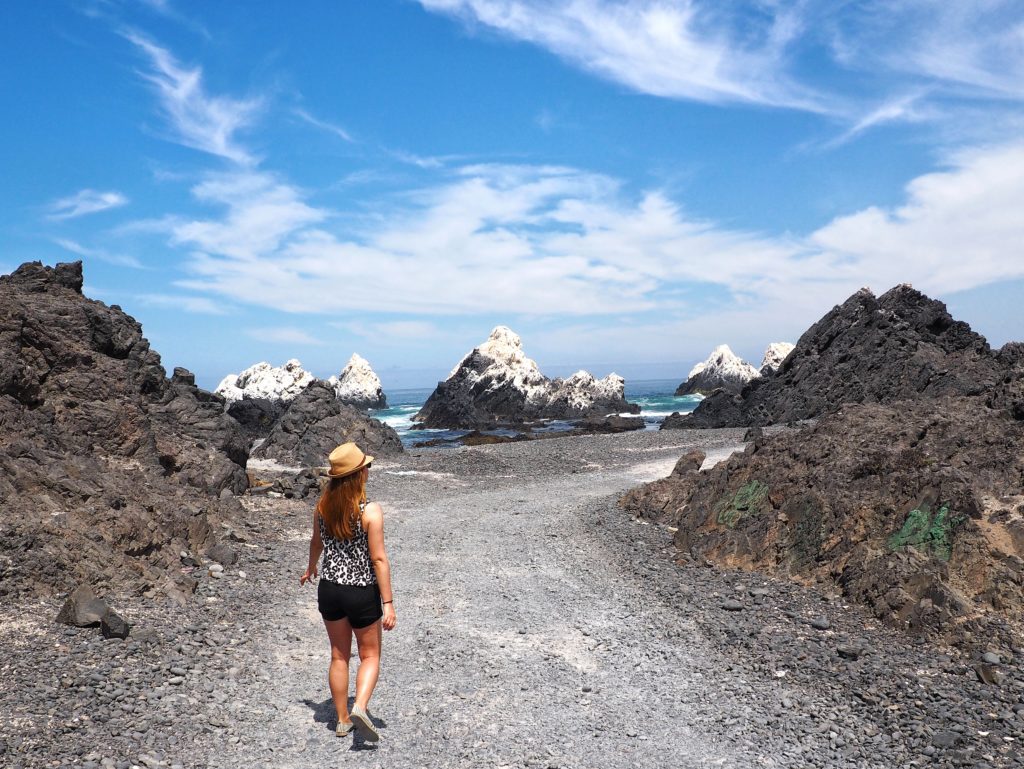 I am starting to think that penguins don't really want to make friends with me. Chile, as you all know, has a very long coastline. What makes it even better and increases the chances of penguin colonies to visit is the cold stream of water coming from Antarctica all the way north up to Peru. There is so many places in Chile to see penguins. From Punta Arenas to Atacama desert even.
I have not see many of them though, except a small colony of king penguins in Tierra de Fuego. For two years I have beed trying as much as I could to so popular Humboldt penguins in Chile. If you read this blog from time to time, you might remember the story of my four trips to Pan de Azucar just to see the penguins. Four times, guys…and no luck. Why? Either the sea was too fierce to sail or the firsherman that agreed to take us on the boat decided that he prefers to wait at the shore at his little handcrafts stand. Not a single tourist in sight apart from us and his chances to make a profit that day did not look very promising. Yet, he prefered that than getting a good rate for taking us to see the penguins on a little island just minutes away from the shore.
And the other time in Punta Arenas? The penguins were just not there, we arrived a few weeks too early. Or Isla Damas? Another spot to see the penguins in the north of Chile. We arrived ten minutes late to take the last boat that day after a few hours of driving and getting lost in the never-ending desert.
So yes! I haven't had much luck meeting the creatures I want to meet so much!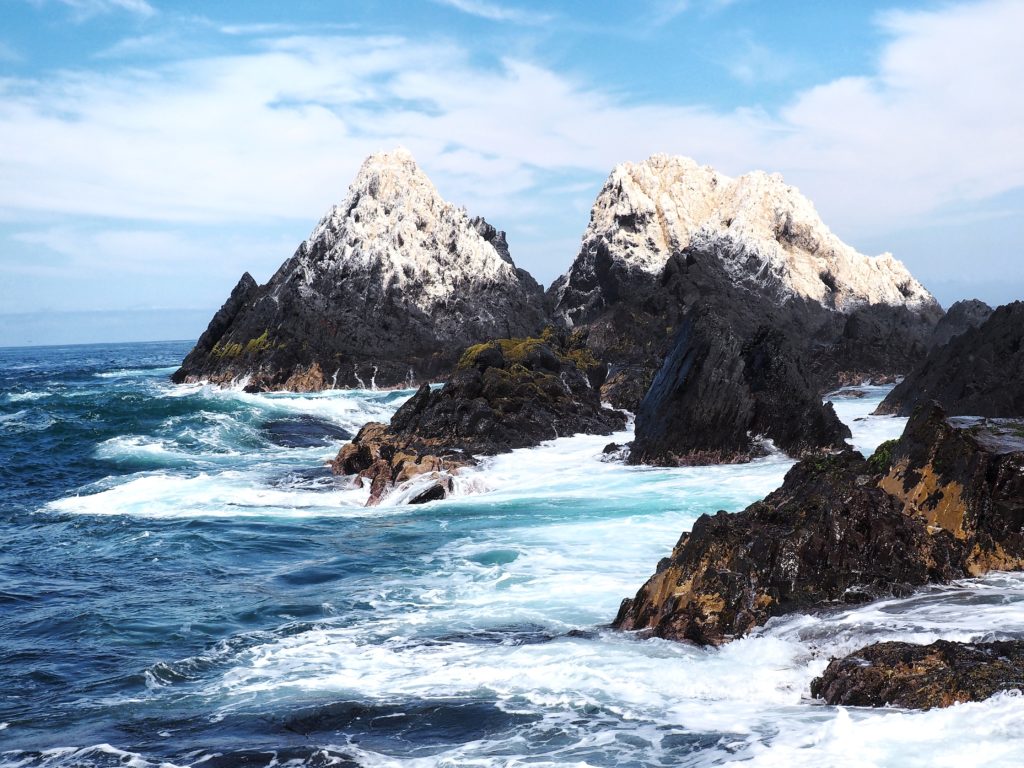 "Why don't we take you to see penguins this Sunday?" María said and her boyfriend backed up the offer.  I really did not need to think twice to give the answer. If there is a real chance to meet the penguins…please take me there.
They picked us up just after 8am on a Sunday morning. Before hitting the road we make a quick stop at the local fish market to get a previously ordered fish for lunch. Two hours later we arrived to Caleta Buena where María's boyfriend comes from. After putting a good amount of sun cream and a hat, we started our penguin-hunt.
After driving on a dusty, uneven ground for a few minutes and a short walk we arrived to a little bay.
The waves were furiosuly splashing againts the rocks making a really beautiful object to take pictures of. I took so many, believe me.
The colour of the Pacific Ocean was deep blue with occassional shades of turquoise and green. The little rocky islets with funny shape of ice cream cone, covered with birds' waste made a rather pretty contrast. The skye was blue decorated with fluffy white clouds. There was an overload of pretty blue. I stayed there for a while on a little rock with the waves hitting. We all did. I did not want to turn my head towards the desert. After living there for long I was kind of tired of the brownish gray shade of the landscape. The water was beautiful and alive.
It was somehow soothing to be there far away from civilisation. The only sound was the melody of the sea. Nothing buy isotretinoin india else.
After a while of the contemplation and taking a few too many shots (I want to believe that never it is too many pictures) we moved on to a different place. The penguins were not there. As the family of María's boyfriend informed us, the penguins were just there that morning. I will say it once again: I have no luck.
We found many beautiful starfish though thrown out of the ocean by the waves and I must admit that they made a rather pretty object for my photos.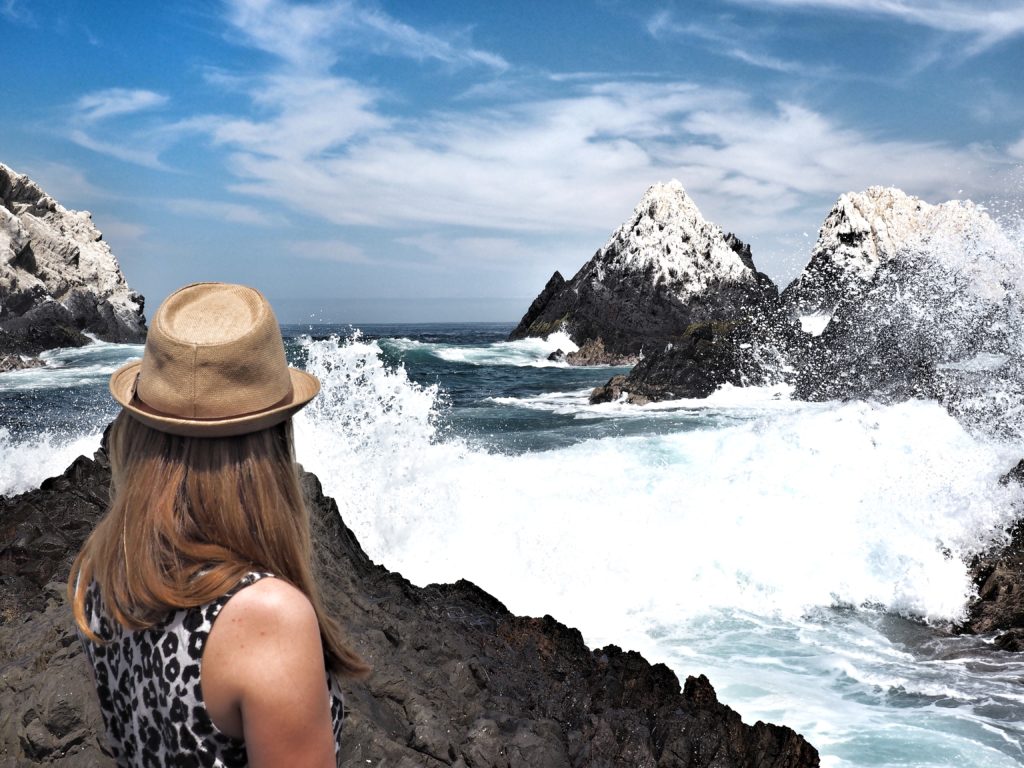 The sun is strong in Atacama… and I mean it really strong. We did not manage to stay long out there and after skipping breakfast we were starving. The excitment wore off and the attention then was focused on lunch. It was kindly prepared for us by the family. We were also treated with a boat ride to nearby islands to see if maybe the penguins decided to spend an afternoon there together with sea lions and pelicans. They did not.
The view was pretty. The desert meeting the ocean seen from the totally different perspective gave us picture of these two so powerful elements of nature.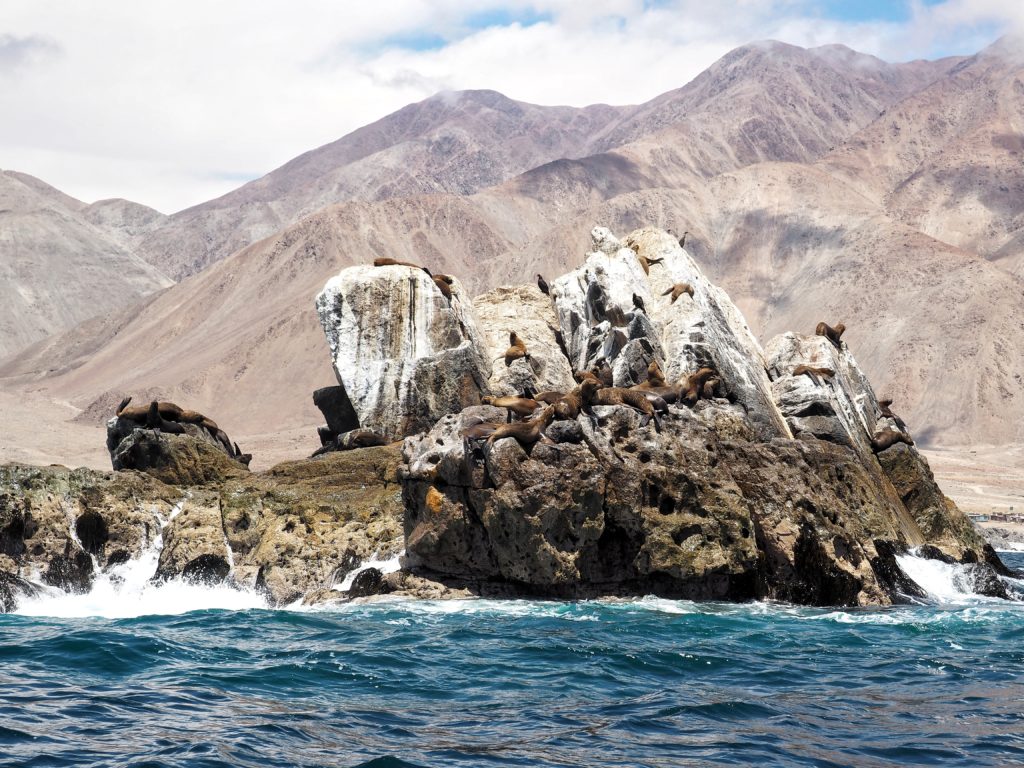 How to get to Caleta Buena:
Caleta Buena is located in the north of Chile, two hours of driving south of Iquique and 185 km north from Antofagasta.
Take the Ruta 1 north, it is the road along the coast with some curves near Tocopilla (a hometown of a football star and a big pride of Chile, Alexis Sanchez).
The trip by car takes a bit over 2 hours.
There is no bus service to Caleta Buena. You have to go first to Tocopilla and from there find another transport.
Eat at Normitas, apparently one of the best places to eat in the region. Norma, the owner and cook is a vibrant business woman that serves food like at mum's. I only tried empanadas there and they were delicious.  A frequest celebrity dining here is, of course, Alexis Sanchez.
A few spots to look for:
Golf course in the middle of a desert. It is a rather funny thing, especially after living in a capital of green golf courses in Scotland. Seeing a desert golf course is quite impressive.
Gatico Cemetery. 
Gatico Castle. Ruins of a castle together with a whole town give a spooky image. In the middle of the desert, far away from civilisation, there was a little town of Gatico build in the first half of the 19th century by the Bolivian government (this region of Chile at this point still belonged to Bolivia). It was a place to live for the saltpeter mine workers.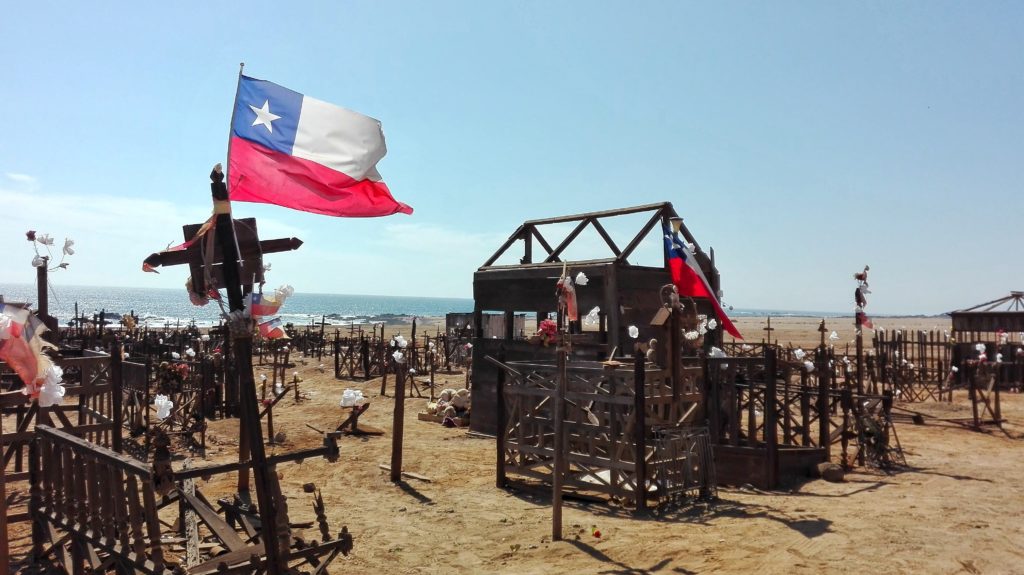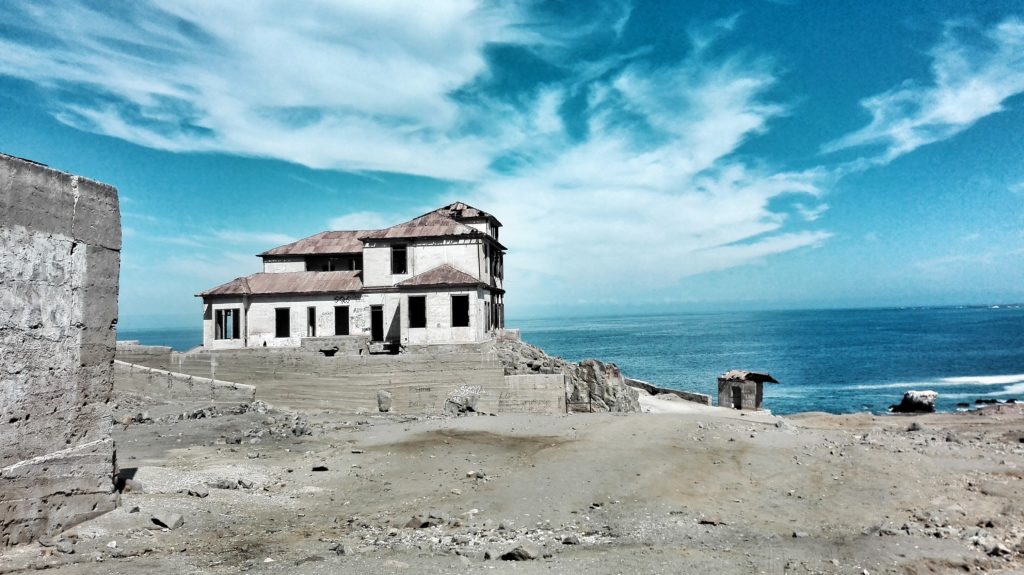 After the whole day of looking for penguins on and off shore followed by a hot match of tejo (a really cool beach game we discovered and purchased in Uruguay) we were exhausted. For the record we played girls versus boys…and it was a female victory!
We did not find penguins, but the day was memorable. Spending time with the locals, visiting places rarely seen by tourists gives a totally different perspective to places while traveling.
Click here to search cheap flights to Chile: 
Get extra flat $15* off on round trip flights this season. Use the Coupon Code CFN15. Book Now!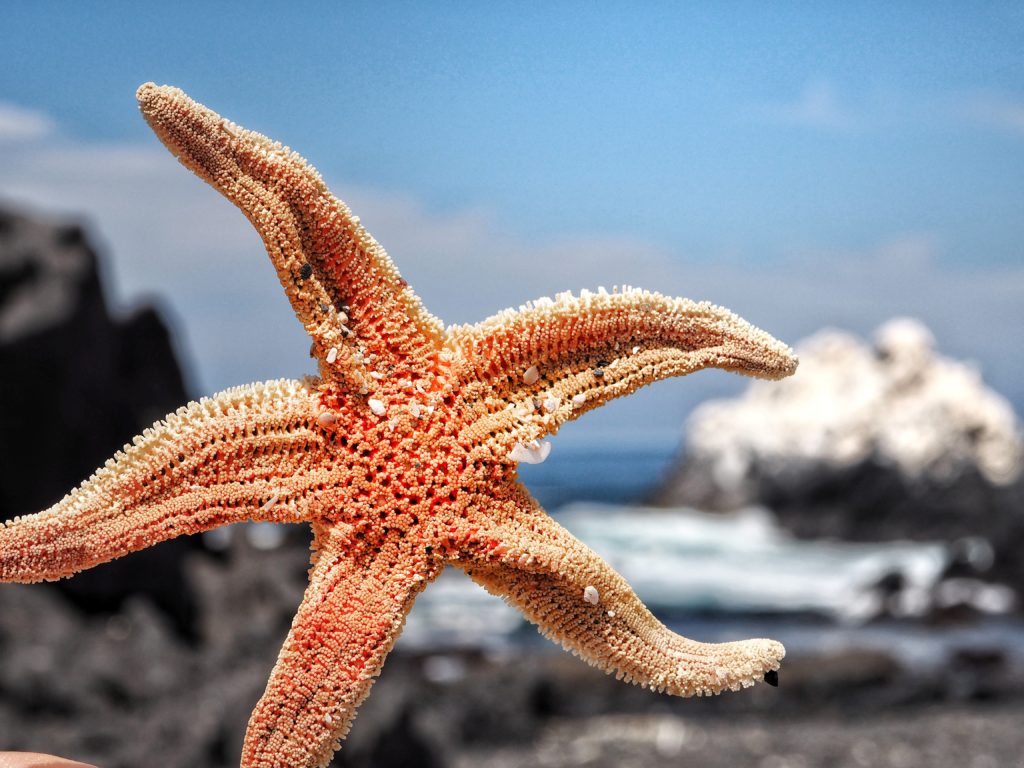 Is there anything you really look for on your travels? I have the thing for penguins, donkeys and wildlife in general. It makes me feel really adventurous to be able to see animals I had only known from tv documentaries before. I alos love doors and pretty balconies…just can't help myself not to takes so many photos once I see some on my way. What is your thing?

Did you like the post? Pin it for later: