All our dreams can come true, if we have the courage to pursue them.

– Walt Disney.
Tell me a good story about a place and I will go there. It is hard for me to refuse a little bit of magic, even if it is only in cartoon films. Bosque de Arrayanes (known in English as Myrtle-tree forest and originally by its indigenous name quetri) is a place encompassed by legends and stories. It is located 3 km from Villa lLa Angostura on peninsula Quetrihué, which in the language of Mapuche means "donde hay arrayanes" (where are myrtle trees).
Bosque de Arrayanes (Los Arrayanes National Park) is known for the uniqueness and size of the otherwise rather common myrtle trees. In this forest they reach on average 18 meters and a few even 25 meters. They are calculated to be 300 years old. I am usually not impressed by numbers and statistics, but once I got to the forest I realized how unique it is.
Who doesn't like a cute little Bambi? I know the story might have caused a few tears in your childhood, but it is still a nice story. I did not expect that Walt Disney was (apparently) inspired by this forest to make a home for the famous baby deer. Some say that Disney visited the place three years after creating Bambi (other sources indicate that he actually never was in the forest) and it was not possible that the forest anyhow inspired him. I guess that the latter holds more truth in it. Oh well, I still like the story surrounding the forest and a image of the cartoon character living in a forest that looks like Bosque los Arrayanes.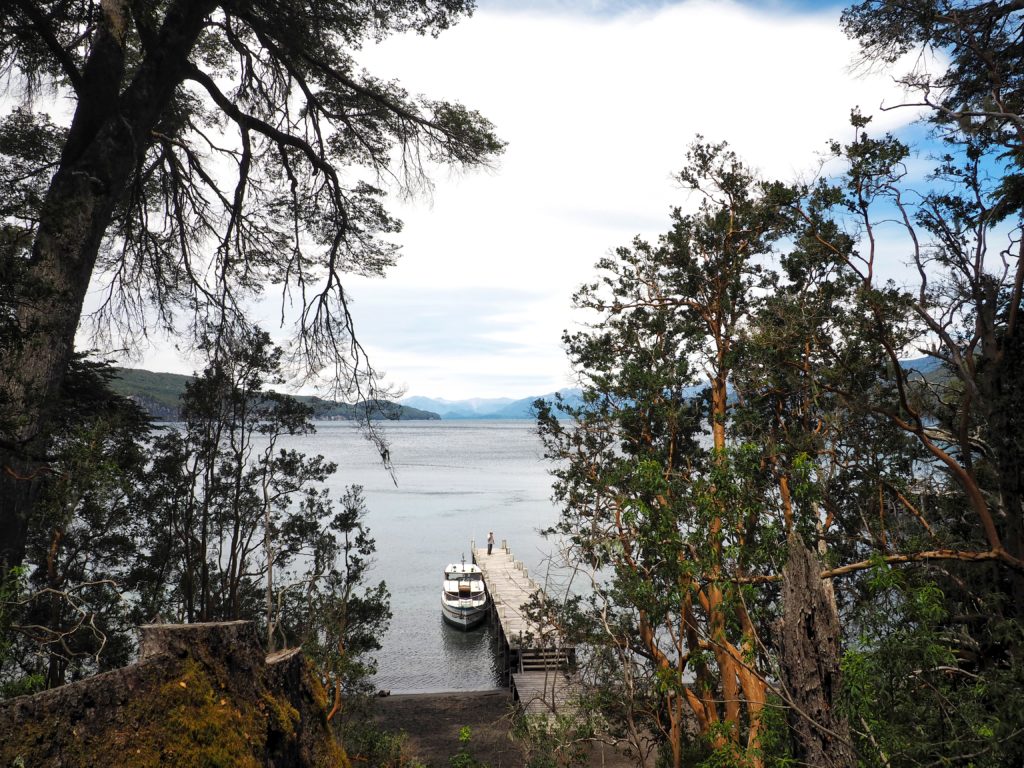 How to get to Bosque de Arrayanes?
There are two different ways to get to the forest: walking or by boat. We decided to get there by taking a boat and come back walking. We thought it was a bit too much for our tired legs to walk both ways as it is a 3-hour hike each way through a forest following a rocky path.
If you chose to go there by boat, you also have two different options:
Catamaran: leaves at 14:15 and 14:30. 350 pesos/one way, 500 pesos/return.
Private boat: Leaves at 12:30 and returns at 14:30. The cost of the ride is 300 pesos/one way, 400 pesos/return.
A quick tip: The ride by catamaran is around 20-30 minutes, while the ride by a small private boat is around one hour. If you chose to go by a private boat and come back with them, you will have only an hour to explore the forest (which is doable), but you won't be able to walk far away. The reason we chose a private boat to get there was that it arrives to the forest over an hour before the catamaran, which allowed us to be there only with a few more people. Once the catamaran arrives, it gets a bit crowded. We enjoyed it there for a while in silence watching the calm lake and when more people started coming we were ready to start walking back to town.
See also: I saw penguins and whales! A boat tour to rememeber in Chiloé island.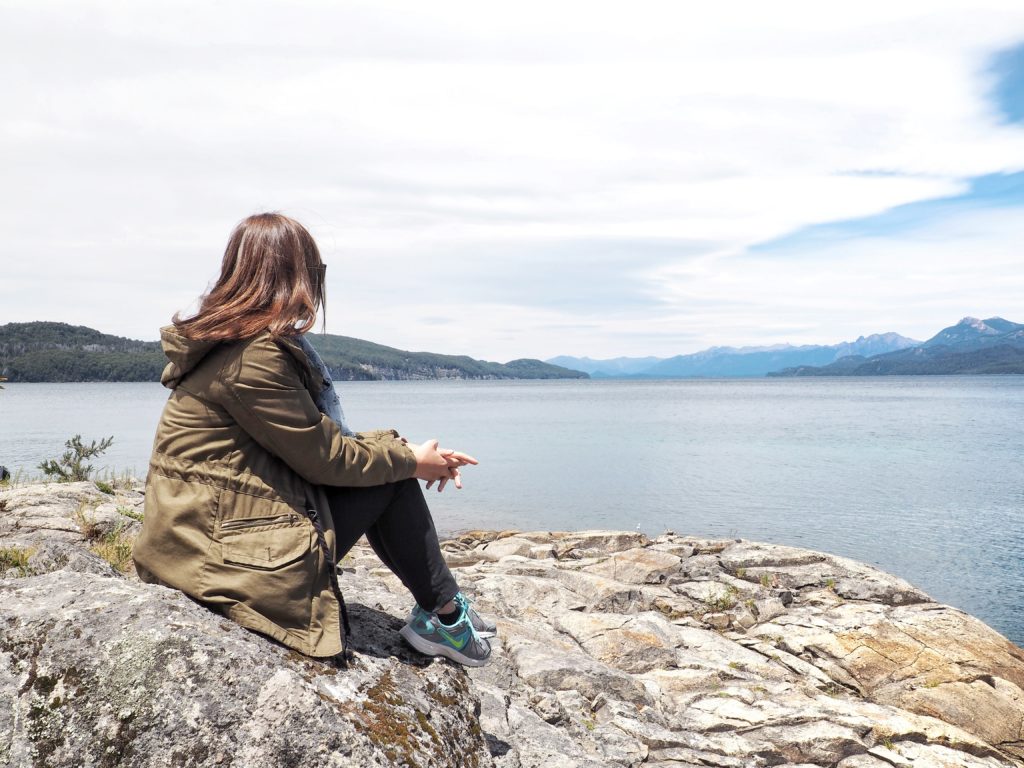 After a picturesque and pleasant ride, although cold and windy, we arrived to the dock of otherwise hardly accessible peninsula where the forest is located. The moment when I could sit on the rocks and watch the isolated place reminded me of how precious traveling to new places can be. Patagonia is really stunning, I am sure many of you know of heard that statement. It is one of the places that makes crowds of tourists speechless. I know that the photos might be pretty and give a tiny idea, but it is hard to really comprehend the beauty of the place if you are not there.
Then the "Bambi search" started… Somewhere near the bay there is the cutest cabin/coffee shop you can find in the middle of the forest. It would be a perfect stop to warm up in winter or rest after a long hiking to get there…except we took a boat, so rewarding with a piece of cake and a cup of coffee was not really in plans.
See also: 4 steps to happiness in Bariloche if you are a chocolate lover.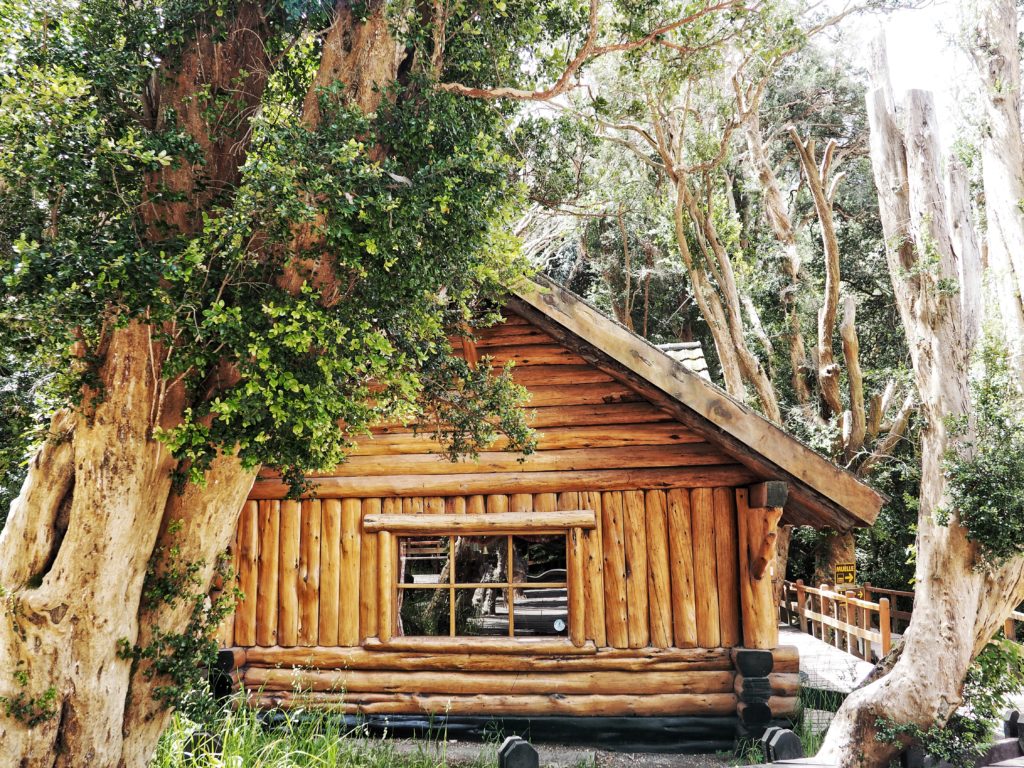 We walked through the forest for a while trying to imagine how it fits the Bambi story. Well, I did, it didn't seem that anybody else would use the imagination during the hike to visualize a cartoon character. Anyway, the weather was lovely. The air smelled so pure and clean. And the silence! The silence, occasionally disrupted by singing birds, was like no other silence.
The part of the forest of arrayan trees is not very big, but quite impressive. It probably took us half an hour to cross that part before entering more hilly and rocky path. If you go there, do not ignore the little signs indicating side paths, those are the ones that take you to see some incredible views! I would never imagine the lake could be that turquoise blue.
Three hours later and we are back to Villa La Angostura.
Get a phone case with this photo here.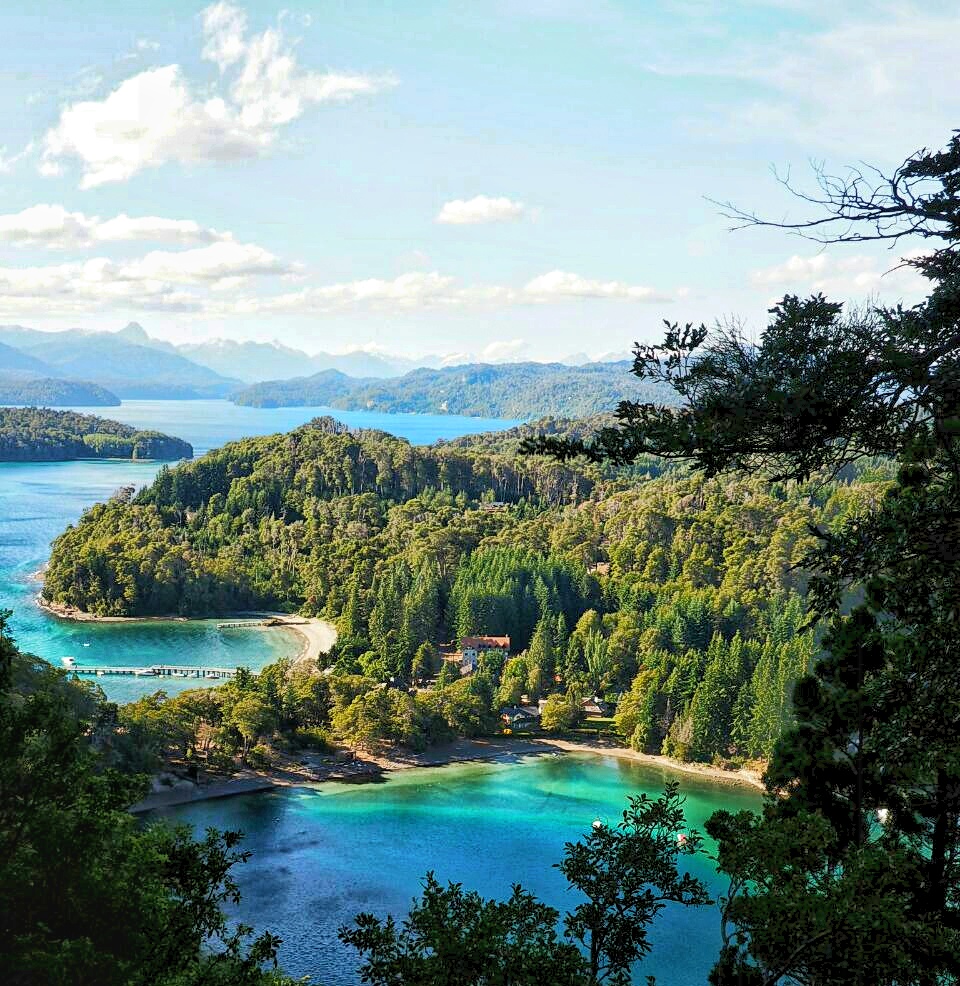 Mindful moment:

Give your brain a little vacation. Questions whether I (and others) travel to escape have been present too many times. I guess it is partly true and we all travel to escape something: a tiring job, a break up, problems at home and so on. The reason would be different for each person. We however carry with us our memories and emotions that are stored in our brains. While we are physically escaping something, we cannot escape our thoughts so easily. You might be right now at a white-sand beach in Brazil or hiking the mountains in France, but your brain is there with you carrying all the thoughts. I remember walking the streets of Milano on one of my trips and getting constantly disrupted by thoughts of stress related to searching for a new flat upon my arrival from the trip. Those worries and constant thought stop us from fully experiencing the places we travel to. I would like therefore to propose to you to give order accutane online your brain a little time to rest. Maybe you won't escape all the worries during your travels, but you will have a little bit more space and time to get some time off.

In Patagonia, for example, it would be so easy to send your brain on a little holiday. Just sit, listen, smell and watch. Focus on your breathing and listen to the sounds around you. In a few minutes of this exercise you will feel a sense of relaxation and boost of energy. Try to do that each time a worrying thought pops into your mind.

In a busy city however or a loud hostel it might be a bit more difficult. In those moments Headspace app comes in handy or Headspace book that you can take with you anywhere. It is very well designed and such a useful tool.
See also: How mindful traveling makes my eperiences richer.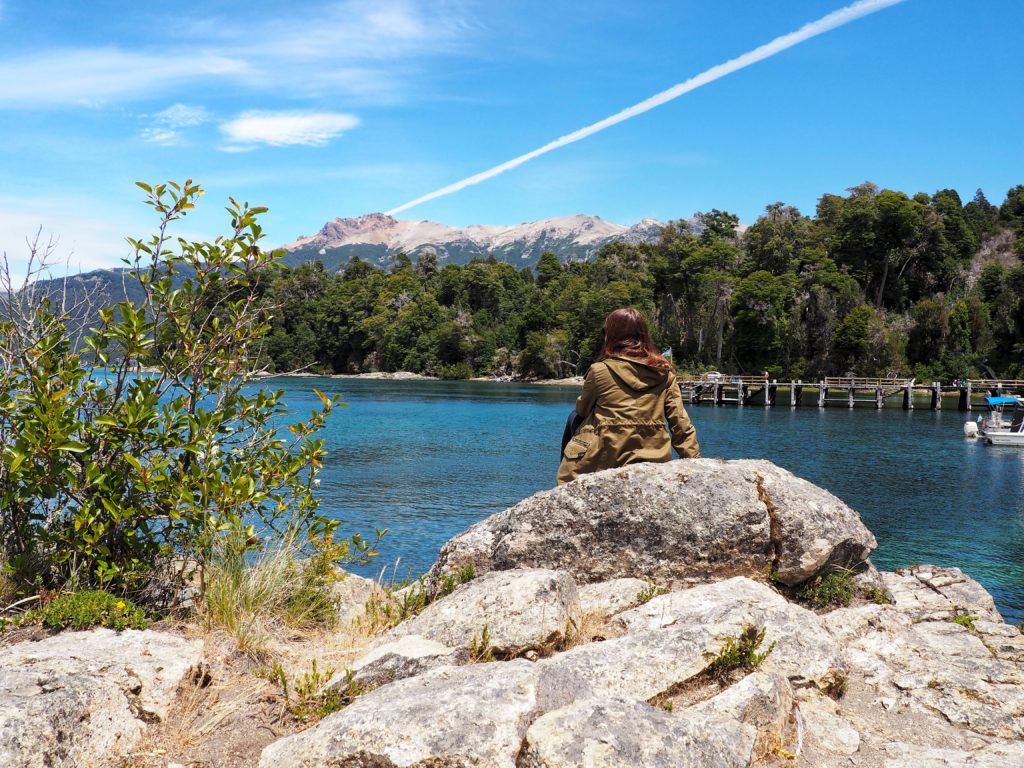 Villa la Angostura was one of our favourite place to visit on the trip in Bariloche region. This part of Argentina is with no doubt stunning and full of little surprises that make the trip special. Believe me, having chocolate fondue for dinner after a trip around lakes, wonderful walks and landscapes that made me speechless a number of times, is something that you really want on your travels and the region of Bariloche can give you all.
What to do en Villa la Angostura?
The town is pretty and it is located in a lovely part of Patagonia that gives endless possibilities of rest and adventure. Here you have just a few examples:
Spend a day in Bosque de Arrayanes
Eat too much chocolate (Bariloche region offers, in my humble opinion, the best chocolate in the world!).
Kayaking. With the abundance of pretty lakes it would be a sin not to.
Skiing in winter.
Hiking (places to go hiking are endless).
Horse riding (many different excursions and places to go to).
Mountain biking (there is many day trips if you want to join a group).
La Piedra Recreation Center (for climbing, Tyrolean crossing etc).
Villa La Angostura Historical Center (go back to the first days of the town).
Artisan fair.
Saling around the lake Nahuel Huapi.
Zip-lining for a little bit of adrenaline.
Where to stay?
There is a number of options in town from hostels to fancy hotels. We did not look for anything early enough and tested our luck on the day of arrival. We finally decided to stay in one hostels we found there. We liked it so much that we extended our stay.
Budget
Hostel el Hongo was our choice. Located off the main road with a lovely garden and lots of space inside it was our winner. It is small hostel and a perfect place for big groups of friends. It has a lovely livingroom with a kitchen where the chilly evenings there are extra cosy. The owner was so nice and helpful with every need we had.
Hostel La Angostura. It is a big hostel and seems to be the most popular amongst young people and backpackers. It has a vibratnt and international environment, but the rooms we saw were small. It is though specially prepared for anyone who likes outdoors and hiking.
Avarage
Alma Andina Hosteria is located near the commercial part of the town. What is the biggest asset of this place are its owners, who are very kind and helpful.
Huellas Andinas is a place for those who are looking for hotel apartments. It is a lovely cabin-like hotel with amazing views of the mountains and surrounded by silence.
Luxury
Sol Arrayan Hotel & Spa. It is for people who want some peace, but at the same time don't mind driving as the hotel is located a few kilometers away from the town center. We went to see the rooms there and it is so charming with a perfect view over the lake and a kind of mountain lodge look.
We usually organize my trips ourselves and we tend to leave most of that preparing to the last minute or even fate. When I travel alone, I basically do the same. Well, booking hotels upon arrival sometimes is not the best option as I end up with paying more, but it gives me more freedom without strict schedule. However, I know so many people who would never do that and they want their mind at peace. Many also want some company from time to time on their travels (especially if they travel solo) and for those last two groups of people I highly recommend Contiki tours as they are perfectly designed for young people to have an adventure of a life time and they frequently have some great offers.
Where to eat?
We like our food. I know that for me and my partner food is part of the place we visit, therefore we always look for places that locals would dine in, small family run restaurants, awarded places or places that offer typical dishes from the region. As Argentina is known for meat based cooking, it is difficult to find only vegetarian restaurants. Here you have a couple of choices for grills:
Parrilla Pioneros (a typical Argentinian grill house).
Al Alba Parrilla Resto (another grill house for barbecue lovers).
The Metejon (Argentinian and South American food).
Weather in the region is rather changeable, cold and humid and the chances of rain are big. We were there is summer and were lucky to have a sunny weather, but it was still chilly and windy.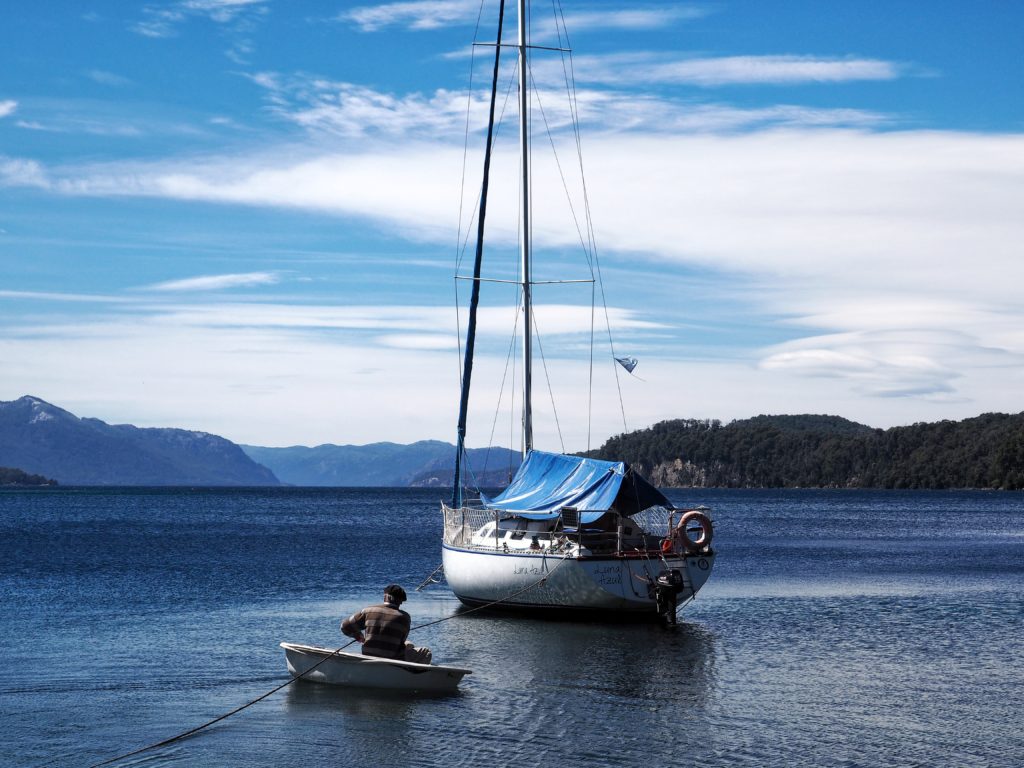 Thank you for visiting, it's nice to have you here. Have you been to Patagonia? What are you thoughts?

If you like the images in this post, maybe you'd be interested in some products with my photos:
Did you like the post? Pin it for later: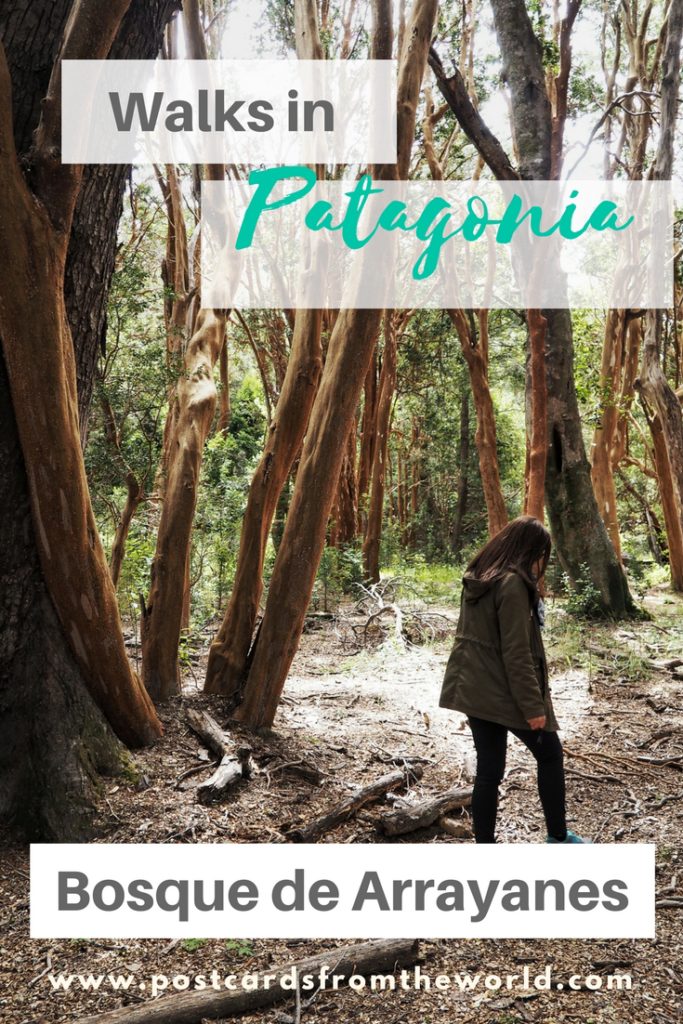 Disclaimer: This posts includes some affiliate links for which I get little cash at no cost for you, which helps me to travel and share the stories with you. I only share my favourites with you that I do or would use myself.