Traveling is a big part of my life. I cannot imagine not to travel.  I always thought that staying fit while traveling is easy. You walk around many hours a day, hike, swim, conquer the mountains. All of this is completely opposite to sitting at a desk.
I do those things on my travels…well, most of the time. This side of traveling is so cool and adventurous, but the truth is that it also involves hours of sitting on flights, buses, cars or trains. And if you a are a hopeless foodie like me, you know how difficult it is to reject all the tasty treats you can find in other countries. It is not easy at all to say 'no' to fragrant dishes sold on streets. I really won't tell you to avoid eating anything you want on your travels, that would be unethical amongst food lovers on their travels. I cannot imagine going to some amazing, exotic places and not try as many of their dishes as possible. It is a big part of a travel experience, right? This post is not about telling you how to be skinny. It is about sharing you ideas how to stay fit
»Hire a bike«
Cycling is one of my favourite activities to stay fit. Before I started traveling extensively, a bike was my main mean of transport in the city. We all know the benefits of cycling and it is such pleasure. From shaping up your body, to having so much fun, there is nothing I don't like about cycling. In South America, where I have been living for the last two years, city biking is not that common, but it being a big continent with so much nature and beautiful landscapes, there is plenty places to cycle around.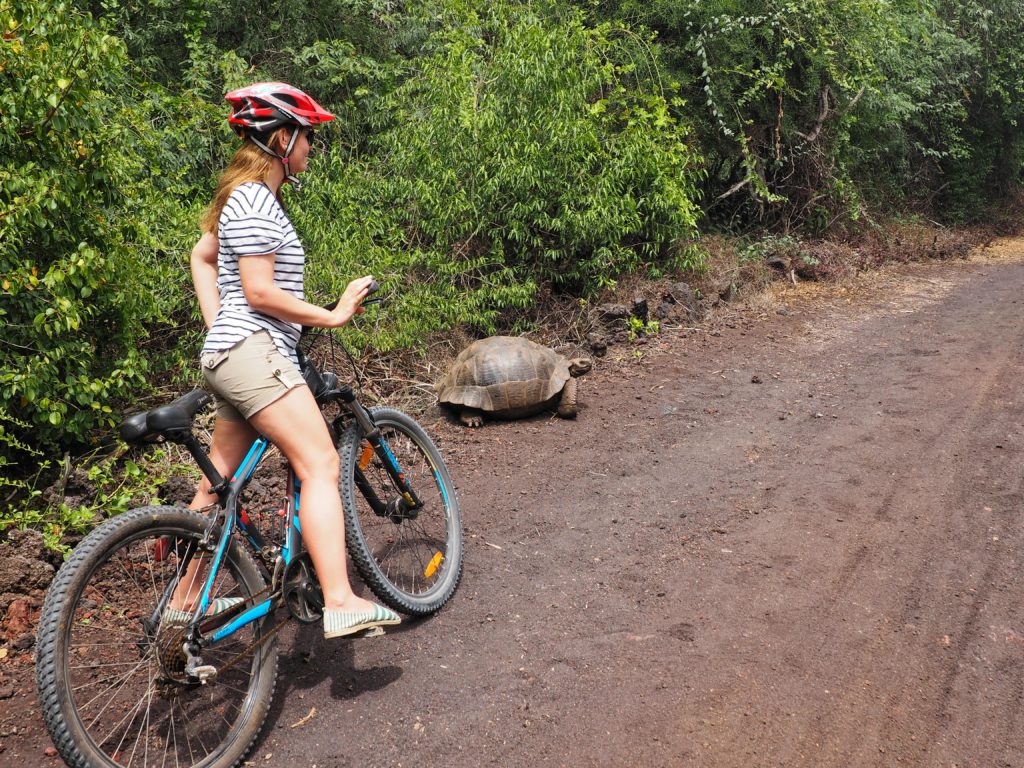 »Use what the environment offers«
Whether you are going to the mountains, big city or beach holidays, try to use the environment to stay active. The possibilities are endless. For me  be difficult to find time for a workout. It is not tempting for me to skip enjoying the new place to hit a gym instead. I want to be outside as much as possible, which means that I get to discover many lovely corners of the city.
Park: Walk or run in  a park is easy in a city. It also a good way to see the city without crowds if you schedule your workout for early in the morning.
Beach: I do not know many people who do not love beach. I love beach, but it is for a me a bit boring to sit and do nothing. A long walk early in the morning or for a sunset are wonderful and add a bit of an exercise on my travels. Running at the beach is most beautiful very early in the morning, when the air is still cool and the beach is empty.
Sightseeing: If you skip taking buses or trams, sightseeing will involve a lot of walking. When I visit cities I usually walk for 8-10 hours a day. Not sure what the distance could be, but I guess quite a few good miles. It si the best exercise, because I don't even notice it…except at the end of the day when my legs are killing me.
»Pack your trainers«
If you have a few minutes use the hotel gym. It is not my favourite, I prefer outdoors. I try to always pack my trainers, especially if I go to a beach destination. There is something especially soothing about an early morning run on an empty beach. Having trainers with you on a trip will remind you of an exercise and you will be able to do whenever you feel like it. Trainers are perfect not only for exercising, but give us a bit of comfort on long days of walking around the city.
»Chose the stairs«
Take the stairs ordering doxycycline online instead of a lift. It is a good rule to follow wherever we are. On your travels you might choose the stairs in a hotel instead of a lift every time you have a chance. Every few minutes of walking up the stairs adds up in the end to a rather good workout. Just think about it…1 minute to walk up one flight of stairs at the airport, which you might do a few times equals a few minutes of a workout. Not much, you may say, but your heartbeat will surely be heightened a bit. Then multiply this by a number of times a week you take the stairs and you will notice that those little changes are not that little. If you want a proper workout, run up and down a few times and you will se the difference.
Taking the stairs has another advantage: less crowd. I hate waiting for a lift or on automatic stairs.
Your body will love the effort.
»See what the locals do«
Apart from trying the typical dishes to a specific destination, cultural events and local customs, I try to find out the activities that locals enjoy. For example on my last trip to Uruguay I was so curious about some beach games every second person was playing. I discovered that it was called tejo. The game involves throwing wooden discs and is really cool. It won't make you tired but at least you will be moving a bit. I decided to buy them and take with me to highlight some beach gateways with friends. Beach paddle is one of my favourites. It is fun, makes me move (especially if I can't get a single serve and have to run far to bring the ball back) and allows me to get my tan evenly and effortlessly.
You can look for a local football field to have a game with some locals or use the street gyms (so popular now!). I notice so often a group free workouts in parks on my travels. I've seen people having zumba, yoga or Tai-Chi classes that are open to anybody. In Buenos Aires you can join roller skating classes in parks. If you like dancing, it is also a possibility and will teach you another skill. Coming back from Argentina knowing how to dance tango? How cool is that! All you need to do is to have a little bit of motivation and ask if you can join. You can take classes of surfing, windsurfing, kite surfing and many other sports while traveling. It is fun and does not feel like a workout.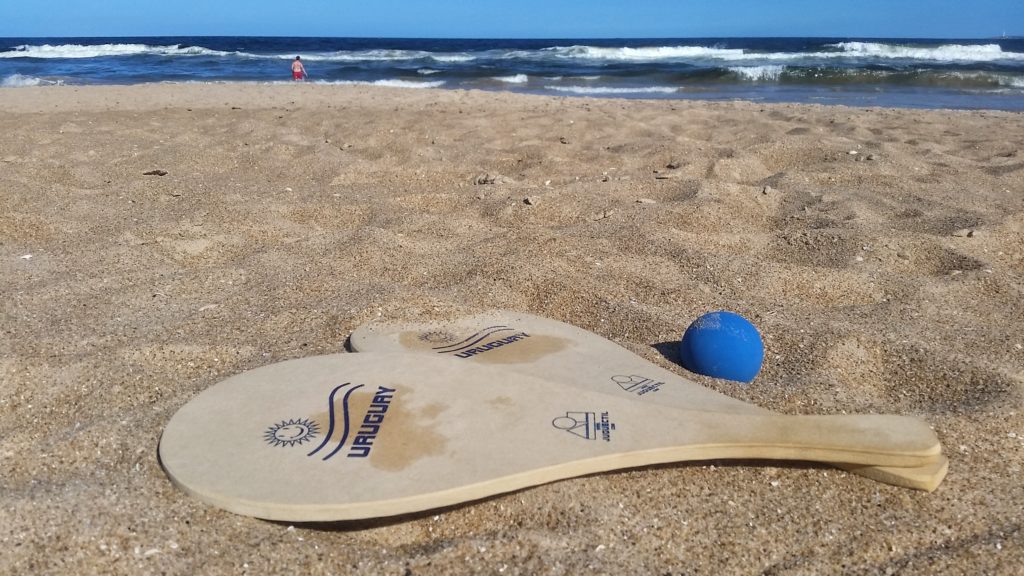 It is okay to relax
After the whole day of traveling by planes or any other means of transport, it is more than normal to be tired and want to relax. I usually push myself to the limits and stay in a hotel as little as possible. It might be the only time I am visiting a place and want to see and do as much as my legs allow me. From time to time however, especially if the place is so beautiful and irresistible, I just take my time to simply be. There are moments when traveling feels like work, especially when I dedicate some of my time to the blog and those of you who have a blog, surely know how it feels.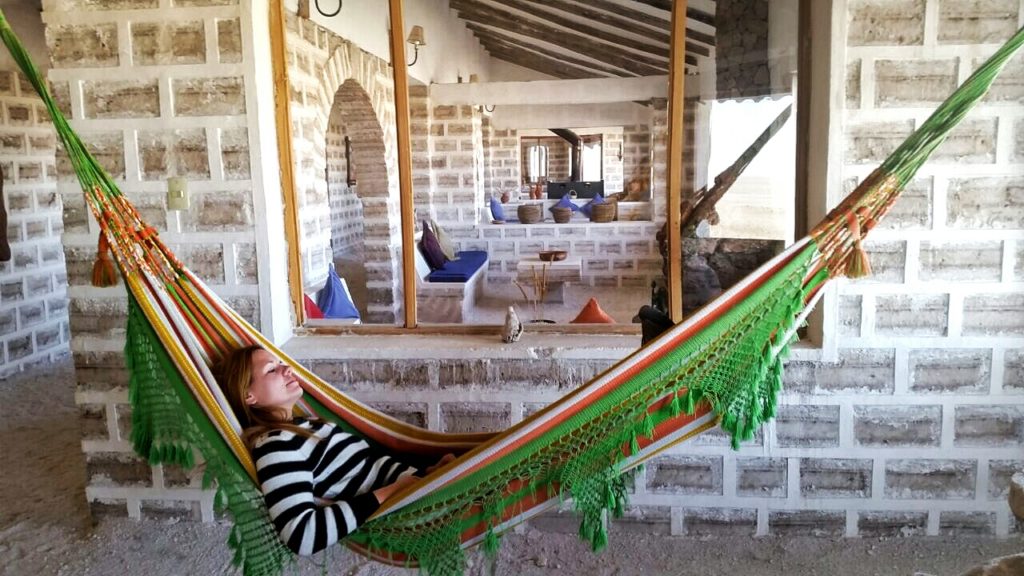 I would love to follow rigorously all the advice I am giving you, but let's be honest…we all need a break.  Those ideas I mentioned in this post are the things I enjoy most to somehow stay fit on my travels. I am not really a big fan of gyms, so always looking for more entertaining activities. I am wondering, how do you stay fit on your travels? Do you have a workout routine? Please share your secrets with us.

Did you like the post? Pin it for later: