Hello everyone, I hope you are having a great day. Are you ready to get inspired by another courageous traveling girl? I have interviewed Natalie Schaefer, a keen traveler and a founder of Worlds Apart 

and she is telling us how her traveling passion started, what inspired her to start blogging and shares a few beauty hacks from the road. 
What country do you come from or call home?
I was born in London, England and lived there for almost six years before deciding to travel. I actually grew up in a small village in the countryside close to the border with North Wales. Even after living in London for so long, the countryside is still my home.
What traveling means to you?
Traveling means freedom, excitement, and new memories. For as long as I can remember, I've loved to travel. I was lucky that my parents also love traveling so, when I was younger, our family holidays would always be to less-traveled countries in Europe – camping in tiny, remote villages in Switzerland, for example.
What is the first trip you remember?
The first trip I remember was a family holiday to a small town called Empúries in Costa Brava, Spain. We drove all the way from England, through France and into Spain but my parents had packed the car with activities to keep me and my younger brother and sister happy.
I must have been about six, and I remember stopping in Andorra where my parents bought us a Walkman each because we'd been so good on the journey. Showing my age a little there!
Strangely, it's the rain I remember rather than the sunshine. There was an enormous rainstorm and we were caught right in the middle of it – I'd never seen anything like it and still remember the water flash flooding the town as we ran to take shelter in the car.
How do you take care of yourself during travels?
I was really worried about this one before leaving. Seven months is a long time to be on the go, and I have depression which makes it even more daunting. I've learned to listen to my body a bit better and take each day as it comes. I try to make sure I get enough sleep and I'm drinking enough water, and I eat fairly healthily too. The main thing is not to be afraid to take a day out of the hectic pace – once in a while, I'll have a lie-in, do some pottering around the local area and take it slowly to give my body time to catch up with all the amazing things I'm doing. I'm also not afraid to cry – I've seen some real poverty while we've been here and a few other things that have shocked me. Sometimes, I don't even have a reason for crying, but I always feel better afterwards!
If only one, what beauty tip would you give to other girls traveling?
A tube of good waterproof mascara is all you need. I brought a stripped-down version of my makeup bag but, three months into my trip, I can count the number of times I've used it on one hand.
Toothpaste is your best friend! When my skin flares up, I dab toothpaste over the offending areas and leave it on overnight – this has been a lifesaver as the different climates, diets, and sun lotions have played havoc with my skin.
What is your favourite country you have been to so far and why?
Japan – without a doubt. I've been to some incredible places and loved each one for very different reasons, it's hard to compare them. But Japan was just such an immersive experience from start to finish. Everything about the culture, technology, food, people, and day-to-day life is different from what I'm used to.
The language barrier meant I tried all sorts of foods which I wouldn't normally have tried (if not always by choice!). The people were so kind and considerate, and the culture is incredibly respectful. It was ultra-modern and yet had some incredible historical sites too. There really was something for everyone, and I'll definitely be spending more time in Japan at some point.
What are your travel plans for the next few months?
The next few months will be spent continuing my tour of Asia. I'm due to land in Australia at the end of March, so I've got a little while left yet. From here (the Philippines), I'll fly to Taiwan before heading to Vietnam and Cambodia. In January, I'll be exploring Laos, Thailand and Myanmar. February will bring Singapore and Borneo, and my last stop will be Indonesia before heading to Australia. I'm so excited – I'm almost halfway into this trip and it still doesn't feel real.
What country/place surprised you most? Why?
China was definitely the biggest surprise of my trip so far. I had really mixed feelings before landing in Beijing – I'd heard so many negative things from friends and other people who had visited China, and very few positive comments. I formed an opinion before I'd even set foot in the country, and I couldn't have been more wrong. The cities we visited – Beijing, Xi'an and Shanghai – were clean, modern and beautiful. It was super-easy to navigate everywhere, and people were incredibly helpful on the odd occasion when we did get lost. The food was delicious too.
It's funny – since I started traveling, I've met lots of other people who said they were nervous about visiting China as they, too, had heard very negative things. I'm so glad I went and I'd very much like to spend more time in China.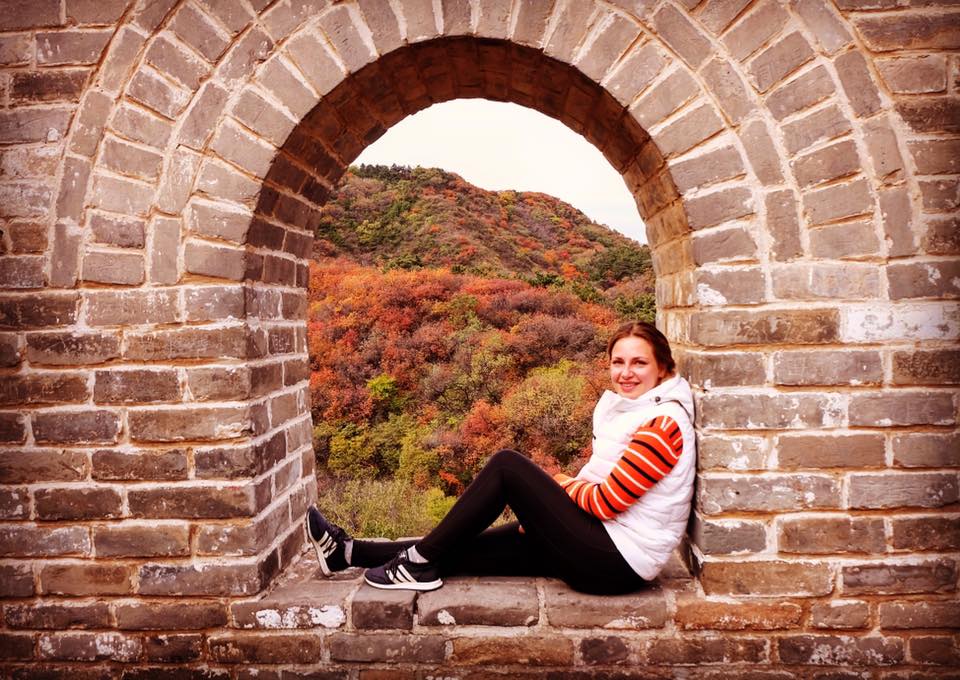 Have you had any bad experiences during your travels?
Oh yes, but none that I can't laugh at now. The most memorable one was our Airbnb disaster in Shanghai. We'd booked an apartment in the French Concession and I was looking forward to the central location. The location itself was great, but that's where it ended. We walked down a dark, narrow, winding alleyway with hundreds of ramshackle houses before arriving at our destination. It turned out our private 'apartment' was a room in a shared house – but the dirtiest, least secure shared house you've ever been inside. To get to our door, we had to walk through a narrow, galley-style kitchen covered in decades of grease and grime. In the morning, we could hear people from 6am and all sorts of noise came from upstairs at all hours. But the worst thing? The 'bathroom' was a frosted-glass fitted wardrobe which was practically transparent and had gaps between the walls. There was no sink, and the room was so small that you had to ride the toilet side-saddle to avoid crushing your knees. It's hilariously funny now, but I really didn't enjoy that experience at all.
How do you choose the places you travel to?
Before I left for this buy amoxicillin 500mg trip, I knew I wanted to go to Japan and Vietnam. I knew my end destination would be Australia, so I just had to fill in the gaps. I spent hours looking at maps and researching countries, as well as looking for the cheapest way to get from A to B as I wanted to make the most of my budget. I found cheap flights to Sri Lanka and booked them on a whim – so that was the first destination chosen. From there, it was a case of booking a few spontaneous flights and seeing where it took us.
What place made you speechless?
There are very few things which can make me speechless. The Great Wall of China was one of those things. I'd wanted to visit it for so long that I was concerned it might be an anti-climax. I needn't have worried. We visited on the most spectacularly clear, Autumn day in October. While the whole area was definitely tourist-central, the south side of the wall is far less busy. The leaves on the trees were the most incredibly bright oranges and reds, and I definitely spent a few moments just staring, open-mouthed, at the scenery around me. That was one off the bucket list!
What is your favourite food you tried on your travels?
This is such a hard question! I've tried so many incredible dishes that it's almost impossible to choose. Having said that, my fiance and I had the most incredible Korean BBQ while in Seoul. It was this tiny place with no name on the street where we were staying. We'd walked past it half a dozen times and it had always been full of locals and smelled absolutely amazing. We went in and it was every bit as good as we'd hoped. We chose some delicious Jeju pork – famous in Korea for being super tasty. It was. This was served with various side dishes: kimchi; spring onion and chili; sweetcorn mixed with cheese; chili sauce; and rice. I think I'd fly back to Seoul right now just for this!
What is your favourite drink you tried on your travels?
This was also, weirdly, from South Korea. I bought a peach-flvoured drink in a can from a vending machine, which turned out to have lots of amazing pieces of coconut jelly in it. It's called Coco-Palm and I'm pretty sure it's all I drank while in South Korea.
What is the most bizarre food you have eaten during your travels?
The award for this one actually goes to my fiance. Mike and I were in a small town in Japan which wasn't very touristy and nobody spoke English. The menu had no pictures and was all in Japanese, so we just ordered and hoped for the best. We both ended up with ramen – mine was pork (YES!) but Mike's had a strange pink-and-white flower shape on top. This turned out to be fish-flavoured jelly. Yep, really. I've included a photo as this is so difficult to describe.
Was there any travel experience that you consider transformative for you?
I've had lots of amazing experiences while traveling, but I think the most transformative experience I had was the very first time I realised that I wanted to travel to places which were less well-known. I was 15 and my parents had announced their intention to take us all camping to France and Switzerland in the summer. I did not want to go camping and refused point-blank. Naturally, my parents bundled me into the car and off we went. Two weeks later, I took a walk into the tiny Swiss village of Romain-Motier while my parents and siblings went to fill the car up in the next town.
Walking through the beautiful town square with locals waving and saying hello to me, I felt at home abroad in a way I never had before. I wanted to experience that feeling again, and again, and again.
Do you have a bucket list? Share your dreams with us if you can;-)
There's no bucket list, per se, but I have a dream of visiting every country in the world. I like to think it's achievable – I'm up to 28 so far.
Do you travel alone or with other people?
I mostly travel with others – this trip is with my fiance and we've really enjoyed meeting so many fellow travelers on the way. I'd happily take a trip alone though, a solo city break to Florence or Venice would be amazing!
Do you have a blog? If so, when/why did you start it? Give us the link so we can follow your adventures.
I started my blog at the beginning of this trip. I've met so many people who've said "I wish I could do what you've done and quit everything to travel", and I wanted to show people that it really is possible. Just over a year ago, I had to take a month off work due to a mental breakdown. It took me a long time to come back from that. And yet, here I am, three months into a seven month tour of Asia. If I can do it, anyone can.
What makes your blog special and unique?
I'd like to think there's a lot of me in there that people can relate to – my incessant need to plan things, my strange anxieties over the weirdest things, my childlike enthusiasm for anything soft and fluffy.
What is your favourite travel accessory?
I wasn't actually sure I'd use this when I bought it. I have a 65L backpack with a 15L daypack, but my daypack is so well-packed with my gadgets and valuables that I don't like to empty it out every time we go trekking or nip to the shops. I bought a Berghaus F-Light 18 before we left – it's an 18L splash-proof backpack that folds up into a tiny bag and can be packed away. I've already lost count of how many times I've used it, and it takes up next to no room. I'll definitely be keeping hold of it!
Please share your fashion travel hacks with us…we might need it.
This isn't so much a fashion hack as general advice – pack light. Yes, it sounds obvious, but it's good advice! Avoid white and cream as they'll stain easily and don't wash well in Asia (believe me). Choose light, quick-dry fabrics if you can. If you're traveling to multiple climates, take things you can layer up rather than heavy outerwear which will take up a lot of room.
Thank you, Natalie, for sharing your story with us. I would like to wish you many unforgetabble adventures around the world and your dream of visiting every country in the world come true. If you would like to get to know Natalie a bit better, follow her stories on Worlds Apart, Twitter and Instagram.

[wysija_form id="1″]