I love castles. It's not a secret. Whenever I can I plan on visiting a castle and learn its story and the european ones are incredibly charming. With the help of the lovely readers and fellow travelers I have prepared for you a little list of some castle you might want to visit this summer in Europe. Some of them are vastly famous, so others not so much, but all of them are worth a visit.
1. Neuschwanstein Castle, Germany 
I had heard a story once about a castle that made Walt Disney speechless. I was longing to go there ever since. Then one warm and sunny autumn me and my boyfriend packed a car for a little european road trip and Neuschanstein had to be on our way. I am finding it difficult to describe the castle. Well, it can make you forget the words.
2. Hohenschwangau, Germany
Situated next to the iconic Neuschwanstein Castle just outside of Füssen, Germany, Hohenschwangau is worthy of a visit, too. This smaller, but no less interesting structure, is where King Ludwig II grew up surrounded by the gorgeous scenery of Bavaria; the excellent tour of the property gives a fantastic look into the intimate world of Ludwig, his brother Otto, and their parents. Grab your tickets down in the village and make sure to show up at your assigned time!
3. Eilean Donan Castle, Scotland
I will risk saying that it is the most romantic castle I have ever seen. It is beautiful surrounded by picturesque Scottish landscapes, it needs to be romantic. Its story though, not so much. Being destroyed and seeing many battles, Eilean Donan keeps a lot of dark secrets. Small, hidden in the Scottish Highlands, Eilean Donan Castle has been portrayed in many movies, for example Highlander.  What makes the castle even more interesting is the fact that it is still being used by the family who owns it, so you can see inside the newest family photos and images of the events that are held there from time to time. If you decide to visit the castle, it would be a good idea to reserve a day or two more for visiting the green lands of the Isle of Skye.
4. Kraków, Poland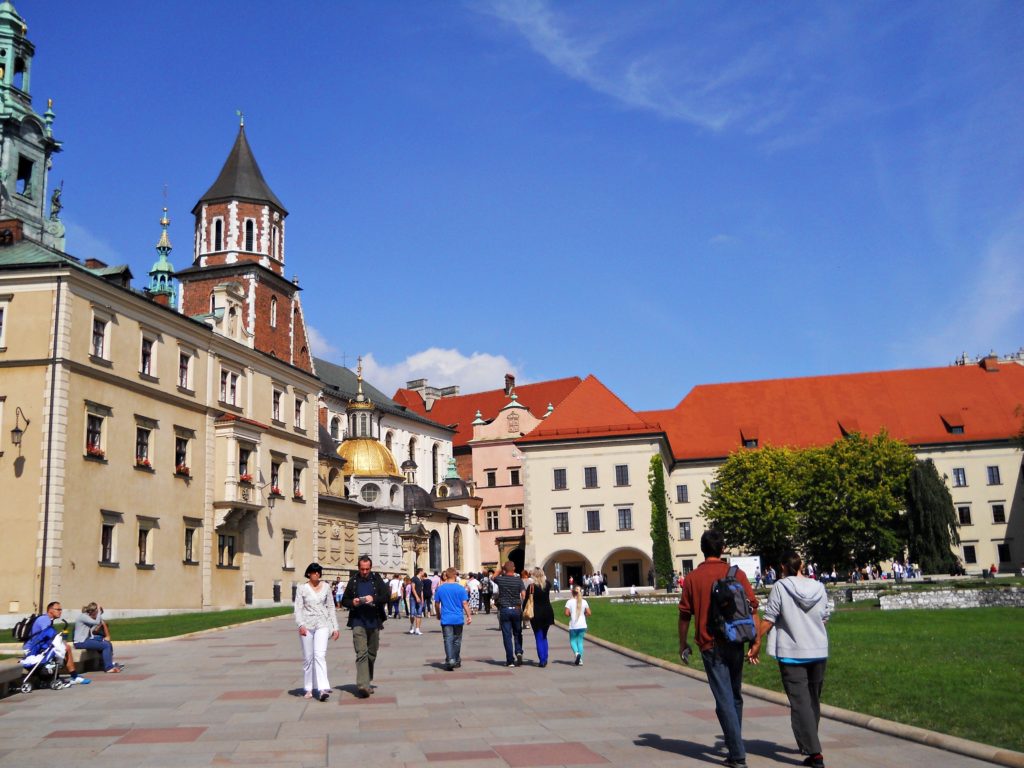 It is a royal castle en Wawel and the biggest attraction in this beautiful city that used to be the capital of Poland many years ago. This castle however, is mostly known amongst polish children thanks to the dragon legend. It is said that the a not-so-friendly Wawel Dragon lived at the foot of the castle hill during the reign of King Krakus. As it can be predicted, the dragon was causing a lot of trouble to the town people by requiring weekly offerings of cattle. If that could not be met, he was chosing people to satisfy his hunger. After many attempts to stop the dragon, the smarter son of the king fed the dragon with a sheep stuffed with sulfur, that made the beast rather unusually thirsty. Hence the dragon kept on drinking and drinking the water from Vistula river until it his stomach was too small to take anymore liquid and the dragon exploded.
5. Kasteel Heeswijk , Holland
This castle was my recent discovery on my trip to the Netherlands. This charming castle from the 11th century, located in the North Brabant province can be certainly a nice addition to your trip to the region.
6. Edinburgh Castle, Scotland
For ten years of living in Edinburgh I was privileged to see this castle nearly every day. It is one of the cities that you can never get bored with. Massively visited by tourists the castle is also a host of a highlight of the Fringe Festival, the Tatoo show. At the end of the festival all visitors are treated with an amazing fireworks show from the castle accompanied by music.
7. Hever Castle, England
Hever Castle is a double moated building that is nearly 700 years old. Built in 1270, it was primarily a medieval defensive castle and then came into the ownership of the famous Boleyn family. It subsequently became the childhood home of Anne Boleyn, who was wife of notorious king Henry VIII and mother to Elizabeth I, arguably one of Britain's strongest queens. The castle has been kept fantastically, and is exactly how you would imagine a regal Tudor residence to be. It's just an hour for London and always open for visitors!
Thank you Claire from Clairesfootsteps for inspiring us.
8. Leeds Castle, England
There are few castles that look as aesthetically pleasing as the prestigious Leeds Castle. It stands in the centre of a moat and still looks remarkably unspoilt despite being nearly 1000 years old! It has been a Norman stronghold, the home of medieval queens and the palace of Catherine of Aragon and Henry. Visitors to the castle can enjoy the notable blend of Medieval and Tudor history and the fascinating stories that it tells of its residents. If you're searching for something quirky, check out the on-site dog collar museum; it's the world's oldest collection, some of which date back to the 15th century!
Thank you Claire from Clairesfootsteps for inspiring us.
9. Pena Castle, Portugal
Bursting with colours, the Pena Castle in Sintra easily became the highlight of my trip to Portugal. Being highly addicted to rainbow-coloured objects, this colourful 19th-century Romanticist palace was high on my bucket list. From Lisbon we took a train to Sintra. The castle is located on top of a tremendous hill with beautiful parklands surrounding it. The walk from the town center is quite steep and time-consuming, so taking a bus might be a good idea if you are visiting the place with kids or elderly. Bus fare is 3 euro. I highly recommend visiting the vintage chambers inside the castle and ending your visit by enjoying an unobstracted breathtaking view from the top of the castle.
Thank you Miss Happy Feet for the great contribution. Follow Miss Happy Feet on Facebook, Instagram and Pinterest.
10. Carcassonne, France
Step back into the past – or at the very least the Robin order nexium Hood Prince of Thieves film set! Spent only 1 night in Carcassonne driving to the South of France, it was worth the detour/drive, long walk to the top and definitely warrants a return. The castle is & grounds are massive, let your imagination wonder as you weave through the cobblestone streets especially as the sunsets.
Ashley from No half Measures sent us this inspiration for castle lovers. Follow Ashley on Instagram, Twitter and Facebook.
11. Eltz Castle, Germany
Eltz Castle attracted my attention because it is still owned by a branch of the same Eltz family that lived there in the 12th century, 33 generations ago! In addition Bürresheim Castle, Eltz Castle and Lissingen Castle are the only castles that have never been destroyed on the left bank of the Rhine River. It is easy half a day trip from Koblenz. I had a nice stroll from the parking lot to the castle with gorgeous views on the way. For getting inside the castle you have to join a guided tour.
We got this beautiful contribution from Anita Sane from The Sane Travel. Follow Anita on Instagram and Twitter.
12. Alnwick Castle, England
Alnwick Castle is located in the historic market town of Alnwick in the 
North East of England
, the castle is instantly recognisable as Hogwarts and was used for filming in the Philosophers Stone (Flying Lessons) but it is also home to the show Downtown Abbey and is set for many more TV shows and films. Alnwick Castle was built as a medieval fortress and has been the home of the Percy's, Earls and Dukes of Northumberland, since 1309. Today, Alnwick Castle is the second largest inhabited castle in England as it is the home of the Duke and Duchess of Northumberland and their family.
The castle offers a wide variety of activities for visitors, whilst there take part in your choice of guided tours of the castle and grounds, archery lessons, magic and wizardry with a Harry Potter theme and a Knight's Quest. Harry Potter activities, my personal pick, include a Battlesticks to Broomstick tour, three sessions a day of Broomstick Training with Hogwarts prefects and Magic with Hagrid and Dumbledore.
 13. Peles Castle, Romania
Located in the Carpathian mountains of Romania, Peles Castle looks like it belongs in a fairytale both inside and out. Rooms inside are dedicated to world cultures and are bright, colourful, and incredibly lavish. Aside from the incredible cultural decor, the castle also boasts an impressive weapons and painting collection. While Peles castle isn't exactly one of the oldest in Romania (it was built in the early 1900s) it certainly is a favourite among locals and tourists alike.
14. Predjama Grad, Slovenia
The Notranjska region in Slovenia is dotted with castles and caves and Predjama Grad (grad means castle) combines both of these: it's a castle built into the mouth of a cavers halfway up a 123 meters high cliff. It's the reason I wanted to come to this area of Slovenia. Predjama Grad has been described as one of the world's most dramatic castles. It's definitely unusual- and possibly unique- in its construction and it looks simply unconquerable.
Kiara visited Predjama Grad as part of a 9-day road trip around Slovenia. You can read more about her adventures
here
. Follow Kiara on
Facebook
,
Twitter
and
Instagram
.
 15. Alhambra, Spain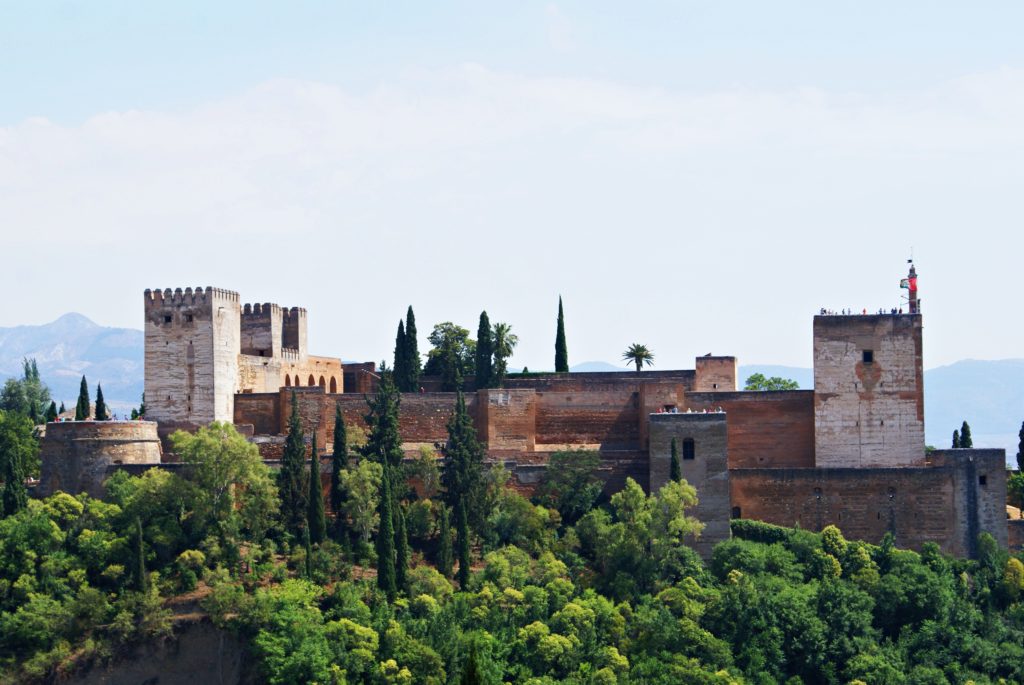 Overlooking the beautiful Andalusian town of Granada, Alhambra brings many curious tourists to visit this arabic fortress complex. Apart from the fact that Granada is absolutely stunning (and I think my favourite town in the whole Spain), Alhambra is one of those places that can put a spell on you and make you speechless…and I am not exaggerating. It is beautiful on the inside, decorated with the amount of details that is hard to apprehend and on the outside surrounded by gardens where the peacocks live. Being so beautiful and iconic, the queue is long, so book your ticket in advance.
16. Castillo Jadraque, Spain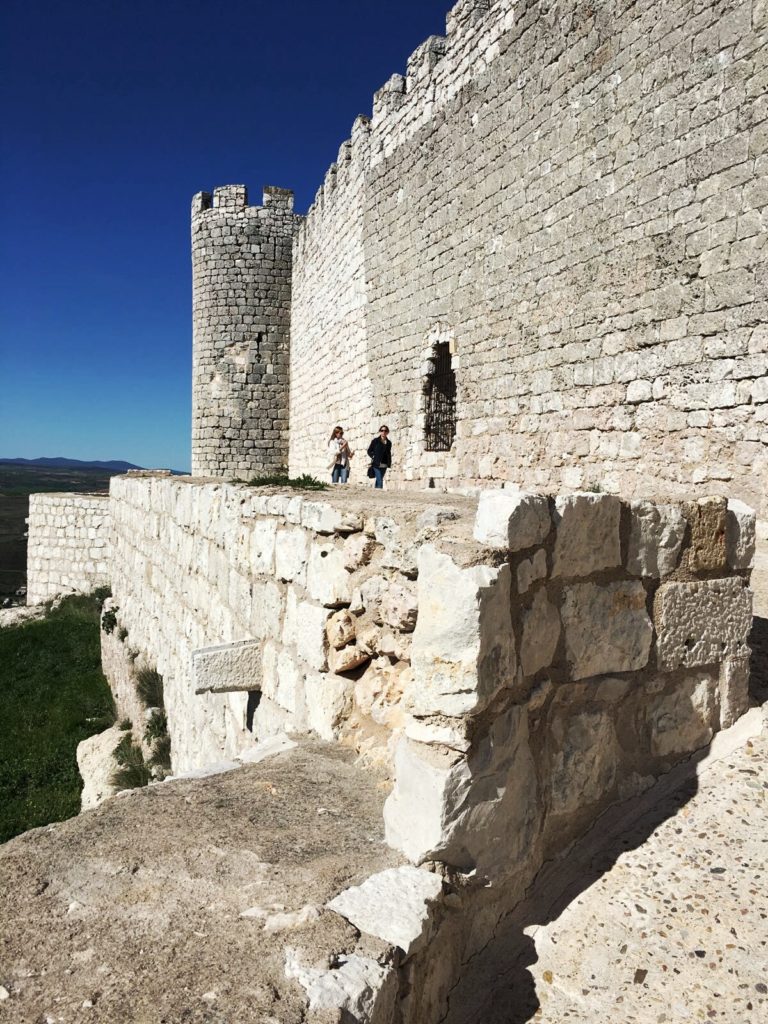 A short drive away from the capital of Spain you enter a beautiful landscape (and if you are lucky to be there after rare rain, everything is green) with a XVth century Jadraque castle on a perfect hill.
17. Heidelberg Castle, Germany
Heidelberg has been my favourite city in Europe, esp Germany, and I absolutely cherish the time I lived there. The castle was attacked and damaged several times and was partially rebuilt sometime in the 17th or 18th century. To commemorate the destruction, wars and victory, the city puts up a spectacular Castle Illumination thrice every summer. I would highly recommend making a trip to this beautiful city and staying for the illuminations, if possible.
Thank you Menorca from Europe Diaries for this contribution and inspiration. Follow Menorca on Twitter, Facebook and Instagram.
18. Inveraray Castle, Scotland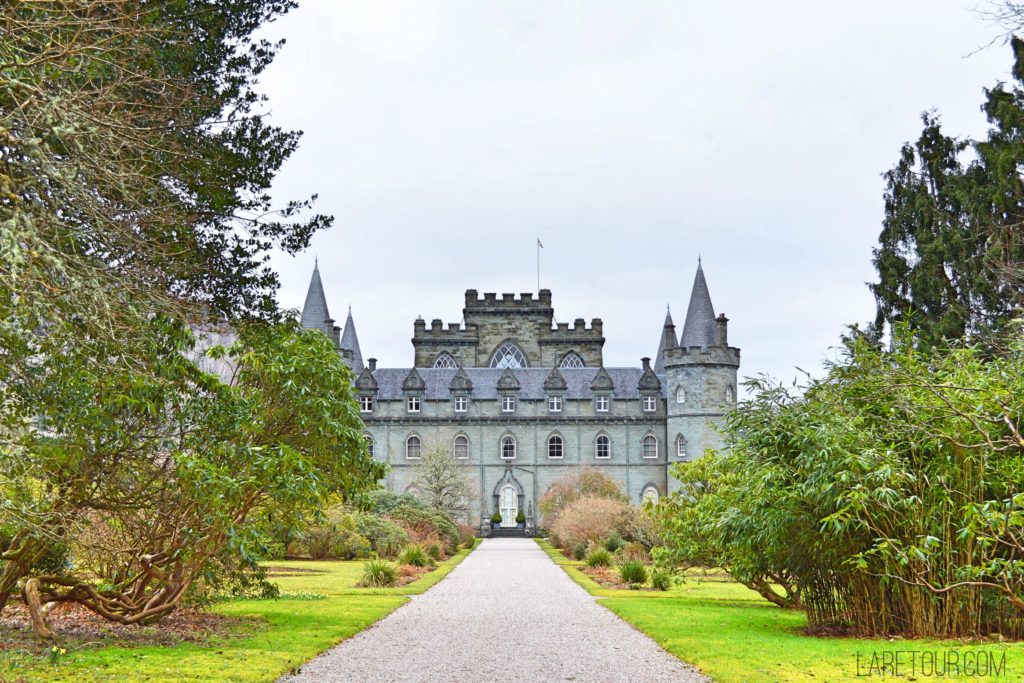 Hugged between hills in the picture-perfect Scottish region of Argyll, Inveraray Castle is an eighteenth-century gem. Its turrets and sharp windows have the Gothic style on point, and the surrounding estate – stuffed with lush forests and gardens – is well worth a wander. It's possible to visit the castle (which is still lived in by the family) but the best way to see it is from above. Head towards the Dun na Cuaiche watchtower, where the castle's impressive design jumps out from the wild green landscape below. From here, there are incredible views far down the Loch and to Inveraray itself, a quintessential Scottish 'New Town' with white facades and a timeless atmosphere. Read more about the walk
here
.
 19. Caernarfon

Castle,

 North Wales
It's the most expansive
castle
I've ever visited with an intense history. The grounds include several floors being converted into a war museum, and top-notch views from the top of the towers, if you're brave enough to go up. This
castle
is also where the Prince of Wales is crowned when the title passes on.
  I would like thank you all, girls and boys, for the lovely photos and stories. I am sure you have been a great inspiration to many readers. Well, you certainly inspired me to visit some of the castles I haven't been to myself.

Did you like the post? Pin it for later.
[wysija_form id="1″]